Back to News
B$Z : Howler Brothers Unveils Fresh Spring Threads and Updated Website for 2014
March 4, 2014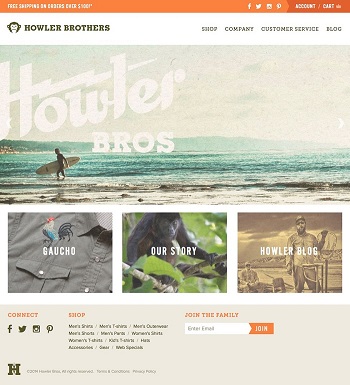 Howler Brothers Unveils Fresh Spring Threads and Updated Website for 2014
New ocean- and mountain-inspired styles now available at retailers and on the all-new HowlerBros.com
Press Release from Verde PR
AUSTIN, Texas (March 4, 2014) – Howler Brothers launches its Spring 2014 apparel line on Tuesday, March 4, 2014 with four brand-new styles of men's shorts and shirts, and updated colors and patterns throughout the line. The Howler Brothers Spring 2014 apparel line, which is available on the all-new HowlerBros.com and at retailers across North America, perfectly blends functionality and modern design with the soul, passion and timeless style of water sports such as surfing and fly-fishing.
"Now in its fourth year, Howler Brothers is continuing to offer fresh, innovative and original pieces," said Chase Heard, Co-Founder of Howler Brothers. "The new pieces reflect the forward thinking and continued growth of the brand, but still honor the heritage and core principles upon which Howler Brothers was built by keeping versatility, functionality and attention to detail at the forefront."
In conjunction with the new spring products, Howler Brothers is launching a more user friendly website with a refreshed aesthetic. The new site offers a mobile version, making it easy to shop on the go, especially for limited-run, high-demand items like Howler Brothers' popular License Tag Belt Buckles and Oxide Whiskey Tumblers—items that sell out nearly as soon as they're in stock.
Howler Brothers' roots lie in the laidback culture and authentic lifestyle found in coastal towns and mountain communities, and the brand's new spring shirts and shorts are equally comfortable at the beach, around the fire, at the office or out to dinner. High quality design details such as microfiber lined hems and pockets and wrinkle-resistant poly cotton blend fabrics make Howler Brothers' products an excellent choice for fashion forward travelers and adventurers looking for the functionality of technical apparel.
Functional and simple without excess, the spring line features patterns inspired by southern quilting, palaka fabric from old Hawaiian fieldworker shirts, Cuban embroidery, hula girls, roosters and t-shirt designs inspired by Neil Young album art and classic longboard logos.
Made with a soft cotton-poly blend, most Howler Brothers garments are wrinkle resistant and ready to take on any adventure — durable enough for all-day abuse, but able to dust off for a night on the town and look freshly pressed no matter how hastily you pack when Heeding the Call.
To learn more about Howler Brothers and the new Spring 2014 products, check out the updated website at HowlerBros.com, or join our Facebook page.
About Howler Brothers
Howler Brothers crafts limited run, high-quality clothing and goods that draw inspiration from the style and tradition of surfing and coastal sports, clothes you might wear when you're hearing howler monkeys from your hut after a day well spent—a reminder that you're in a good place, doing something you love—or clothes to wear when you're wishing you were. Above all, Howler Bros. believes in doing things the honest and pure way, which is not usually the easy way. Every garment and accessory is crafted with functionality and attention to detail at the forefront. Put their products to the test. Heed the Call. For more info about Howler Brothers, visit: HowlerBros.com.
Media Contact
Tessa Byars | Verde Brand Communications | [email protected] | (970) 259-3555 x136
---