BACK TO NEWS
B$Z: Oakley Opens Onsite Wellness Center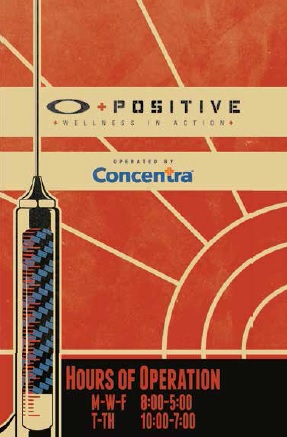 Oakley Opens Onsite Wellness Center
First of its kind in Orange County, Oakley's Onsite Wellness Center, O Positive, offers Health Services to more than 2,000 Oakley Team Members at its Foothill Ranch Headquarters
Press Release from Oakley
FOOTHILL RANCH, Calif., March 5, 2014 – Oakley, Inc. today announced it has opened a health and wellness center, O Positive, benefiting the more than 2,000 Oakley team members at the company's interplanetary headquarters in Orange County, Calif.
"Oakley is a culture that is built on performance where we live and breathe our brand," said Caroline Kenyon, SVP Global Human Resources, Oakley, Inc. "By offering the convenience of an onsite wellness center, our internal athletes have access to resources that enable them to perform without obstacles. This is really ground-breaking and I'm thrilled that Oakley is on the leading edge of employers making health care of strategic importance."
Oakley has partnered with Concentra, a health care provider with more than 33 years of experience in health services, to staff and operate O Positive. The onsite wellness center is staffed with a full-time Physician Assistant, two Medical Assistants and a part-time Supervising Physician to conduct physical exams, diagnose and treat illnesses, order and interpret tests, prescribe medications and counsel Oakley team members on preventative health care.
Located in the heart of the Oakley Bunker, the more than 1,000 square foot space is outfitted with two procedure rooms, lab area, waiting room and business office. O Positive is open to Oakley team members on Monday, Wednesday and Friday from 8 A.M. to 5 P.M. and on Tuesday and Thursday from 10 A.M. to 7 P.M.
Visit Oakley.com/careers to learn more about life inside the Oakley Bunker anddiscover career opportunities to support the company's performance and lifestyle innovations.
About Oakley, Inc.
Established in 1975 and headquartered in Southern California, Oakley is one of the leading sports brands in the world. The holder of more than 600 patents, Oakley is continually seeking problems, solving them with inventions and wrapping those inventions in art. This philosophy has made Oakley one of the most iconic and inimitable brands on the market, with innovations that world-class athletes around the globe depend on to compete at the highest level possible. Oakley is famed for its insuperable lens technologies such as High Definition Optics® (HDO®) which is incorporated into all Oakley sun and prescription eyewear, and all premium Oakley goggles. Oakley has extended its leadership position as the world's leading sports eyewear brand into apparel, footwear and accessories collections. Laser focused on the consumer, Oakley has both men's and women's product lines that target Sports Performance, Active and Lifestyle consumers. Oakley is a subsidiary of Luxottica Group. Additional information is available at www.oakley.com.
---