BACK TO NEWS
EVENT: Endless Summer 50th Anniversary / Bruce Brown Tribute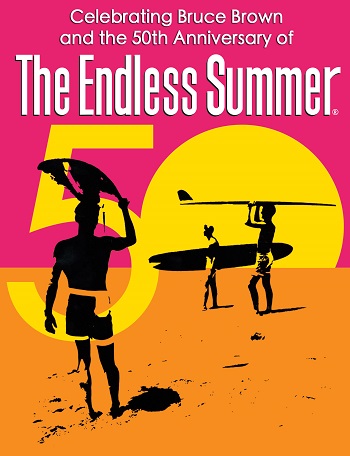 Endless Summer 50th Anniversary / Bruce Brown Tribute
Bruce Brown to Be Honored with the "SHACC Lifetime Achievement" Award May 3rd in Huntington Beach
Press Release from Surfing Heritage and Culture Center
SAN CLEMENTE, CA — The Surfing Heritage and Culture Center (SHACC), together with Bruce Brown Films, will host a "red carpet" gala May 3, 2014 at the Waterfront Beach Resort, a Hilton Hotel, in Huntington Beach, California to honor Bruce Brown for his contributions to the global surfing community and surf film industry.
The event will also celebrate the 50th Anniversary of The Endless Summer. For the first time on the West Coast, SHACC will unveil "The Endless Summer 50th Anniversary Exhibition." This historic exhibit features original movie posters, artwork, cameras and tripod used to make the film, plus a rare collection of Endless Summer memorabilia items, many of which have never been publicly displayed. To this day, the film remains one of the most widely watched and loved documentaries, of any kind, of all time.
The Celebration will commence with a VIP Pre-Party, where guests can mingle with Bruce Brown, Robert August, Mike Hynson, and other surfing legends. Hobie Alter, Greg Noll, Fred Hemmings, Lance Carson are slated to attend. The evening will culminate in a tribute program, with Robert "Wingnut" Weaver as the emcee, during which Bruce Brown will be presented with the SHACC Lifetime Achievement Award.
Tickets to the event include dinner, a silent auction and a live auction. Proceeds from the auctions will benefit SHACC and the Cystic Fibrosis Foundation (CFF). CFF has close ties to the surfing community and hosts an annual, surfing-themed fundraiser called "Pipeline to a Cure."
For information or to purchase tickets, visit www.surfingheritage.org or call SHACC at (949) 388-0313 x0

---