BACK TO NEWS
Exposure: LA Men's Market 2014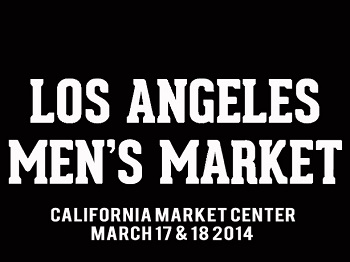 Exposure: LA Men's Market 2014
The two-day event will bring together buyers from the West Coast's top retailers including American Rag, Active Ride Shop, & Kitson and brands such as Herschel Supply Co, Obey, Primitive & more!
On the back of a successful first installment of LA Men's Market last October, the NTWRK, Flagship, The Foundation & Park are combining for another two-day event on March 17th & 18th at the California Market Center (CMC) with the goal of elevating the profile of Downtown Los Angeles as a destination for men's fashion.
"Last year we accomplished our goal of bringing men's market back as a viable arena for brands and buyers to do business & this time around we look to solidify ourselves as the leader in West Coast Men's Apparel," said Kellen Roland, President of the NTWRK Agency and co-organizer of LA Men's Market. "We are thrilled to be doing this again and having so many people coming back and participating and supporting."
We caught up with Kellen Roland to get the scoop on what to expect on March 17th & 18th in Downtown Los Angeles.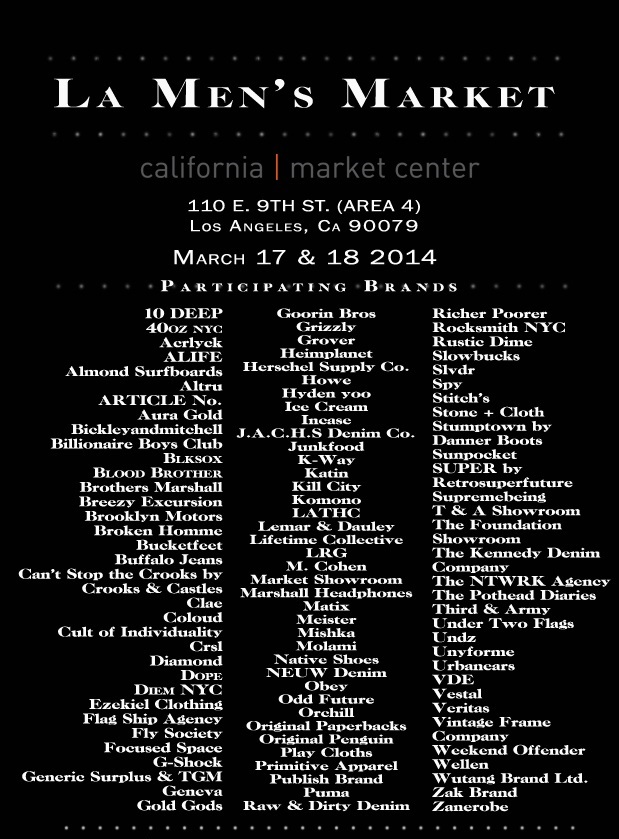 Many of the brands from last spring are coming back again. What was the feedback from returning brands when you announced the next LA Men's Market event?
The feedback was amazing; brands saw 4 times the amount of traffic from previous fashion weeks. The men's market was getting lost in DTLA. We were able to highlight the best menswear brands and this was the draw for buyers to make the trip to LA Men's Market.
Are there any significant changes in what's happening or who's exhibiting this time around?
We added a number of amazing brands, in addition to the 80-plus brands returning. Highlights include: Almond Surfboards, BBC, Ice Cream, Diamond, Grizzly, Ice Cream, Odd Future, Publish Brand, and The Kennedy Denim Company.
We will be partnering with Stumptown Coffee and Horse Thief to serve complimentary coffee and breakfast at the Californian Market building to our participating buyers. We are also doing activations at showrooms not located inside the Cal Mart. At the Park Showroom, you can get a haircut and gentlemen's drink, or head over to the Foundation showroom for a cold afternoon beer from Ninkasi.
We're stoked to be throwing our opening night party at the Ace Hotel Downtown Los Angeles' "Upstairs". There has been a noticeable change in the energy of DTLA since the ACE opened. We have needed a meeting place for young professionals and creatives in DTLA, and the ACE is ideal based on location, vibe and history.
What is the appeal for participating brands who may be feeling some fatigue on the back of the January and February tradeshows?
Being that we are in March, most brands are debuting their Holiday collections. I don't think brands are feeling fatigue from the shows earlier this year. They were great and we all got a lot of work done. The beauty of LA Men's Market is that it exists to complement the existing trade shows by offering a convenient and cost-effective event for brands and buyers to meet up and do business.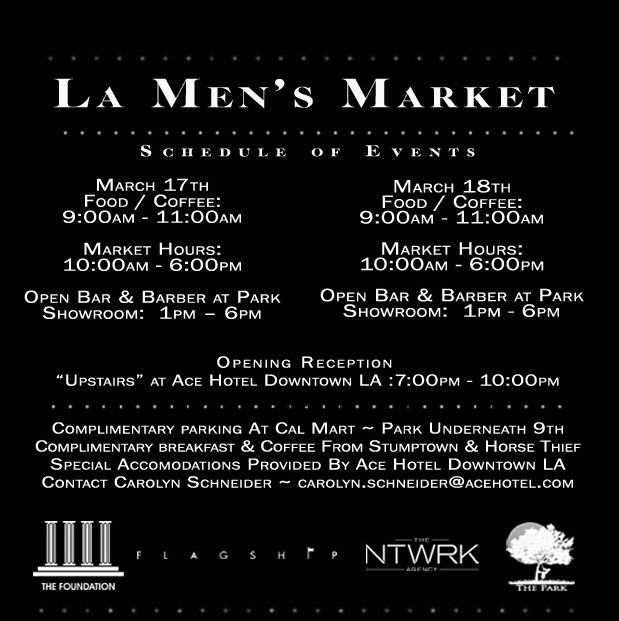 When did you realize there was a void in the marketplace for brands and buyers to get together during the off-market show season?
I wouldn't say there was a void, but we are in the age of convenience. LA Men's Market is an amazing option for brands to present themselves in a curated manner to the top buyers in the region. As a buyer, if one can see 80-100 brands in a 2 day period, it makes sense to jump all over that.
What makes DTLA a great area for hosting this event?
DTLA is about to blow up. There is a remarkable concentration of top lifestyle and menswear brands based downtown. We've had major openings throughout the city from the culinary world to retail, nightlife, and hospitality. It also helps that DTLA is geographically convenient as a central meeting place for some of the top retailers in the world.
The NTWRK Agency's west coast showroom is in Downtown Los Angeles - how long have you been working in DTLA and what changes have you seen in the area?
I was here 2006-2009. Then we came back in 2011. Since 2011, DTLA has completely transformed. There is a cultural vibe going on that people want to be a part of. With the opening of Ace Hotel Downtown Los Angeles, ACNE, Tanner Goods, Urban Outfitters, Aesop, and more to come, DTLA is the place to be.
Who is involved with organizing the event?
We got together with local showroom owners and came up with idea. The NTWRK Agency, Flagship Agency, The Park Showroom, The Foundation.
Where do you see room for growth?
I would like to see more brands resulting in a bigger draw for more buyers. Ultimately more orders being written. I want LA Men's Market to be known for the amount of orders written during the event.
Are there plans for LA Men's Market events in the fall and beyond?
LA Men's Market will continue to happen 2 times a year with a focus on Holiday and Summer seasons.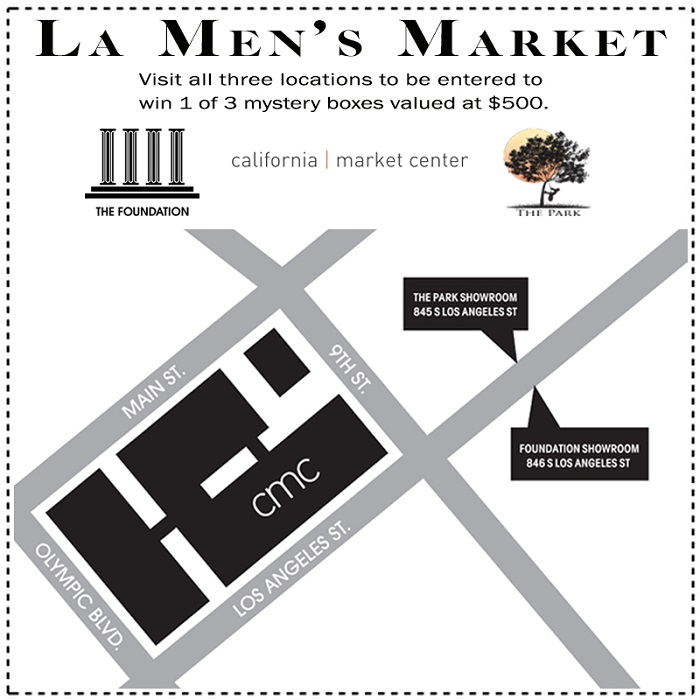 LA Men's Market - March 17th & 18th
California Market Center
110 East Ninth Street suite Area 4, Los Angeles CA 90079
---