Back to News
B$Z: ElliptiGO Launches Industry's First Rider Rewards Program
March 12, 2014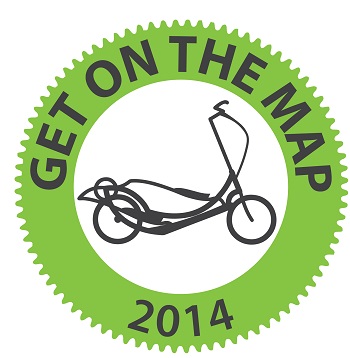 ElliptiGO Launches Industry's First Rider Rewards Program
Customers who complete organized events of any distance are eligible for the program, which is designed to encourage ElliptiGO riders of all levels to train for and complete cycling events and serve as pace vehicles for running events.
Press Release from ElliptiGO
San Diego, Calif. (March 12, 2014)—ElliptiGO Inc., creators of the world's first elliptical bicycle, today announced another industry first: The "Get On The Map" rewards program. ElliptiGO riders enrolled in the program collect points for completing recreational and competitive cycling events. At the end of the year, these riders can redeem their points for unique jerseys, jackets and other merchandise that can only be earned. Customers who complete organized events of any distance are eligible for the program, which is designed to encourage ElliptiGO riders of all levels to train for and complete cycling events and serve as pace vehicles for running events.
"Our customers have been competing in events across the country for years, so we're excited to provide some incentives for them to continue to participate," said Brent Teal, Co-Founder of ElliptiGO. "As athletes, we know that having something to train for is a huge motivator, whether it's climbing Pikes Peak or doing a local 25-mile charity ride. We believe that giving real rewards to those owners who choose to ride in these events will only increase their motivation to get the most out of their experience with our product."
An additional benefit of the program is that ElliptiGO customers will be able to list their location and contact information on the map. "With more than 10,000 ElliptiGOs on the road, Get On The Map makes it easier than ever for our riders to find events, other ElliptiGO riders and official ElliptiGO clubs," stated Bryan Pate, Co-Founder of ElliptiGO. "As we continue to grow ElliptiGO ridership, we believe that having a map of where our active customers are and what events they are taking on will facilitate connecting our riders both to each other and to their local cycling communities. This will help everyone draw more value from their experience and get ElliptiGO riders better tied into the overall fabric of cycling around the world."
Incentive items for the 2014 season currently include a custom engraved beer stein, Team ElliptiGO riding jacket, riding jersey, t-shirt, and travel mug. For more information about the points program and to see The Map, visit: www.elliptigo.com/get-on-the-map.
For more information about ElliptiGO, visit www.elliptigo.com, or follow them on Twitter @elliptigo and Facebook at www.facebook.com/elliptigo.
About ElliptiGO
ElliptiGO, Inc. is the San Diego-based company that created the world's first elliptical bicycle. Combining the best of running, cycling and the elliptical trainer, the ElliptiGO® provides a comfortable, fun and effective way to exercise outdoors. It delivers a high-performance workout experience that closely mimics running outdoors while eliminating the impact. Elliptical cycling is an effective way to build cardiovascular fitness without aggravating injuries and is great for everyone from the weekend warrior to the elite athlete. The full line of ElliptiGOs can be purchased at retailers nationwide and through the company's website: www.elliptigo.com.
---