BACK TO NEWS
B$Z: SnL Communications Signs Topo Ranch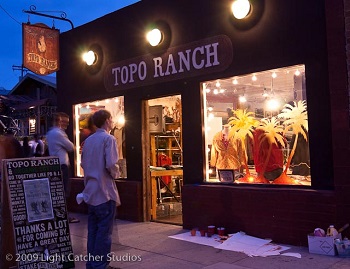 SnL Communications Signs Topo Ranch
Premium, contemporary men's clothing brand is the agency's newest client.
Press Release from SnL Communications
(LOS ANGELES) - March 12, 2014 – SnL Communications, the boutique public relations agency that pioneered fashion and action sports PR on the west coast over 25 years ago, has signed Topo Ranch, a premium contemporary men's lifestyle brand based in Venice, California. SnL will focus on building brand awareness and loyalty by strategically outreaching to all relevant media outlets for editorial exposure.
An historic family ranch and casualty of The Great Depression, Topo Ranch was resurrected by partners Alex Kump and Eric Hartnack in 2004 as a clothing brand driven by the pioneering spirit of their forefathers. The "Topo" for which the ranch was named is Spanish slang for that stretch of land's most populous animal inhabitant. "We gave him wings to symbolize the rise of Topo Ranch once again and to give flight to our dream of building a clothing brand that reflects this modern California lifestyle," says Alex.
Launched in Fall 2005, Topo Ranch features high quality, uniquely designed men's apparel including t-shirts, tanks, shorts, hoodies, swim trunks and sweat pants. The t-shirts are the core of the collection and are known for remarkably soft fabrics, vintage-inspired graphic s and exceptional attention to detail. All product is exclusively designed by the Topo Ranch team and is inspired by the sun, surf and the "Beach meets West" attitude of Venice, California. The collections are carried at Topo Ranch's flagship store in Venice, California and at premium retailers including Bloomingdale's, Nordstrom, and numerous independent boutiques nationwide. Additionally, customers can purchase online at www.toporanch.com.
Both Alex and Eric have strategically grown the Topo Ranch brand through unique partnerships with local musicians, artists and like-minded companies that complement the brand's DNA. Celebrity and musical fans include Kevin Bacon, Leonardo Dicaprio, Robert Downey Jr., Ronnie Wood and Eric Kretz (Stone Temple Pilots). Most recently, Topo Ranch designed and produced the new Sundance Institute T-shirt which debuted at this year's Sundance Film Festival.
"We continue to have a tremendous response to our brand from both existing and new retailers and it's a very exciting time for Topo Ranch," says Eric. "We look forward to continuing with these inspirational collaborations and supporting the creative artisans in our own backyard."
SnL Principal's Karen Schneider and Staci Levine will be overseeing all publicity for the brand. "Topo Ranch has a great story to share and a unique, authentic approach to promoting the brand," says Schneider. "We're thrilled to be a part of the Topo Ranch team and look forward to introducing the brand to the media."
About Topo Ranch
"Topo Ranch is a historic family ranch founded in 1860 between Monterey and San Benito counties in California. Throughout the late 1800's and early 1900's, the spread was a cattle ranch, fig tree farm, supplier of wool to the U.S. Cavalry, and even used for western films by the likes of Gary Cooper. Eventually, the bank foreclosed on it, like so many casualties of the great depression. The rich history of Topo Ranch and the pioneering spirit of our forefathers have inspired us to follow our dream of building a clothing brand that reflects our lifestyle. We hope we inspire you to follow your dreams." - Alex & Eric
About SnL COMMUNICATIONS
In business for over 25 years, Los Angeles-based SnL Communications leverages its understanding of the fashion and action sports industries to distinguish its clients' brands. SnL develops customized public relations programs based on the needs of each client that are created using a proactive, creative and decisive approach. From editorial focused programs to full-service marketing strategies, SnL helps build brands through extensive media coverage and strategic planning. For more information, please visit www.snlc.net.
---