Back to News
GEAR: etnies Introduces the Marana Vulc with Blood, Sweat and Slabs
March 17, 2014
etnies Introduces the Marana Vulc with Blood, Sweat and Slabs
It's hard to believe a bunch of concrete slabs in the California Desert used to be a Marine training facility.
Press Release from Master Plan Communications
March 17, 2014 (Lake Forest, Calif.) – Known for its high-impact resistance and durability, the Marana became an instant skate classic. etnies has taken the pivotal components of the original Marana into a new slimmer vulcanized version – the Marana Vulc. Available today at etnies retailers around the world, the Marana Vulc features a rubber printed toe cap and an STI Evolution Foam footbed that is impact resistant and won't pack out. Willow, Nick Garcia and Julian Davidson took their new signature colorways of the Marana Vulc to Slab City near the Salton Sea and put this shoe's blend of strength and style to the test. You can watch the footage from their trip here: https://vimeo.com/89123295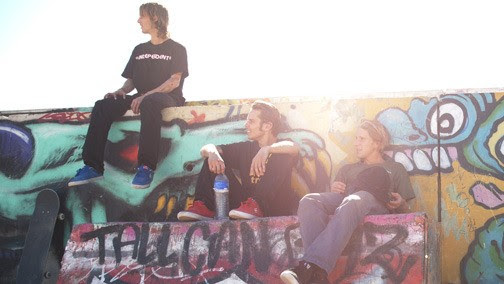 It's hard to believe this bunch of concrete slabs in the California Desert used to be a Marine training facility. Willow, Nick and Julian laid down some blood, sweat and concrete before doing a little training of their own.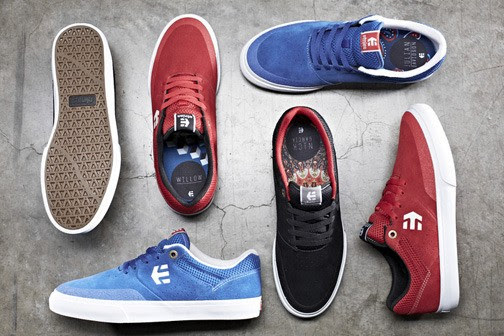 Above are the Willow (red), Nick Garcia (black) and Julian Davidson (blue) colorways of the second shoe in the Marana bloodline.
To download images of the Marana Vulc shoes, visit: http://we.tl/Wuo4LPoDQJ
Keep the conversation going with these hashtags: #etnies, #EvolutionFoam, #MaranaVulc and #etniesMarana
Connect with etnies on: etnies.com
Facebook: facebook.com/etnies.
Instagram: @etniesskateboarding and @etnies
Vimeo: https://vimeo.com/etniesvideo
Twitter: @etnies
About etnies:
Established in 1986, etnies is the first skateboarder-owned and operated global action sports footwear and apparel company. etnies not only pushed the envelope by creating the first pro model skate shoe, but it pioneered technological advances and changed the face of skateboard footwear forever. Today, etnies' vision, led by owner and skateboarder Pierre-André Senizergues, is to remain the leading action sports company committed to creating innovative products that provide the most style, comfort and protection possible. etnies stays true to its roots by sponsoring world class skateboarding, surfing, snowboarding, moto x, and BMX continues its dedication by giving back to each of these communities. For additional information, visit etnies.com.
Media Contact:
Ashton Maxfield
etnies PR
949-289-6493
[email protected]
---