BACK TO NEWS
EVENT: The Oakley Surf N' Turf is a Success!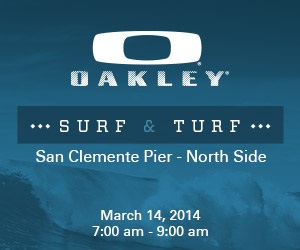 The Oakley Surf N' Turf is a Success!
Thanks for coming out to meet with the Oakley Talent Acquisition Team for this unique event.
Press Release from Malakye
Manhattan Beach, Calif. (March 19, 2014) – Have you ever surfed during a job interview? On Friday, March 14, the Oakley Recruiting Team and Malakye.com came together on the beach in San Clemente for the second Oakley Surf N' Turf, an innovative opportunity for people to connect with the Oakley recruiting team and hiring managers. Oakley recruiters and hiring managers were on hand to discuss current and future job opportunities in accounting, finance, ecommerce/web, wholesale, engineering and more. Over 200 people showed up ready to talk jobs, careers, and surf with boards, wax and resume in hand in anticipation of working for one of the lifestyle-driven industries' leading companies.
"I spoke with quite a few people at the "Surf 'N' Turf" event and it was quite the awesome experience," stated Max Sigwart, a graphic designer and potential Oakley employee. "I met many different people from all departments and I chatted with several people while scoping out the waves. All in all, it was a great turnout, I made some new friends and I had an awesome time!"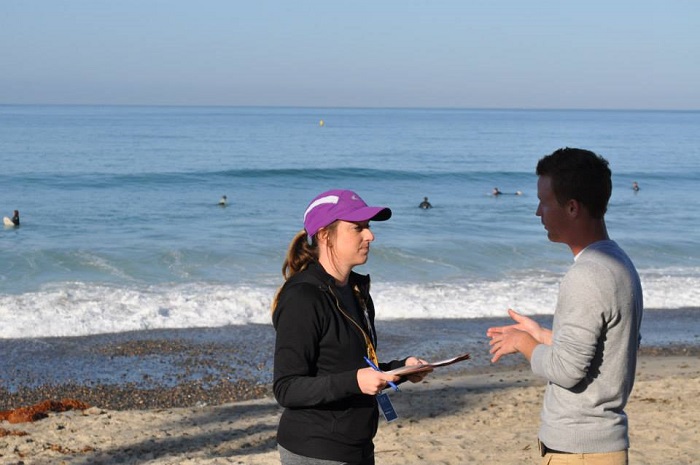 (See a lot more photos on the Malakye Facebook Page)

In October of 2013 Oakley and Malakye shook the foundations of traditional recruiting and created the Surf N' Turf. The result after the first event last year was 100+ attendees, 4 hires and an authentic pipeline of qualified and dedicated talent.
"We met people who were passionate about what they do," explained John Seely, head of Talent Acquisition at Oakley. "Some we'll hire today...others we'll hire tomorrow. I hope to see more people at our next Surf N Turf, Summer 2014, which will be bigger, better and more badass than our minds can handle."
Stay tuned for the next Surf N' Turf – it won't be too far off…in the meantime, check out what attendees of the Surf N' Turf had to say about the event:
"Surf and Turf was a classic event! Having been in the ad agency world for the greater part of my career I've been privy to some pretty creative interviews but seeing people handing out resumes in wetsuits...that was a first for me!"
"I've never been a part of anything like that and the experience was truly why Oakley sets the standard."
"I wanted to say thank you for putting together such an awesome event yesterday."
"I had a great time catching a few waves and making some new connections."
"It was a great morning and I was thrilled to see a company hold such an event."
"I found the Surf N' Turf to be very engaging and it was exciting to be able to meet the team all who were very knowledgeable, fun and friendly."
"Friday served to reinforce my interest in becoming part of the Oakley team."
"I was able to network with some really cool people and learn even more about a company that I'm already pretty stoked about!"
"The Surf N Turf was awesome and started the weekend off right."
"I enjoyed talking to you and also getting the chance to experience some of the Oakley culture and get a little feel for what you guys are all about. It really confirmed in my mind that Oakley is the place where I want to be."
(See a lot more photos on the Malakye Facebook Page)
About Malakye.com
Malakye.com, based in Manhattan Beach, Calif., provides the lifestyle-driven industries with services in employment, recruitment and business & industry news. Throughout Malakye.com's 10-plus year history, the company has provided a platform to connect passionate jobseekers with companies looking to hire in action sports, the outdoors, fitness, cycling, power sports, and beyond!
Learn more about the company at: www.Malakye.com
About Oakley Surf N' Turf
Oakley Surf N' Turf is a one of a kind recruiting and business networking event. Oakley in-house Recruiters and Oakley hiring managers will be on hand to talk about current and future job opportunities at Oakley.
Whether you're just starting out in your career, or an experienced professional, and across all departments / professions this event is for you. It's relaxed atmosphere is great for having fun and being productive.
Check out Oakley at: jobs.Oakley.com
---