BACK TO NEWS
Reflekt Polarized Q&A with Marketing Manager Scott Troxel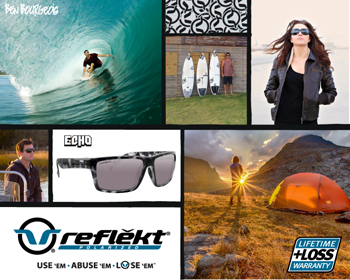 Reflekt Polarized Q&A with Marketing Manager Scott Troxel
Reflekt Polarized was started on the East Coast by eyewear industry veteran Jason Wildman, who spent the early part of his career building the lifestyle-driven industries' first and only all polarized sunglass brand with Native Eyewear. Jason sold Native to Costa Del Mar in 2008 and spent some time off before returning in 2012 to launch Reflekt Polarized.
Jason wanted to provide surf, outdoors, SUP, windsports, and active lifestyle markets something unique so he created Reflekt Polarized based on the philosophy of 'Absolute Coverage' and is offering an industry first Lifetime + LOSS warranty.
"A warranty like ours doesn't exist in the sunglass industry – or any other. We have you covered no matter how your sunglasses break or get lost," said Reflekt Polarized Founder, Jason Wildman. "Yes, we also cover against Loss. Should you ever lose your prized shades, we've got another pair waiting for you in our warehouse. Our warranty has your peace of mind Absolutely Covered."
We interviewed Reflekt Polarized's Marketing Manager, Scott Troxel, to get the scoop on the company's unique warranty program and to find out what the pros and cons are of being based on the East Coast. We also asked Scott about how the company is growing and what the reaction from consumers and retailers has been after launching nearly two years ago...

What do you feel sets Reflekt's sunglasses apart from other eyewear brands on the market today? Is it the fact that all of the company's products are polarized? Is it the unique warranty offered? Style? Design? Fit?
It's a combination of the right polarized designs at the right price that are guaranteed by our mind blowing Lifetime + LOSS warranty. We are the first & only high-end sunglass brand to offer a significant amount of polarized styles under $100. We are the first & only sunglass brand ever to cover loss with our ground breaking Lifetime + LOSS warranty.
Reflekt has a truly unique Lifetime + LOSS Warranty, can you describe the program and explain how offering coverage against loss benefits the company, its customers and retailers?
Not only does our Lifetime + LOSS warranty cover the consumer against manufacturer's defects, scratched lenses, and any/all types of breakage, we also cover against LOSS. The consumer can lose their glasses, execute our warranty online using the provided serial number inside each box, and receive a new pair of sunglasses----simple as that. The consumer benefits because they now have a peace of mind when purchasing our product, the retailers benefit as it is the "closer" to the sale in their stores, and the company benefits from all the positive word of mouth advertising.
Reflekt is filling a void by offering high-quality product at value-driven pricing - how have customers and retailers responded?
We have over 200 surf, outdoor and sunglass specialty retailers already selling our line after one season. Over 3,000 consumers have already logged in to our website to register for their LOSS protection.
Reflekt is experiencing growth in year 2 – how is the company growing its distribution base and what can you attribute to the success?
We are aggressively moving down the eastern seaboard into more & more surf/beach/lifestyle shops as well as moving westward into the better outdoor & winter sport specialty shops. The success is attributed to the right product at the right price with the right team, all of which is guaranteed by our Lifetime + LOSS warranty.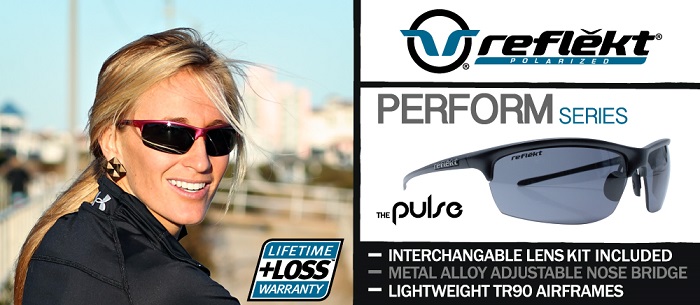 One area of expansion is with sponsored athletes, what's new with the Reflekt team?
2014 has been an exciting year for Reflekt. We brought on pro surfer and east coast legend Ben Bourgeois to head up our surf team. We couldn't be more excited about having Ben on board as he really epitomizes everything that is great about east coast surfing. Additionally, we have race kayakers, endurance watermen, SUP paddlers and kitesurfers on the team, which really helps to round out our exposure outside of the surf channel. Finally, we signed on as The Official Eyewear Sponsor of the Eastern Surf Association. This allows us to really focus on grass roots surfing events up and down the east coast to gain brand exposure while at the same time helping the growth of amateur competitive surfing in our communities.
What are the pro and cons of the company being based on the east coast?
We see a fantastic opportunity to "own" the east coast in our targeted channels of distribution because most of the competition is located out west. It's just another void in the marketplace we are filling. This is our backyard and no one can service and support it like we can. The only con is the extra time UPS takes to deliver out west but we turn that into a positive by shipping all of our packages UPS 3-day select to the west and only charge our dealers for ground delivery.
Reflekt was started by a veteran in the eyewear industry, who is Jason Wildman and why did he launch Reflekt?
Jason Wildman has over 20 years experience in the sunglass industry. Back in 1998, he built the industry's first & only All Polarized Sports sunglass brand. This venture was extremely successful and was eventually acquired, which awarded Jason some time off. During this time, he had an excellent opportunity to Reflekt on the industry and his previous brand. He saw that the industry had some large voids that have not been addressed and launched Reflekt Polarized in January 2013 to fill those voids.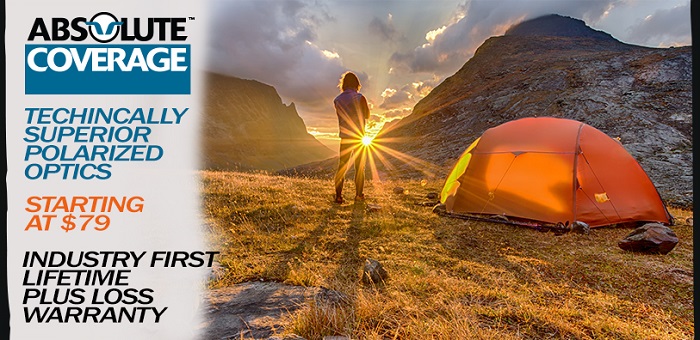 What's the most popular style offered by Reflekt?
We have four styles that compete against each other every month for the top spot----they are the Rival, Circuit, Pulse, & Pulse 2 styles.
What have been the biggest challenges in developing the brand over the past year?
Our biggest challenges are the things we can't control like the economy and the weather. Super storm Sandy hitting our backyard 3 months before we were launching our brand certainly didn't help.
Where do you see room for growth?
We see room for growth throughout the country in the sport specialty retailers. The value proposition is that we offer is resonating with the dealers & consumers which is allowing us to open doors at a very rapid pace.
Any last words?
We live & breathe sunglasses. As I said earlier, Jason has been in the sunglass industry for over 20 years. Our love & passion for the product along with our desire to provide enormous value are the driving forces behind Reflekt Polarized.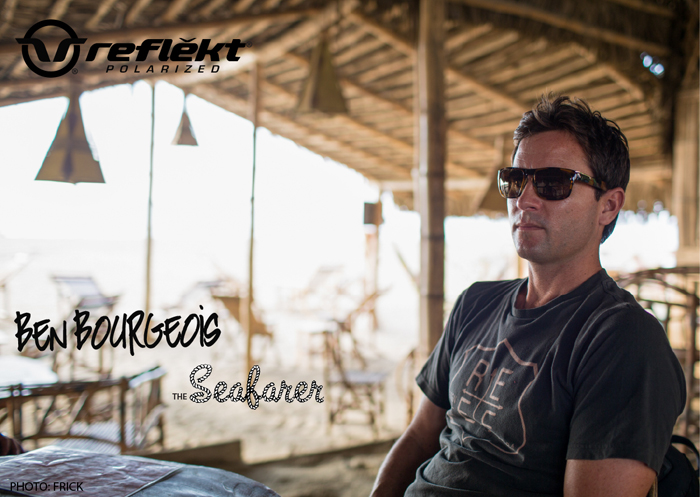 Check out the full product line from Reflekt Polarized and be sure to follow them on Facebook, Twitter and Instagram!
---