Back to News
B$Z: Mike's Bike's selects AscentCRM as their CRM agency of record
March 26, 2014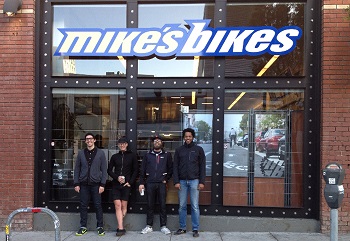 Mike's Bike's selects AscentCRM as their CRM agency of record
Leading bicycle retailer focused on increasing customer value through more direct and relevant marketing programs
Press Release from AscentCRM
Boulder, CO – Mike's Bikes, one of the country's largest Independent Bicycle Dealers (IBDs) has chosen Ascent CRM, a relationship marketing software and services company, (previously a division of Leisure Trends) as its relationship marketing partner. The partnership is a strategic move to ensure Mike Bike's direct-to-consumer marketing efforts are as effective as possible in helping drive revenue. Mike's Bikes will leverage Ascent CRM's leading web-based marketing software platform, 360 Connect™ for customer analytics, campaign planning and execution and strategic marketing services to create more meaningful online and offline marketing campaigns.
"We realized that we were swimming in customer data and not getting the full value from it," said Ken Martin, Owner and CEO of Mike's Bikes. "We needed a partner that will enable us to connect all of our the data across all of our customer touch points, in-store and website, and be able to communicate with our customers in relevant and meaningful ways allowing us to achieve our goal: get more people on bikes. Ascent CRM was the right partner for our business because they are not only experts in marketing but in our space."
Mike's Bikes is a growing family of local bike shops. They locally own and operate eleven wildly successful stores across north California in Petaluma, San Rafael, Sausalito, San Francisco, Berkeley, Palo Alto, Los Gatos, Sacramento, Walnut Creek, and their newest stores in San Jose and Pleasanton. Their professional staff of over 200 cycling enthusiasts ensure that their customer's experiences both in the store and on their bikes are the best they can be.
"Mike's Bikes represents the gold standard for IBDs. Their success and rapid expansion creates a lot of valuable customer information stored in islands", says Scott Buelter, President of Ascent CRM. "We will help Ken and his team connect and tap into the true value of this data, deepen their understanding of their customers and build direct and relevant marketing programs in support of their customer acquisition and retention objectives."
About Ascent CRM
Ascent CRM, formerly a division of Leisure Trends, is a leading relationship marketing software and services company that helps outdoor companies build stronger direct customer relationships. Outdoor companies including brands, retailers and resorts, use Ascent CRM's web-based software platform (SaaS) and industry marketing experts to develop deep customer knowledge, build and execute multichannel campaigns for transformative marketing results. Ascent CRM is privately-held and headquartered in Boulder, Colorado. For more information visit www.ascentcrm.com or email Ben Lockett at [email protected].
For more information about Mike's Bikes, please visit: www.mikesbikes.com
---