Back to News
MAG: SURFING'S Annual Swimsuit Issue Hits Newsstands Today
March 28, 2014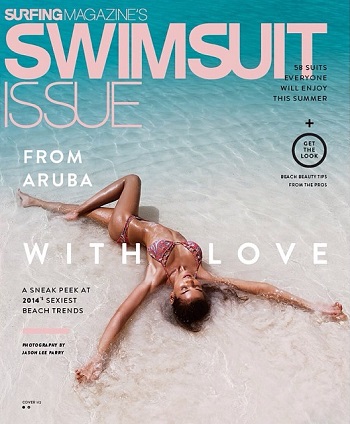 SURFING'S Annual Swimsuit Issue Hits Newsstands Today
The SURFING Magazine Swimsuit Issue hits print and digital newsstands on March 28th for $7.99.
Press Release from GrindMedia
SAN CLEMENTE, Calif., March 28, 2014 – The 2014 edition of SURFING Magazine's yearly Swimsuit Issue, "From Aruba With Love," hits newsstands today. The highly anticipated stand-alone issue, now in its fifth year, is always a welcome annual departure from SURFING's monthly tales of modern surfing culture. Shot entirely on location in scenic Aruba by notable fashion photographer Jason Lee Parry, it offers visual enticement for the men and useful information, interviews and a shopping guide to the season's hottest swimwear for the ladies.
"We're really proud of this issue because it has something for both guys and girls," said SURFING Editor Taylor Paul. "Stunning models that everyone can appreciate, and also health and style tips for the girls."
Four New York-based models warm up this year's pages: Britt Maren and Spain's 2013 GQ Woman of the Year Shelia Marquez, who each grace one of the two covers featured on newsstands this year, as well as the beautiful Rachel Thomas and Megan Irminger. Three themes were inspired by the 2014 swimsuit collections: "A Smart Girl Knows: Swimsuits for the Sand and Streets," "A Body in Motion: Swimsuits are for Adventure," and "A Mind at Rest: Swimsuits are for Relaxation."
Parry's known for capturing "undiluted sexiness mixed with a feeling of youthful freedom," and has been featured in campaigns for Free People, Wrangler, Volcom and GQ Italy. But beyond his beautiful pictures is rich content including "tips from the team" from the stylist, hair and make-up people and guest blogger tips from three popular bloggers: Leora Novick (style and travel writer of anamericangirlintransit.com), Rebekah Steen (bikini blogger of Goldfishkiss.com), and McKel Hill (nutritionist and food blogger of nutritionstripped.com).
The SURFING Magazine Swimsuit Issue hits print and digital newsstands on March 28th for $7.99. The digital edition is on iTunes, Zinio, Google, Kindle and Nook. Follow @surfingmag_swim on Instagram for exclusive behind-the-scenes photos.
ABOUT SURFING MAGAZINE
SURFING Magazine is the official storyteller of modern surf culture. We seek out the personalities and ideas that define our community - progressive, authentic and young, with a focus on the experiences and lifestyle that make surfing more than a sport. Travel. Photography. People. Fashion. Music. Art. The magazine is published 12 times per year by Source Interlink Media's GrindMedia, an integrated network of magazines, digital properties, events and television programming. surfingmagazine.com
About GrindMedia
Source Interlink Media's GrindMedia is the world's largest action/adventure/outdoor media company reaching more than 45 million engaged consumers every month through its print, online, mobile, TV/video and events platforms. Among its 29 leading media assets are brands such as GrindTV.com, SURFER, SURFING, TransWorld SKATEboarding, Bike, POWDER, TransWorld Motocross, Snowboarder, Canoe & Kayak and more. Delivering significant reach across both action sports enthusiast and various in-market consumer audiences, GrindMedia also produces more than 40 leading events and webcasts such as Surfer Poll Awards, TransWorld SKATEboarding Awards, Powder Video Awards, Lowers Pro and EnduroCross. GrindMedia is also the exclusive action and adventure sports content provider for Yahoo! Sports. To learn more, visit grindmedia.com or visit grindtv.com.
---