Back to News
SNOW: Snowlink.com Showcases the Hottest 14.15 Trends During Aspen International Fashion Week
March 31, 2014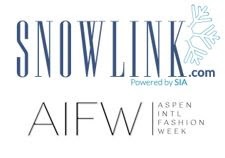 Snowlink.com Showcases the Hottest 14.15 Trends During Aspen International Fashion Week
The Snowlink.com sponsored day included collections from two SIA Members, Polarmax and Gorski Furs, plus three additional shows.
Press Release from SIA
WASHINGTON (March 31, 2014) - Snowlink.com, SnowSports Industries America's consumer website dedicated to all things SNOW, hosted an afternoon of runway shows during Aspen International Fashion Week (AIFW). The Snowlink.com sponsored day included collections from two SIA Members, Polarmax and Gorski Furs, plus three additional shows highlighting major trends in snow sports fashion, accessories and eco-friendly products for Fall/Winter 2014.15.
"The Aprés Ski Stage was the perfect setting for the runway shows at Aspen International Fashion Week. Being outside, seeing all these beautiful clothes and having the mountains and blue skies as a backdrop just adds something special to the whole experience," commented Maggie Bittner, associate director of events & education, SIA.
"Polarmax was so excited to show our 2014.2015 line at AIFW this year. Baselayer has traditionally been a category that is hidden under other layers of clothing, but as the market continues to demand more multi-functional pieces baselayer is becoming a major player in the Snow Sports Fashion world," said Jacqueline Wazir, marketing coordinator for Polarmax.
Aspen International Fashion Week | March 13 - 16, 2014 from SnowSports Industries America on Vimeo.
Snowlink.com's F/W 14.15 Mega Trends - Presented by Stylesight Show focused on next season's overarching trends for both the ski and snowboard markets. The five color trends included pink, golden/rust tones, and blues, plus plaids and coloring blocking. The looks appearing in the Mega Trends show were provided by local retailer Stefan Kaelin Ski & Golf. For additional insight on next year's biggest snow sport fashion trends, Stylesight "Trendboards" can be viewed at: SIAsnowshow.com/stylesight.
Photo and video highlights from the Snowlink.com day at Aspen International Fashion Week are available at Snowlink.com/aifw.
"Snowlink and AIFW teams are devoted and committed to success and as good partners GORSKI Après Ski and fur collections will naturally support such evolution. We are looking forward to enhancing our excellent collaboration," commented Lauren Gorski, of Gorski Group Ltd.
Aspen International Fashion Week featured three days of the hottest trends in outerwear, performance skiwear and luxury fur with runway shows held on the open-air Aprés Ski Stage in downtown Aspen. Following an afternoon of runway shows, attendees headed off to AIFW-hosted pop-up shops, parties and events at select boutiques and venues throughout Aspen.
"The AIFW partnership with SIA/Snowlink.com, proved to be even more successful and beautiful than we hoped. They brought the best of their portfolio with gorgeous furs from Gorski Furs, innovative apparel from Polarmax, mixed brand presentations including accessories and sustainable garments as well as F/W Mega Trends presented by Stylesight and Stefan Kaelin. I look forward to an even bigger partnership with SIA/Snowlink for Aspen International Fashion Week 2015," said Brooke Fogg, president of Aspen International Fashion Week.
AIFW ended on a glamorous note with The Black and White Ball held at the historic Caribou Club to benefit St. Jude Children's Research Hospital. The Truman Capote inspired Ball featured collections by Jitrois, One Moon and Pilar Tarrau as well as live and silent auctions with 100 percent of the proceeds donated to St. Jude's Children's Research Hospital.
Aspen International Fashion Week
Aspen International Fashion Week is a luxury fashion event unlike any other in the world. The four-day event features runway presentations showcasing the hottest new trends in outerwear, performance skiwear and luxury fur on the open-air Après Ski Stage, nestled at the base of Aspen Mountain. Following the runway presentations will be evening events throughout Aspen. The event will include après-ski fashion shows, sponsored evening soirées along with musical, tech industry, food, sustainability and healthy lifestyle tie-ins. For more about AIFW visit us at aspenintlfashionweek.com.
SIA
Celebrating its 60th anniversary in 2014, SnowSports Industries America (SIA) is a nonprofit member-owned trade association with a long history of working to support the snow sports industry. SIA works year-round with North American snow sports suppliers, retailers, reports, reps and service providers to develop products and programs for their individual and collective business needs. With member support and industry participation, SIA annually hosts the industry's largest core winter sports trade show, the SIA Snow Show, along with the On-Snow Demo/Ski-Ride Fest and the Sourcing Snow supplier show. SIA also helps retailers and resorts connect with snow sports participants around the country through Snowlink.com. Learn more at Snowsports.org.
---