BACK TO NEWS
B$Z: GoGear.ca to Be Filmed on CBC's Dragon's Den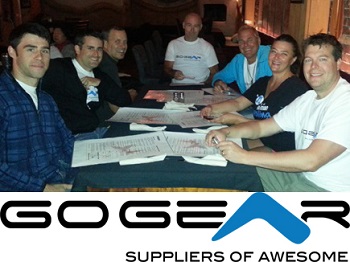 GoGear.ca to Be Filmed on CBC's Dragon's Den
GoGear.ca Team Appearing in Bid to Expand Membership
Press Release from GoGear.ca
(Vancouver, British Columbia) – April 2, 2014 - GoGear ( http://www.gogear.ca) today announced the April 2 filming date for their appearance on CBC's Dragon's Den.
"We are very excited to appear on Dragon's Den," said GoGear.ca CEO Aaron Müller. "We've had some great growth and the kind of support and exposure this opportunity can bring will help take us to the next level."
GoGear founders Aaron Müller and Rich Vigurs, as well as CFO Matt Richmond, will be appearing. Results of their appearance must remain under wraps, but an outdoor-themed interactive presentation is definitely in the works.
The team is excited to appear before the two most recently added Dragons, finance whiz Michael Wekerle and restaurateur Vikram Vij. On the flip side, this means they won't get in front of recently departed Dragons Kevin O'Leary and Bruce Croxon. Says Richmond, "We were excited about Bruce Croxon's web background and Kevin O'Leary had been there right from the start. That said, Kevin is a little terrifying to step in front of!. In any event, Wekerle's financial background could be huge for us and with Vij's west coast connection we're hoping for some synergy with these new additions."
GoGear.ca's plans for any funding raised are to pour it into marketing and customer acquisition. Says Müller, "We've proven we can move gear and the model is definitely profitable with enough volume. We've also proven we can attract and acquire new members at a reasonable cost. Where the challenge comes in is that new members aren't typically profitable until 1-3 months into their lifecycle, so we're looking to take this step so we can dramatically accelerate the process."
Added Müller, "It's a win-win-win as we grow. We're able to be more profitable, we're able to add more products at even better prices for consumers, and we're able to sell more end-of-season gear for our brands."
When asked about their place in the outdoor gear market, Müller says they are in an interesting position, "Our value to the manufacturers in helping clear excess inventory is obvious. The value to customers is also obvious when you look at our pricing. Also, although we've had some concerns from retailers, we are actually doing them a service in helping move this gear through our distributed membership. Rather than having discounted gear pop up in large quantities in brick and mortar discount stores, our national reach ensures that the impact of these exclusive sales is extremely minimal for any one location or individual retailer."
About GoGear.ca
Vancouver-based gogear.ca launched in October 2011 GoGear is a private sale network offering insider pricing on premium outdoor brands at up to 70% below retail.
Go Gear was founded when Rich Vigurs former mountain guide, avid climber and mountain biker, and Aaron Müller an avid snowboarder, runner and action sports retail veteran partnered together. In Summer 2013 Kevin Jardine; former owner of SportMart and presently founder, CEO and President of Jardine Capital Corp., partnered with Go Gear.
---