BACK TO NEWS
EVENT: First-Ever Red Bull Curb Kings to Hit San Diego's Belmont Park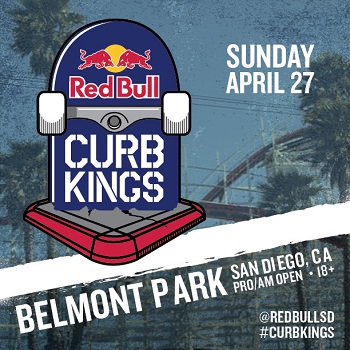 First-Ever Red Bull Curb Kings to Hit San Diego's Belmont Park
Red Bull Curb Kings is looking to crown the top local talent.
Press Release from Red Bull
SAN DIEGO, CA (April 2, 2014) –Sunday, April 27th will mark the first-ever Red Bull Curb Kings taking place outside at San Diego's historic oceanfront amusement grounds, Belmont Park. Giving local skateboarders the opportunity to showcase their creative skills on features similar to what's found in major urban city streets, the course will consist of modified parking blocks and double-sided curbs. Registration begins on-site at 10am and the competition will be from 11am to 3:30pm.
Skateboarders 18 years or older ranging from amateurs to professionals are invited to participate, with no limits on the number of competitors. The competition will be judged infive-minute jam format heats, meaning the number of skateboarders participating per heat depends on the number of sign-ups.
Curb skateboarding is one of the most historical pieces to the progression of the sport, with many tricks learned and perfected on curbs prior to taking them to larger handrails and ledges.Practiced by generations past to present, curb skateboarding will always be part of the sport'sDNA and Red Bull Curb Kings is looking to crown the top local talent.
Known for his "backside tail-side" and "manual" tricks, seven-time Manny Mania champion Joey Brezinski will act as head judge. Competitors will be judged on style and creativity and top finalists will move on to the next heat. There will be a total of 6 Qualifying heats, that will determine the top 10 skateboarders that will head to the semi-finals. From the semi-final the top 5 skateboarders will head the final where they will go head-to-head with other finalists.
In partnership with action sports retailer Sun Diego, this year's top three winners will receive a cash prize and an invitation to compete at Red Bull Triple Set this fallin San Diego.
For updates and additional information:
Please visit RB Curb Kings https: www.facebook.com/events/265161983665905/
Be part of the Red Bull Curb Kings conversationusing:@redbullSD #CurbKings
For all media inquiries, please contact:
Donovan Dresti, Red Bull Marketing, donovan.dresti@us.redbull.com, 408.483.8910
Marlene Garcia, Red Bull Communications, marlene.garcia@us.redbull.com, 310.384.5792
Through the Red Bull network, hi-res video and still images are captured and made immediately available for editorial use for all media channels including television, film, print, mobile, and digital. The content is centrally located in the Red Bull Content Pool for media partners atwww.redbullcontentpool.com
---