BACK TO NEWS
Exposure: Protection in Action Sports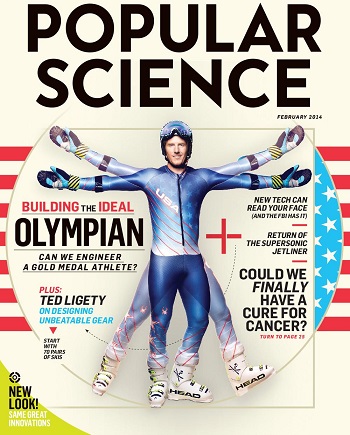 Exposure: Protection in Action Sports
There is an ever-increasing rise in the need and use of protective gear in action sports as the tricks get gnarlier, courses get bigger and athletes continue to push the limits.
Anomaly Action Sports was started by a materials engineer and avid skiier, Carlo Salmini, and an Olympian and world-class skier, Ted Ligety, to make "uncompromised products that are designed to save all of our hides. There is no room for faulty gear when Ted is hurling himself down the mountain literally at breakneck speeds." AAS is home of the brands Shred Optics and Slytech Protection and was built on the idea that increased safety and better equipment is not meant only for the pros, but should be available to the general public as well.
"Our unique and proprietary foam technology was developed by our co-founder, Carlo Salmini, in 2006, and perfected during his time at the Massachusetts Institute of Technology (MIT)," said Federico Merle, Partner/CFO/CMO of Anomaly Action Sports. "Our unique formula is a direct result of these MIT research relationships and of ourselves being skiers, snowboarders, and bikers. The goal is to unbound athletes' pursuit of progression without sacrificing their safety."
We spoke with Anomaly Action Sport's Federico Merle, Carlo Salmini and Ryan Nyquist, a new addition to the Shred // Slytech team of athletes, about the company's venture into the world of BMX and we asked them to explain what it takes to design protective gear for action sports and more!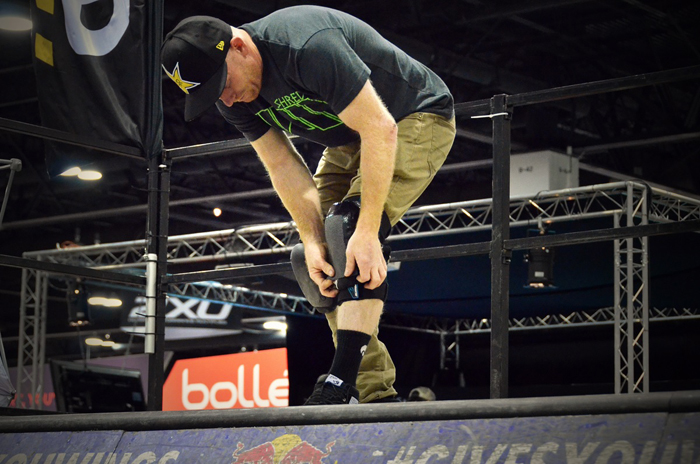 Ryan Nyquist field-testing the latest and greatest in protective gear from Slytech Protection, photo: AJ Avrin.
What has been your personal relationship with injuries throughout your professional career?
Ryan: I've had plenty of injuries, and interestingly enough, none of them were fun. Hahaha! It's a part of BMX that is hard to avoid. I've done pretty well at staying relatively healthy during my career though, and that's been in largely due to the fact that I'm a big advocate for wearing safety gear. That's why I was really excited when the opportunity to join forces with Slytech presented itself. To be able to have a hand in designing a pad that would help keep myself and other friends safe was too good to pass up.
Carlo: I had a pretty bad couple of injuries and spent more than a few times in the surgery room. It's not worth it if you can avoid it. There is so much to miss on a powder day or on a swell day if you have no way out. This is one of the main reasons why we decided to start Slytech and to use Slytech technology inside Shred products. It's about riding the next day… we only live once and we need to maximize the stoke. Injuries are the worst diseases in this equation. Slytech and Shred are the cure.
What has prompted your move into bike from winter sports?
Carlo: It was such an easy move. All of us were already mountain bikers and we needed the product for ourselves in the first place. We couldn't be riding with someone else's product knowing that we could do so much better to keep ourselves safe and "ride the next day". It was fairly quick to transfer our product technology knowhow from snow to bike to create items that simply perform the best without sacrificing any style.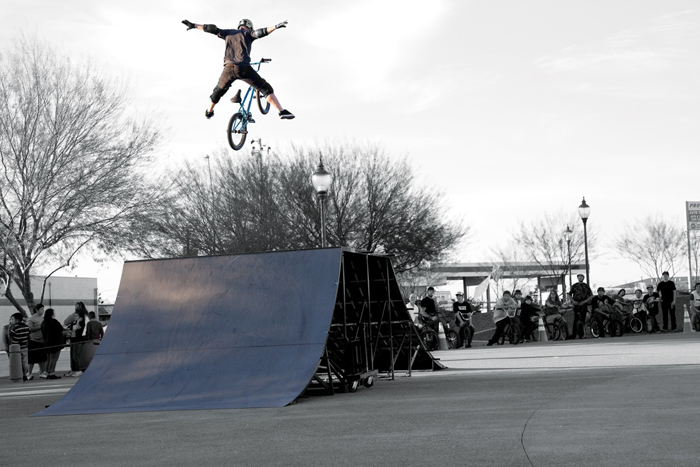 Photo: Colin McKay / Haro Bikes.
How and why did you get involved with Shred Optics and Slytech Protection in developing protective gear tailored specifically for action sports athletes?
Carlo: I was just doing experiments and building product for myself to have fun out in the nature. Never stopping to improve and finding better materials and solutions. All my friends liked them. The pros liked them. I thought to myself, "why not just make it my life?" It is such a good feeling to build something to go shred with, especially if you see that it makes a difference in both style and performance.
Can you describe the product development process and what your role has been?
Carlo: I have been leading the product development for this company since my garage years, haha. Developing our products requires long years of research and development; studying the way we do really depends on the product. For example for helmets and body protection, we analyze impact energy absorption behaviors of a handful of materials that we identify as being light, strong and effective, we research a multitude of technologically innovative structural solutions to minimize the effects of an impact and we do extensive analysis of the anatomy of the head and the body. With eyewear it's about researching for functional design as well as innovation of the optics, to maximize vision clarity. With all the research and testing that goes along with each product, these activities take a lot of time and are our everyday focus at SHRED//SLYTECH. In addition to this core research activity we do have what we call a "core model development cycle" which is what takes us from the initial concept of a new piece of eyewear, helmet or body protection shape, straight from the core ideas of our top notch athletes and engineers, to the final approved sample that precedes the production of our helmets that are on the shelves of 1,000 stores in over 40 countries worldwide. A typical "core model development cycle" takes usually 18 months, but this time depends on the complexity of the project. For example, the new helmet that we just introduced at ISPO and SIA 2014 that features our newest safety technology took in the end 24 months, but it was worth every minute spent on it, it is revolutionary.
Ryan: I've been talking with the guys at Slytech a lot about developing a pad that is functional, state-of-the-art, and good looking. The world of Bmx is very different than what they are used to, so Carlo and Fede have been really open to listening to my concerns and suggestions on what makes a pad great, with everything from material to padding to flexibility.
What makes Slytech Protection unique?
Ryan: Their vision and dedication to making a top notch, quality product. I noticed that immediately when I joined the team. They're not going to just put their name on something that is less than perfect.
What has been the most rewarding aspect for you in working to push the boundaries of possibility within action sports?
Federico: We are constantly evolving our products according to the needs of our athletes. It's really unique to have a collaboration between the world's best athletes in bike, ski, and snowboard, MIT (Massachusetts Institute of Technology) researchers, and masters in materials engineering work on a product from conception and development through when it is offered to the market and consumers. This unique collaboration allows for the best technologies available to be mixed with the highest-level innovations and needs of our athletes, which results in products that will consistently break down previously conceived functional barriers. That relationship is something truly special, and an extremely rewarding process. Working side by side with the most innovative athletes in the world to create products to aid in their performance is uncommon to say the least.
Where is there room for growth?
Federico: We believe that there is huge room for growth for both of our brands - Slytech and Shred - given that they tackle different unsolved needs. Slytech breathes product innovation and technology in order to maximize safety and comfort for our athletes and consumers. This is expressed through our unique line of protection. On the other hand, Shred is the perfect combination of our rebellious style plus performance, and is taking ownership of that proposition, as seen in our optics and helmets collections.
From these clear and quite unique foundations, the growth is coming in every market that we are participating in: Skiing, Snowboarding, Mountain Biking, and BMX, and we believe that the best is yet to come.
Care to add any last words?
Ryan: Shit's gonna be awesome... Just wait.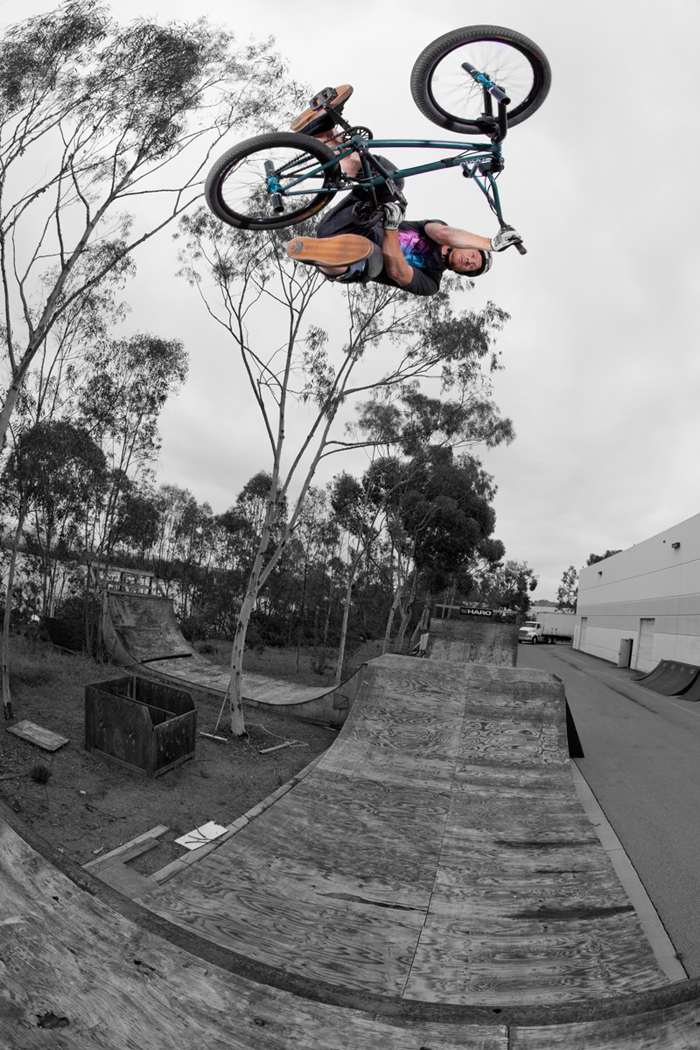 Head to anomalyactionsports.com to check out Shred / Slytech products that are widely available online and in specialty retailers in approximately 40 countries worldwide, photo: Colin McKay / Haro Bikes.
---