Back to News
Lauren Gould, Marketing Manager at ReadyPulse
April 11, 2014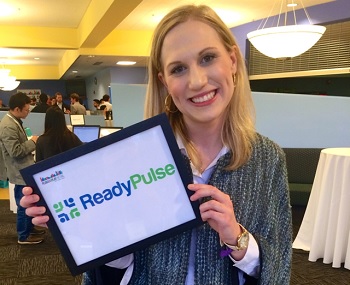 Lauren Gould, Marketing Manager at ReadyPulse
Lauren Gould is a recent graduate of Utah State University who started her career with ReadyPulse in the summer of 2013 as a Content Marketing Intern. Lauren quickly transitioned into the Marketing Manager role after only three months with the small start-up based in San Carlos, Calif. and has leaned on her previous leadership experience and education to get her to where she is today - in a unique position with endless growth opportunities both personally and professionally.
"My primary responsibility as the Marketing Manager is to tell the world about ReadyPulse and how we are changing the face of digital marketing," explained Lauren Gould. "I want to grow with ReadyPulse as they continue to build a product that will change the way we think of marketing forever."
We interviewed Lauren Gould, Marketing Manager at ReadyPulse, to find out how she initially became involved with this rapidly growing start-up. We got the complete details on everything she does as the person in charge of the company's marketing and public relations and we asked her about the future of her role as she sees it. Check it out!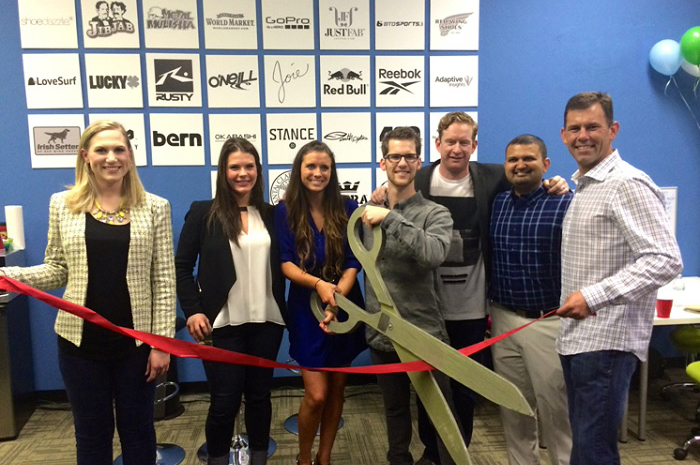 Here is some of the ReadyPulse team at the San Carlos office ribbon cutting ceremony.
When did you first become interested in marketing?
Marketing first piqued my interest in the 8th grade. I was running for a student leadership position of a 9th grade only campus during its grand opening school year. As a new student in the area, I had to convince my peers that I was the right person for the job so they would elect me into the position, without them hardly knowing me! I used every pun in the book, glitter, and a little charm to market myself to win the position! Little did I know this was the start of my preparation for a long career in marketing.
How did you get connected with ReadyPulse last year when you joined the company as a Content Marketing Intern?
I got connected with ReadyPulse through Internships.com. During the last couple of months of my senior year in college, I was a candidate and finalist in a national competition to win an entry-level public relations position in NYC. I thought I had my competition beat for sure. Since, after all, I did skip spring break to produce a movie about why I deserved the job, and my reasons were pretty good! But on graduation day, I had a very humbling experience when I found out I did not win. I immediately moved back to Seattle to plan my next steps and found ReadyPulse's job posting on Interships.com. I researched ReadyPulse and thought it was the perfect opportunity for me. I applied for the position, and the rest is history. Losing that competition was the best thing that has ever happened to me!
What made you the right fit to join ReadyPulse?
A few things made me the right fit to join ReadyPulse. Foremost, I am very passionate, knowledgeable, and active on social media. I have acquired several different skills including writing, Photoshop, HTML, and video production to create different types of content. I also have the most basic training in computer programming, so I can market our products accordingly to the different perspectives of our audience.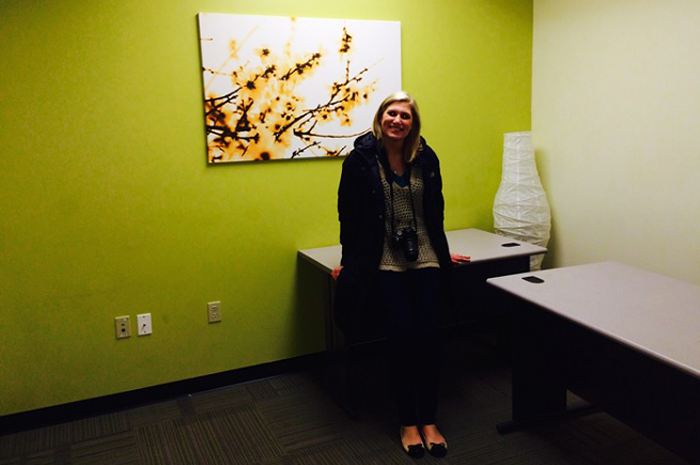 Lauren's first office with ReadyPulse was located in Redmond, Wash.
Can you speak on any exciting projects you are currently working on?
Yes, I love talking about my current ReadyPulse projects, especially lately! I have been working with Srinivas Penumaka, ReadyPulse President, to create Skorebase. Skorebase.com is an online resource for brands to determine if their sponsored athletes are performing well on social. Brands can use the unique social analytics, and Athlete Score to determine if their athletes provide enough social value to make their investment worthwhile. I am also in the final stages of redesigning ReadyPulse's website, so check out readypulse.com now, and again in May to see the changes (I'm pretty excited)! I also kicked off ReadyPulse's newsletter and Influencer Insider Series this week.
How has your background and education helped to prepare you for what you do?
If I could sum myself up in 3 words it would be stylish, social, and driven. In the past 8 years I have held 8 leadership positions, studied PR and marketing tactics, obtained beneficial multimedia skills, held multiple retail positions, completed 5 internships, and did a door-to-door sales job with flair! My life experiences, passions, education, and work experience prepared me to be the Marketing Manager at ReadyPulse.
What has been the biggest challenge for you in your time as Marketing Manager?
The biggest challenge I face as the Marketing Manager is time! I have so many initiatives I want to carry out, but there is just not enough time in the day to get it all done. In the future, I am excited to execute a few of the ideas I have been sitting on!
Lauren repping ReadyPulse at Know Show in Vancouver, Canada.
Where do you see room for growth within your position?
I always see room for professional growth and improvement, so there are endless opportunities for me to progress as the marketing manager in general. I definitely want to grow with ReadyPulse as they continue to build a product that will change the way we think about marketing forever. But as far as specific areas, I want to obtain more knowledge in SEO optimization, design, and I also want to create a lot of cool video content.
What advice would you give to someone who is looking to start a career in marketing?
I would tell someone who is just starting a career in marketing to be confident in yourself and your abilities. Especially as a young adult, I tend to find myself second-guessing my ideas. But it's better to have confidence that you are capable and competent, because others will see your confidence and validate your efforts. Also, a very wise professor once told me, you will end up where you're supposed to be. You do not want to work for a company that doesn't see you as a fit within their culture, so don't force it. You'll know when it's a perfect fit for both you and the company, and it will all be worth it.
What's been the most rewarding aspect of what you do?
The most rewarding aspect of what I do is seeing the results from my marketing efforts. I have worked with ReadyPulse since July, and during those months we have grown in so many ways. There is no better feeling than seeing the progress I've made, and tracking the success! This is just the beginning, and I can't wait to see how far I can go with ReadyPulse!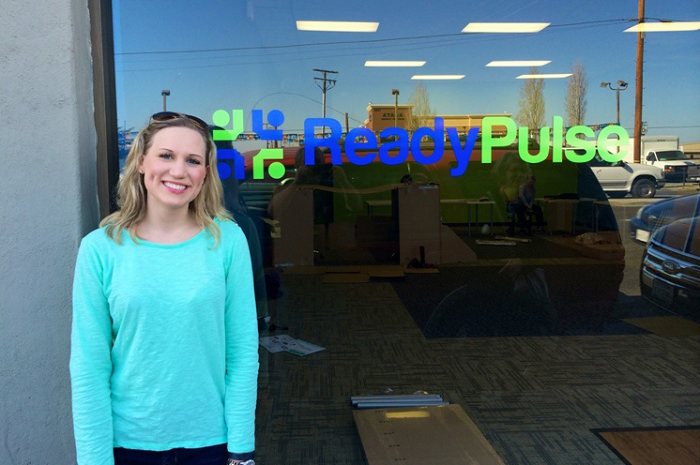 Lauren anticipating the launch of ReadyPulse's San Carlos, Calif. office.
For more information about ReadyPulse and details on the company's products and services, visit: ReadyPulse.com.
---