BACK TO NEWS
BIKE: Woodward at Copper Drops Day in the Life at Camp Video with Adam Baker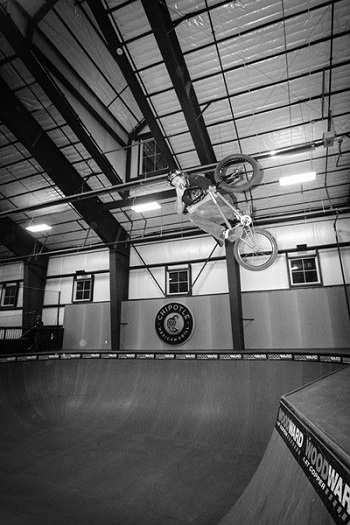 Woodward at Copper Drops Day in the Life at Camp Video with Adam Baker
Join Pro BMX Rider Adam Baker this Summer at Woodward at Copper Summer Camp
Press Release from Master Plan Communications
Copper Mountain, CO (April 14, 2014) – Woodward at Copper is proud to welcome pro BMX rider, Adam Baker to the 2014 summer coaching staff. With his laid back style and arsenal of tricks as seen in etnies "Grounded," Adam will teach campers how to rip the bowls and street terrain at camp this summer. Check out his new "A Day at Camp with Adam Baker" video here: https://www.youtube.com/watch?v=bv9BkhdPopA
Running from June 15-July 31, Woodward at Copper's 2014 Summer BMX Camps are open to everyone eight and up. A typical day at BMX camp will include Barn Sessions, riding parks in the surrounding area, go-carting, rock climbing, hiking and more. With seven weeks available, Summer BMX Camp with Adam is an experience BMXers don't want to miss. Below is a tentative day schedule for the BMX summer camper:
7:30 a.m. – 8:30 a.m. – Breakfast
8:45 a.m. – 9:00 a.m. – All camp meets in EDGE Sky Chutes Theater
9:15 a.m. – 11:45 a.m. – Union Creek Park or Barn Session
12:00 p.m. – 1:00 p.m. – Lunch
1:00 p.m. – 4:50 p.m. – Barn Session or Offsite Park Tour
4:50 p.m. – 5:00 p.m. – All Camp meets in Sky Chutes Theater
5:00 p.m. – 6:00 p.m. – Dinner
6:00 p.m. – 9:00 p.m. – Open Session at the Barn or Free Recreation/Activities Time
9:00 p.m. – 10:00 p.m. – All Camp Rec Activity
Campers can save $50 by booking before April 20. Click here or call 1-888-350-1544 for additional information or to register for camp.
For more information check out: http://www.woodwardatcopper.com
And keep up with Woodward at Copper at www.facebook.com/WoodwardCopper or @WoodwardCopper on Instagram and Twitter.
For more information, contact:
Ashton Maxfield
949.289.6493
ashton@masterplanpr.com
---