Back to News
Matt Schnurr, Co-Founder of Skatebout
April 18, 2014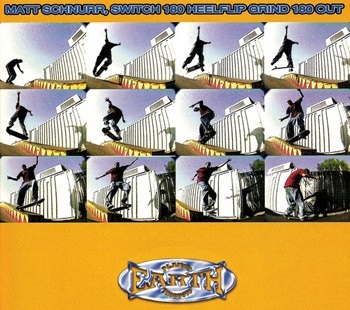 Matt Schnurr, Co-Founder of Skatebout
Matt Schnurr is a former professional skateboarder who is currently working full-time in cloud computing sales while moonlighting as a co-founder and the networking guru for SkateBout, a stage for hosting online skateboarding contests. When Matt and business partner Curtis Snyder launched Skatebout.com last year, the goal was to bring the contest to the skaters to create a level playing field for anyone to compete and have fun.
"I watch online skate videos everyday and am inspired by people I've never met and don't even know," said Matt Schnurr. "We are hoping that as we make skate contests more accessible this will help to continue to grow the sport."
We interviewed Matt Schnurr, Co-Founder of Skatebout, to get the scoop on the process of developing and launching a fully-functioning website. We also asked him to explain how the site works and what the initial inspiration was; and much more!
What was the initial inspiration in starting SkateBout?
There are a couple of things that inspired me to launch SkateBout. One, I love skateboarding and if you've ever skated you realize the passion will never go away no matter how old you get (I'm 40). Also, I always wanted to take what I've learned in business and technology to create something that would give back to skateboarding and help give skateboarders the same opportunity I had in going pro and getting to travel. I know it can be hard to get exposure and get discovered and I wanted SkateBout to give skaters the ability to skate, travel and have fun, while getting paid to do something they love. A lot of the big skate contests are U.S. based and not every kid has a sponsor, travel budget and entry fee ($150-$250) to get to a contest and compete.
When I was a kid my friends (Tim Gavin, Cody Boat, and Jamar) and I had to have our parents drive us to skate contests and go out to California to enter (California Amateur Skateboard League contests. I wanted to take the idea of a modern day C.A.S.L. contest circuit and use technology to bring the skateboard contest to the skater. This way anyone globally could have the ability to compete, have fun and get exposure at a reasonable entry fee (usually between $25-$50, although initially we will be offering some free contests as well).
One example in particular that really inspired me to launch this was when I watched the story of Felipe Gustavo and how he got an entry to Tampa AM but his family couldn't afford to send him to the contest because he lived in Brazil. His Dad asked him, "do you want to go?" And he answered "This is my dream." His Dad went ahead and put it all on the line. He sold the family car to get 2 plane tickets and money for a hotel (Felipe Story @ SkateBout). Felipe got to the contest and almost didn't get to enter, but due to his persistence and hunger to skate he got in the contest. He f***ing killed it and went on to win the contest! If his Dad had not sold the car and create the travel funds to get Felipe to the contest his skateboard career may not have progressed as fast as it did (although his skills and talent would have eventually shined, he had to make a big sacrifice to get to the contest). This was a huge driver to get off my ass and to modernize the skate contest scene to give skaters the ability to compete no matter where they live. I wanted to give skateboarders everywhere an equal opportunity to show off their skills.
How long were you a pro skateboarder and how did you transition into doing what you do for a living now?
I was a pro skateboarder for around 4 years or so for Planet Earth Skateboards in the early 1990's. I have to admit it was one of the best times of my life! It was amazing to get the privilege to actually skate, travel and hangout with all my good friends while making some money. At the time, I really didn't realize how lucky I was until I got older and had to start working a day job. I ended up at a huge computer distributor driving a forklift for $6.15 an hour in 1996. I worked really hard and long hours while reading business and computer books to try and set a career path (since I didn't graduate High School). Lucky enough, I worked my way up the corporate ladder and after 5 years moved into a sales role selling IBM Unix and AS/400 servers which eventually transitioned into cloud computing sales (Virtual Servers, Storage, Desktops, etc), which I do today.
Matt Schnurr in Planet Earth's Cat Cradle.
What is your role with SkateBout? Who is involved besides yourself?
My role in SkateBout is to be a skateboarder and handle the skateboard and networking side of things. My business partner Curtis Snyder is the brains of the operations and his title is "The doer of shit that needs to get done." This dude is a genius and I've never seen someone take so much pride in his Xcel formulas and all the work that he does! I couldn't have got this off the ground without him so thanks Curtis!
How does SkateBout work?
SkateBout is setup to be an online platform that hosts skateboard contest, so that skaters globally can have the ability to compete, have fun, get exposure and win cash and prizes. We are going to be hosting all types of skate contests, including 1 minute skatepark runs, Best Video Part, Best 10 Manual Tricks, Best 10 Block Tricks, Best 10 Tricks down 7 Steps, Vert, Pool, Mega, and more. We wanted to keep the competitions fair so we created age groups.: 9 and Under, 10-15, 16-19, 20-25, Sponsored AM and Old Timer.
When we set up a contest, we will announce them out about 30 days in advance so that skaters will have time to go film their best shit and then upload it to SkateBout. All you need to do is go to the site and create a profile or log in via Facebook. Go to the "Enter a Contest" tab to see a list of all the current and future contests and once you pick a contest you want to enter, just drop your YouTube link into the upload field. Once you complete the steps it prompts you to share your video out to the public. This is where skaters can ask people to watch and rate their videos. We have a 4-point rating system and when you're 80% through watching a video the rating bar will pop-up so you can give you opinion of the video. The rating system also calculates how many Shares, Likes, Views the video received to calculate a percentage, and lets you know what place the video is in. We have a very complex formula for the rating system so contests do not turn into a popularity contest - Curtis explains it as a four point multi variable weighted-average algorithm, whatever the hell that means. It is designed to be fair for all and will let the viewers judge the skating based on the level of skills. We also created a "Winners Circle" and when a contest ends the top 3 skaters from each contest (or more depending on the total number of entries in the contest) will stream across the bottom of the homepage for 30 days to help them get the exposure they deserve. We are currently hosting free contests and this is a great way for people get used to the platform by uploading their footage and sharing it out on their social and asking people to rate their video. This is a great way to see what the public thinks of your footage. We will eventually be transitioning from free contests to prizes and will be giving out completes, boards, trucks, wheels, etc. Lastly, we will be announcing our paid entry contests. The way this will work is the skater would pay a $25 dollar entry fee and we will move $10 dollars of the $25 into the purse and the site will have a ticker counting each entry fee so that the skater at any time will know how much money their video is competing for. Once the site is more established I would like to create a contest where skaters could get flown to LA and skate with Biebel and Mike Mo at Beeb's park. Beebs and Mike Mo joined up with SkateBout and are ambassadors and partners of SkateBout (Thanks for your confidence guys!!!). Lastly, we'd like to collaborate with DAM AM, PHX AM, Tampa, Woodward and create travel packages and wild card entries for skaters who compete on SkateBout.
What has the response been like from the industry and from skateboarders?
You know, the concept is still relatively new but it is really catching on fast. For example, our platform has only been officially launched for less than 2 weeks but we have already had thousands of skaters visiting the site from over 64 countries. We are excited about this and think it is just going to continue to grow as people start to realize how much this is going to change the industry and how much it will help good skaters from around the globe get recognized for their skills.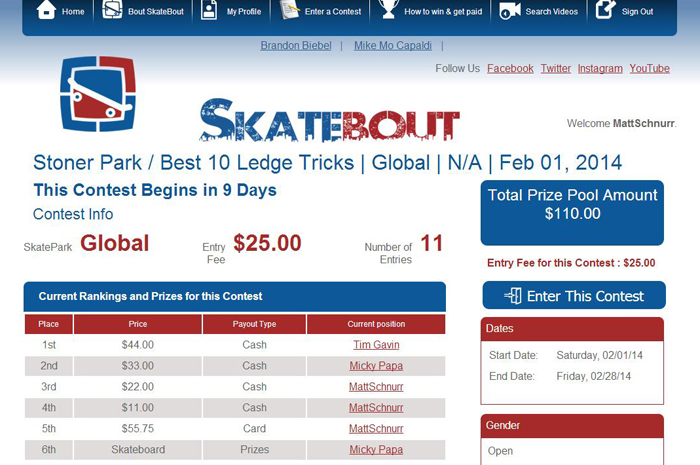 The homepage of Matt Schnurr's Skatebout.
Did you look to any organizations outside the industry as a source for inspiration in launching SkateBout?
I guess you could say that I am inspired by any organizations doing things for the right reasons. When you have a passion about something and can help change someone's life, that's huge. If SkateBout could help a skater get exposure, possibly get sponsored or eventually go pro then it will have all been worth it. That would be life changing for a skateboarder and we would love to be part of helping someone accomplish a lifelong goal.
How is SkateBout good for Skateboarding?
When Curtis and I were writing up the business plan, we really wanted to come up with a couple of concepts that would be good for skateboarding in regards to the skaters, the shops and the industry. First, we wanted to bring the skate contest to the skaters and give everyone globally the ability to compete and have fun. Second, we are currently in the process of developing a global map that will provide directory services for the grass roots skateshops where they can just add a pin on the our map for their shop location. Once this is live, we have plans to purchase gift cards from the grass roots skateshops who have signed up with SkateBout to give out to the skaters that place in the contests. When a skater places in the top 5 and has his favorite local skate shop in his profile, in addition to other prizes I mentioned above, we will purchase a gift card from the shop and the skater will need to go to the skateshop to pick it up. We're hoping to help increase sales for the shops by driving the skaters to the shop to use their gift card. As well, possibly drive an up-sell and maybe they buy some shoes clothes, etc. We think this is good for the industry. We are hoping that as we make skate contests more accessible, this will help kids to not quit skating or lose faith that they will never be able to get to a certain contest and will help to continue to grow the sport.
What has been the biggest challenge for you in launching SkateBout?
Like any startup, putting together the funds and capital are always challenging. I would say the biggest challenge currently is that this is a 100% new concept to skateboarding so we need to give the industry time to adopt it. Another big challenge was to make sure that we always looked at this as something that is being built for skaters to use; we tried really hard to make it easy to use.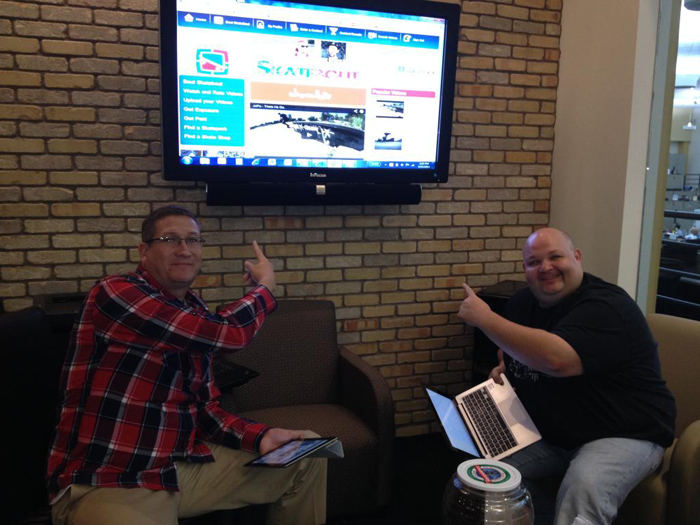 Matt holding it down at Skatebout HQ.
When will you be able to call it a success?
A huge milestone would be to see a skater get sponsored from competing on SkateBout. I feel it would be a success when we feel the industry has adopted and accepted SkateBout as a new form of skateboard competitions.
Where will you take it from here?
We have like 3 additional phases that we plan to roll out to take this to the next level, but you'll have to wait to see they announcement. Just know this is only the beginning and it is only going to get better.
Is there anyone to say thanks to that helped you make this happen?
I'd like to start by thanking skateboarding and every skater. I watch online skate videos everyday (in fact we could have launched this earlier but we did a lot of "research" of online skate videos) and am inspired by people I've never met and don't even know. I had a conversation with someone the other day and I thought about what my life would be like if I hadn't grabbed the Nash Executioner skateboard from Toys R' Us in 4th grade and begged my parents to buy it for me. I may be a totally different person? So thank you skateboarding for making me who I am. I would like to thanks Curtis Snyder, Brandon Biebel, Mike Mo Capaldi, Tim Gavin, Rick Howard, Jason Callaway, Vince Capaldi, Felipe Gustavo, Veronica @ Girl, Mark and Mary Murawski, Everyone who gave me positive feedback on the idea, The whole Girl Family, Lakai, Fourstar Clothing, Malakye, Glassy, Filament Brand, Knox Hardware, Saad Shahzad, Alex Scanlon, Geoff Bernstein, Brandon West and Freedom BoardShop, Trent and Cowtown Skateboards and anyone I forgot you know who you are. Thx.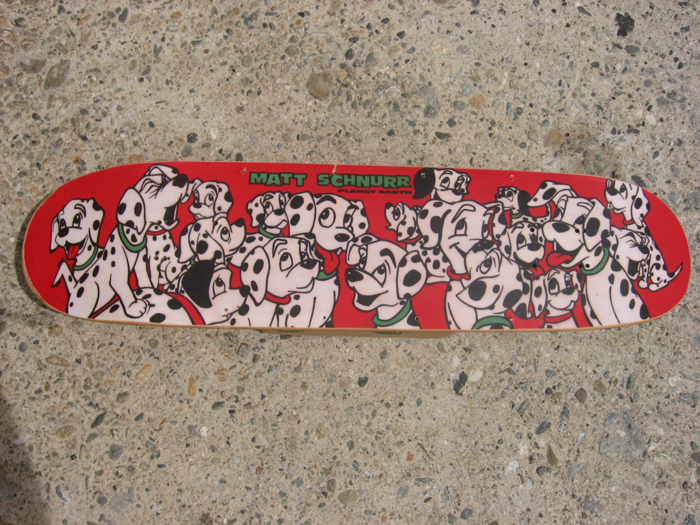 Head on over to Skatebout.com and register to start posting videos today!
---