Back to News
B$Z: etnies Team Spends Spring Holiday in the Streets with Homeless
April 18, 2014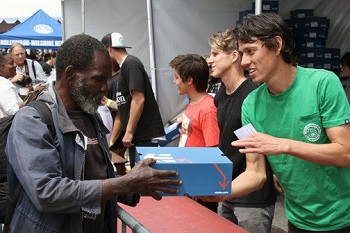 etnies Team Spends Spring Holiday in the Streets with Homeless
etnies' team riders Cairo Foster, Nick Garcia and David Reyes joined etnies' Owner and CEO Pierre-Andre Senizergues at the event.
Press Release from Master Plan PR
April 18, 2014 (Los Angeles, CA) – With 5,000 displaced individuals living in the 52 square blocks of Skid Row, the etnies team celebrated the spring holiday in the streets serving those in need today. As a part of the Los Angeles Mission's 2014 Easter Event, the etnies employees and team riders took the day off work to prepare food, serve it and give shoes to 2,000 locals. This year marks 40,000 pairs of etnies shoes donated to those living in these streets since it started in 1998.
"For us, it's more than giving out 40,000 pairs of shoes," says Pierre-Andre Senizergues, Owner and CEO of etnies. "It's 40,000 times that we've been able to connect with a person to let them know that we care and that we hope that they will find a way back on their feet. It's so important for the homeless to have comfortable and durable shoes to wear each day, but it's even more important that they know they are part of a community that wants them to succeed."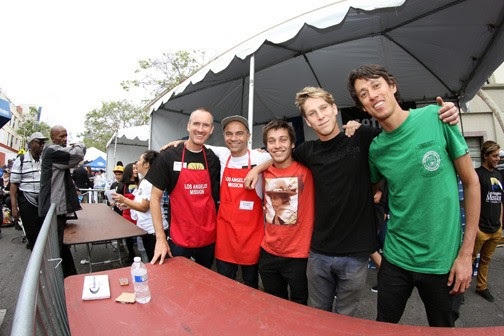 etnies' team riders Cairo Foster, Nick Garcia and David Reyes joined etnies' Owner and CEO Pierre-Andre Senizergues at the event.
Connect with etnies on: etnies.com
Facebook: facebook.com/etnies.
Instagram: @etniesskateboarding and @etnies
Vimeo: https://vimeo.com/etniesvideo
Twitter: @etnies
About etnies:
Established in 1986, etnies is the first skateboarder-owned and operated global action sports footwear and apparel company. etnies not only pushed the envelope by creating the first pro model skate shoe, but it pioneered technological advances and changed the face of skateboard footwear forever. Today, etnies' vision, led by owner and skateboarder Pierre-André Senizergues, is to remain the leading action sports company committed to creating innovative products that provide the most style, comfort and protection possible. etnies stays true to its roots by sponsoring world class skateboarding, surfing, snowboarding, moto x, and BMX continues its dedication by giving back to each of these communities. For additional information, visit etnies.com.
---