BACK TO NEWS
B$Z: Fred Water Taps into a Favorite Hip Spot Near You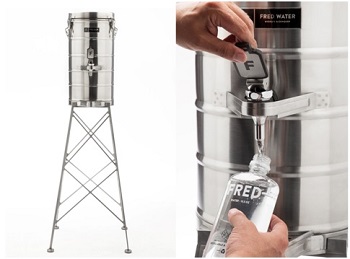 Fred Water Taps into a Favorite Hip Spot Near You
Fred Further Disrupts the Bottled Water Category with Launch of Miniature Water Towers Filled With Tap
Press Release from Master Plan Communications
April 22, 2014 (Sausalito, Calif.) – Fred Water, the first bottled water company to recommend refilling with tap, announced today that it has reimagined the old-fashioned Water Tower for select placements in hotel lobbies, trendy cafes and high-design home use. The Fred Water Tower debuted at Joie de Vivre's new The Epiphany Hotel in downtown Palo Alto, and will roll-out in Commune Hotels'select Joie de Vivre and Thompson Hotels properties, offering guests of these hip hotels a way to refill their Fred bottle throughout their stay. The goal? Elevate water in people's daily lives in an environmentally conscious way.
"Fred Water is focused on elevating water in people's daily lives," said Adam Gayner, CEO of Fred Water. "Bottled Water has taken a beating due to eco concerns. First, we addressed the issue with bottles built-to-refill, coming down hard on the Bottled Water concept of 'drink and toss'.Now our USA-Made Fred Water Toweroffers hydration in a new andexciting way; while also respecting our environment."
"We're honored that Fred has selected Commune Hotels to introduce its Water Tower concept, and that our newest Joie de Vivre hotel, The Epiphany -- located in a hub of disruptive innovation -- was the first placement," said NikiLeondakis, CEO of Commune Hotels & Resorts, parent company of Joie de Vivre. "Guest rooms are furnished with the flask-shaped bottles that can be refilled in the hotel lobby, making it easy for our guests to stay healthy and feel great during their stay. We support Fred's mission and their bold, eco-minded approach to promoting healthy hydration."
Hand-polished, NSF-Certified food grade stainless steel, the Tower sits more than four-and-a-half feet tall and is offered in three, four and five gallon sizes. The simple drop-in activated charcoal filter removes chlorine, odor and taste from regular tap water, allowing people to have refreshing water in their daily life. Coupled with Fred's pocket-friendly flask-shaped bottles, Fred Water offersthe most portable solutionfor staying hydrated on the go.
Meet Fred Water:
Created by two guys in Brooklyn, Fred Water is a brand that advocates the indisputable greatness of water, offering velvety-smooth American natural spring water in pocket-friendly, BPA-free flasks that are built-to-refill. With obesity rates in the US at epidemic proportions, Fred's mission is to reverse this trend by making water cooler to drink and easier to carry. Hydrate & Conquer. Refill & Respect.
Connect with Fred here:
The site: fredwater.com
Facebook: Facebook.com/HelloFred
Twitter and Instagram: @fredwater
For more information, contact:
Ashton Maxfield
949.289.6493
ashton@masterplanpr.com
---