Back to News
SURF: High School Teams to Compete at Oakley High School Surf Team Challenge Saturday
April 29, 2014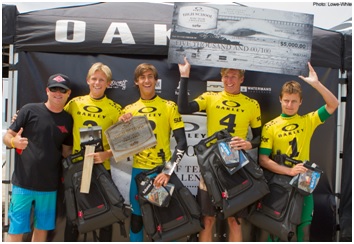 High School Teams to Compete at Oakley High School Surf Team Challenge Saturday
San Clemente High School claimed the title last year over defending champions Newport Harbor High School, and both teams will be back for the third consecutive year.
Press Release from GrindMedia
SAN CLEMENTE, Calif., April 29, 2014 – The 2014 Oakley High School Surf Team Challenge presented by SURFER culminates this Saturday, May 3rd at Lower Trestles in San Clemente, Calif. in collaboration with the Oakley Surf Shop Challenge. The second of two regional events will see 10 invited Orange County area high school teams compete for a bevy of sponsor prizes and accolades. San Clemente High School claimed the title last year over defending champions Newport Harbor High School, and both teams will be back for the third consecutive year.
The 10 invited teams are:
1. Aliso Niguel High School
2. Corona del Mar High School
3. Dana Hills High School
4. Edison High School
5. Huntington Beach High School
6. Laguna Beach High School
7. Newport Harbor High School
8. San Clemente High School
9. San Juan Hills High School
10. Tesoro High School
An onsite Instagram contest at the event will get spectators involved in the prize action with the best post using #HSTC winning a custom Oakley iPad Mini, a digital subscription to Surfer Magazine, custom Futures Fins, Watermans Sunscreen products, and Oakley gear featuring the new Oakley Enduro sunglasses.
For more information, results and photos go to surfteamchallenge.com.
Special thanks to title sponsor Oakley, media sponsor SURFER Magazine and co-sponsors New Era, Futures Fins, Watermans Sunscreen and Banzai Bowls, without which the Surf Team Challenge series would not be possible.
Photo: WestChamps: San Clemente High School (L-R): Coach John Dowell, Kevin Schulz, Ethan Carlston, Colton Overin, Jonah Carter. Photo: B. Lowe-White
About Oakley, Inc.
The global leader in performance sunglasses, goggles and prescription eyewear, Oakley also offers technical and lifestyle apparel, footwear, watches and accessories. The company was created for athletes who see impossibility as just another challenge, and their dedication inspires Oakley to seek out problems, solve with innovation and wrap invention in art. Exceeding the limits of possibility for more than thirty years, Oakley serves the demands of world-class athletes with unbeatable technologies including High Definition Optics® (HDO®). Additional information is available at oakley.com
About SURFER
In 1960, SURFER Magazine began as the original. After a long history of delivering provocative and insightful editorial features, revealing interviews and award winning state-of-the-art photography, SURFER remains the authoritative voice of the surfing world and thus earned the moniker "the bible of the sport." The SURFER brand has also grown to include Surfermag.com, Fantasy Surfer, and the SURFER message boards. All of these assets combine to make the SURFER network the most current and reliable channel of information to the surf community. The magazine is published by Source Interlink's GrindMedia, which reaches more than 22-million active sports enthusiasts through an integrated network of magazines, online properties, events and television programming. To learn more, visit surfermag.com
About GrindMedia
Source Interlink Media's GrindMedia is the world's largest action/adventure/outdoor media company, with 29 leading media assets featuring brands such as GrindTV.com, SURFER, SURFING, TransWorld SKATEboarding, Bike, POWDER, TransWorld Motocross, Snowboarder, Canoe & Kayak and more. GrindMedia reaches more than 40 million engaged consumers every month through its print, online, mobile, TV/video and events. Delivering significant reach across both action sports enthusiast and various in-market consumer audiences, GrindMedia also produces more than 40 leading events and webcasts such as Surfer Poll Awards, TransWorld SKATEboarding Awards, Powder Video Awards, Lowers Pro and EnduroCross. GrindMedia is also the exclusive action and adventure sports content provider for Yahoo! Sports. To learn more, visit grindmedia.com
---