BACK TO NEWS
MOTO: 2014 AMSOIL AMA Amateur National Arenacross Championships Set for Las Vegas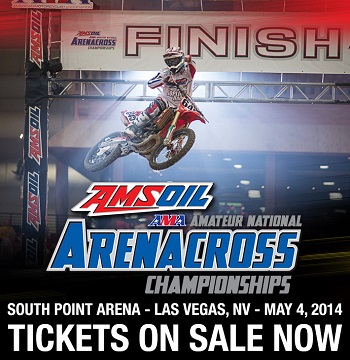 2014 AMSOIL AMA Amateur National Arenacross Championships Set to Crown National Champions in Las Vegas
Tickets to See World's Fastest Amateur Arenacross Riders Still Available
Press Release from ArenaCross
AURORA, Ill. (April 30, 2014) – In just a matter of days the world's fastest amateur arenacross riders will take center stage on the world famous Las Vegas Strip as months of anticipation will culminate with the annual AMSOIL AMA Amateur National Arenacross Championships (ANAC). The arena inside South Point Casino will serve as the sight of this showcase of amateur talent, with practice scheduled for Friday, May 2, and a loaded schedule of competition on Sunday, May 4. In the end a total of 29 classes will battle, with 28 of those classes crowning AMA National Champions.
The journey to ANAC begins in conjunction with AMSOIL Arenacross, featuring Ricky Carmichael's Road to Supercross, during its season from January through March. Since the start of the New Year, hundreds of riders of all ages and skill levels have been competing for his or her shot at lining up on the gate at ANAC. With 12 weekends of AMSOIL Arenacross competition during the 2014 season, riders were eligible to qualify from one of four different amateur regions –South, East, West and Central – during each of the Amateur Day races that took place every Sunday throughout the arenacross season.
The amount of track time has been doubled for all 464 ANAC competitors, which will surely lend itself to even better racing. On Friday morning all 29 classes of competition will take to the track for the first time in practice, familiarizing themselves with the layout inside South Point Arena. After a break on Saturday in which competitors will enjoy the final race of the 2014 Monster Energy AMA Supercross, an FIM World Championship, season Saturday night at nearby Sam Boyd Stadium, they'll return to the track at South Point on Sunday morning. Elimination Heat Races will start the day off, with riders in each of the 29 classes going bar-to-bar all in hopes of transferring into their respective Main Events.. As the afternoon gives way, the process of determining which 29 riders will emerge victorious begins with the Main Events, with 28 riders ultimately being crowned national champions.
The 29 classes that will be in action feature a wide array of skill levels and ages, open to both boys and girls, and men and women. Because of its exceptional field of talent, ANAC has cemented itself as one of the most highly regarded amateur competitions in the world.
With upwards of 300 riders fighting for their spot at ANAC on any given weekend, qualifying for the big event in Las Vegas is challenging given the highly competitive environment. As a result, the field of competitors each year at ANAC is a true best-of-the-best in the amateur racing world.
Of the 29 classes that will be in action at ANAC, several will garner the attention of the fans and the racing community as a whole. The AMSOIL Dominator Super-Mini class provides intense competition throughout the AMSOIL Arenacross season and the top three finishers following its Main Event on Sunday will also secure their spot in the Super-mini class at this October's Monster Energy Cup in Las Vegas.
ANAC and the Monster Energy Supercross finale combine to create the ultimate showcase of current and future talent, and also serve as the ideal celebration to close out the 2014 season.
Tickets for the 2014 AMSOIL AMA Amateur National Arenacross Championships are Still on sale. Gates and pits open promptly at 8 a.m. for Sunday's action, with racing set to start shortly thereafter. Friday's practice and qualifying sessions are free to the public.
Ticket Info:
All Seats - $35 (General Admission)
*Includes free Pit Entry
All tickets are subject to a Convenience, Handling, and $3 per ticket Facility Fee. Tickets can be purchased at the South Point Arena Box Office, over the phone at 702-797-8055, or online at www.SouthPointEventsCenter.com.
Here is the schedule of events for the entire ANAC weekend:
Friday, May 2
10:00 AM Track Walk
10:15 AM Riders Meeting
10:45 AM Practice Begins (4 minutes per class)
2:00 PM Final Practice Sessions Begin (4 minutes per class)
Sunday, May 4
7:30 AM Track Walk
7:40 AM Team Faith Devotional
8:00 AM Heat Races Begin (8 laps)
11:45 AM Opening Ceremonies
12 Noon Main Events (10 laps)
Live timing and scoring from the AMSOIL AMA Amateur National Arenacross Championships is available. To follow the intense racing action live, log onto www.Arenacross.com.
The entire AMSOIL Arenacross season will air on FOX Sports 1, including re-airs on FOX Sports 2.
For more information on AMSOIL Arenacross, log on to www.Arenacross.com. For all media requests, please contact Brandon Short brandon@nextlevelsportsinc.com or 949-365-5750.
Never miss out on the latest news! For more information on AMSOIL Arenacross, please log on to www.Arenacross.com. To follow AMSOIL Arenacross on Facebook, Twitter and Instagram, long on to www.facebook.com/AMAarenacross, www.twitter.com/Arenacross and www.instagram.com/Arenacross. Subscribe to our YouTube Channel at www.youtube.com/ArenacrossLive.
About AMSOIL Arenacross
AMSOIL Arenacross is sanctioned by the American Motorcyclist Association. The AMA sanctions more amateur motorsports events than any other organization, as well as Monster Energy AMA Supercross, an FIM World Championship. For more information about AMA-sanctioned competition events, see www.americanmotorcyclist.com/racing.
About Feld Motor Sports®
Feld Motor Sports, Inc. is the world leader in specialized arena and stadium-based motor sports entertainment. Feld Motor Sports productions include Monster Jam®, Monster Energy Supercross, AMSOIL Arenacross and Nuclear Cowboyz®. Feld Motor Sports is a division of Feld Entertainment, the world's largest producer of live family entertainment. For more information on Feld Entertainment, visit www.feldentertainment.com.
About AMSOIL®
AMSOIL® manufactures premium synthetic lubricants for all automotive, diesel and power sports applications. AMSOIL is formulated specifically for equipment life, maximum power and optimal all\-weather performance and have been tested and proven for over 40 years and billions of miles of service. For more information on AMSOIL, visit www.amsoil.com or www.amsoilracing.com.
About the American Motorcyclist Association
Since 1924, the AMA has protected the future of motorcycling and promoted the motorcycle lifestyle. AMA members come from all walks of life, and they navigate many different routes on their journey to the same destination: freedom on two wheels. As the world's largest motorcycling rights organization, through member clubs, promoters and partners, the AMA sanctions more motorsports competition and motorcycle recreational events than any other organization in the world. AMA advocates for motorcyclists' interests in the halls of local, state and federal government, the committees of international governing organizations, and the court of public opinion. AMA members receive money-saving discounts from dozens of well-known suppliers of motorcycle services, gear and apparel, bike rental, transport, hotel stays and more. Through the AMA Motorcycle Hall of Fame, the AMA honors the heroes and the heritage of motorcycling for future generations. For more information, please visitwww.americanmotorcyclist.com.
About Motorcycle Mechanics Institute (MMI)
Motorcycle Mechanics Institute (MMI), is a division of Universal Technical Institute, Inc. (NYSE: UTI), a leading provider of technical education training for students seeking careers as professional automotive, collision repair, diesel, marine and motorcycle technicians. With campuses located in Phoenix, Ariz. and Orlando, Fla., MMI is supported and equipped by all six major motorcycle manufacturers – American Honda, American Suzuki, BMW, Harley-Davidson Motor Co., Kawasaki Motors Corp., USA and Yamaha Motor Corp. USA. For more information visit www.uti.edu/programs/motorcycle. Like MMI on www.facebook.com/MMIMotorcycle and follow MMI on Twitter @MMITweet. For more information visit www.uti.edu.
---