Back to News
B$Z: Lucasfilm, Disney and NEFF Announced Today the Upcoming Star Wars Legion Exhibition
April 30, 2014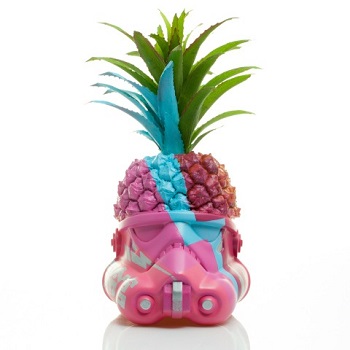 Lucasfilm, Disney Consumer Products & NEFF Announce Star Wars Legion
Stormtrooper Helmets Reimagined by Celebrities & Artists will be on Display in Celebration of the Global Fan Holiday, May the 4th
Press Release from Azione PR
San Francisco — Lucasfilm, Disney Consumer Products and Neff announced today the upcoming Star Wars Legion exhibition. Artists from across The Walt Disney Company including Lucasfilm, Industrial Light and Magic, Marvel and Pixar—as well as select street artists chosen by Neff and celebrity Star Wars fans –all come together to create individualized interpretations of the iconic stormtrooper helmet in celebration of the global fan holiday, Star Wars Day or "May the 4th be with you."
"Creativity has been a hallmark of the Star Wars franchise for over 35 years," said Troy Alders, Lucasfilm Creative Director for Disney Consumer Products. "May the 4th is a perfect time to celebrate this fantastic group of artist's unique creations and share them with Star Wars fans."
"As a lifelong Star Wars fan, it's been a dream of mine to collaborate with Lucasfilm," says NEFF Founder and CEO, Shaun Neff. "Teaming up with some of the most prominent street artists from around the world, we are thrilled to work alongside The Walt Disney Company—to re-imagine such an iconic piece of cinematic history as the stormtrooper."
Exhibition details to view the decorated, customized helmets, for free:
WHERE:
Robert Vargas Gallery
620 Main Street
Los Angeles 90013
WHEN:
Friday, May 2nd 4:00pm – 8:00pm
Saturday, May 3rd 2:00pm – 6:00pm
Sunday, May 4: Noon – 4:00pm
For more about Star Wars Legion, visit StarWars.com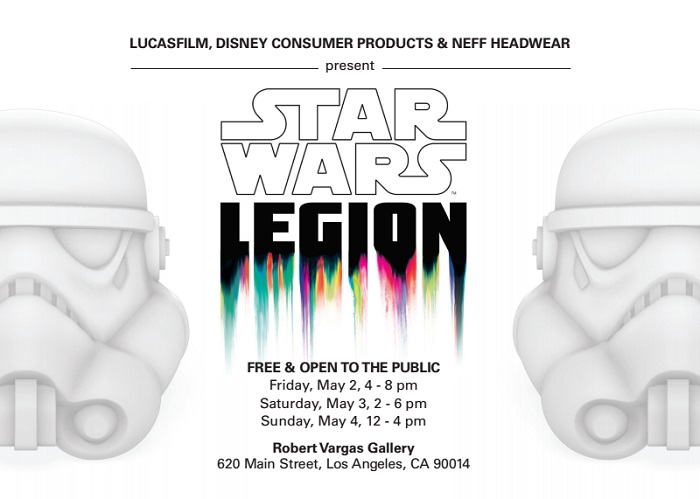 Media Contacts:
Chris Argyropoulos, Lucasfilm Ltd.
415-623-1018, [email protected]
Lauren Purnell, Disney Consumer Products
818-544-0393, [email protected]
Michele Angeloni, Neff
310.343.1339 [email protected]
About Disney Consumer Products
Disney Consumer Products (DCP) is the business segment of The Walt Disney Company (NYSE:DIS) that delivers innovative and engaging product experiences across thousands of categories from toys and apparel to books and fine art. As the world's largest licensor, DCP inspires the imaginations of people around the world by bringing the magic of Disney into consumers' homes with products they can enjoy year-round. DCP is comprised of three business units: Licensing, Publishing and Disney Store. The Licensing business is aligned around five strategic brand priorities: Disney Media, Classics & Entertainment, Disney & Pixar Animation Studios, Disney Princess & Disney Fairies, Lucasfilm and Marvel. Disney Publishing Worldwide (DPW) is the world's largest publisher of children's books, magazines, and digital products and also includes an English language learning business, consisting of over 40 Disney English learning centers across China and a supplemental learning book program. DPW's growing library of digital products includes best-selling eBook titles and original apps that leverage Disney content in innovative ways. The Disney Store retail chain operates across North America, Europe and Japan with more than 350 stores worldwide and is known for providing consumers with high-quality, unique products. Disney's official shopping portals online are www.DisneyStore.com and www.DisneyStore.co.uk. For more information, please visit Disney Consumer Products www.DisneyConsumerProducts.com or follow us at www.YouTube.com/DisneyLiving, www.Facebook.com/DisneyLiving, www.Twitter.com/DisneyLiving and www.Pinterest.com/DisneyLiving and www.Instagram.com/DisneyLiving.
About Lucasfilm Ltd.
Lucasfilm Ltd., a wholly owned subsidiary of The Walt Disney Company, is a global leader in film, television and digital entertainment production. In addition to its motion-picture and television production, the company's activities include visual effects and audio post-production, cutting-edge digital animation, interactive entertainment software, and the management of the global merchandising activities for its entertainment properties including the legendary STAR WARS and INDIANA JONES franchises. Lucasfilm Ltd. is headquartered in northern California.
About Neff
Launched in 2002 by Shaun Neff in Southern California, Neff was the first authentic core snow and skate headwear company in the world. Neff is an active youth accessory brand supported by some of the biggest actions sports athletes in the world as well as key personalities across the globe. Neff World Headquarters is located in Camarillo, California and is internationally sold in 45+ countries to select action sports retailers. They also make Neff Vision and Neff Time lines unique collections of stylish higher end sunglasses and watches. Neff collaborates with household names such as Snoop Dogg, Deadmau5, and Scarlett Johansson. www.neffheadwear.com
STAR WARS and related properties are trademarks in the United States and/or in other countries of Lucasfilm Ltd. and/or its affiliates. © & TM Lucasfilm Ltd.
STORMTROOPER ART BY: NEFF
STORMTROOPER ART BY: LUCASFILM
---