Back to News
GEAR: GoldCoast Skateboards Scores Alongside USA for the 2014 World Cup
May 7, 2014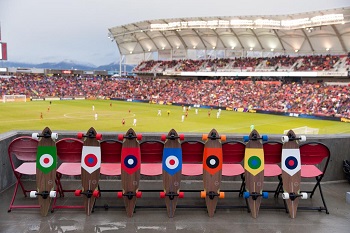 GoldCoast Skateboards Scores Alongside USA for the 2014 World Cup
Skateboarding Unites People Around the World and GoldCoast Skateboards' Releases a Board to represent the United States of America
Press Release from Master Plan Communications
May 7, 2014 (Salt Lake City, Utah) – GoldCoast Skateboards is proud to release the Goal Series with the United States of America (USA) in time for the 2014 World Cup. As an estimated 715 million people tune into the World Cup, GoldCoast Skateboards has brought together football and skateboards to unify the message that both football and skateboarding truly unite the world.
GoldCoast Skateboards' Marketing Director, Chris Brunstetter says, "Having consolidated our product design, assembly, sales, marketing and distribution in the United States last year, my team and I are extremely proud to have developed a board to represent USA in time for the 2014 World Cup."
Consisting of 7-ply Canadian Maple with a micro-ply of exotic walnut wood, the Goal Series graphic incorporates the national colors: red, white and blue to better represent the United States of America. The Goal Series board sits on custom wheels and measures 40" long by 9" wide with a 26.5 inch wheelbase and features die cut grip tape.
The 2014 World Cup is the 20th World Cup and will be held in Brazil (between 12 different cities) from Thursday, June 12 to Sunday, July 13 with 32 countries participating from five confederations.
For the latest details on GoldCoast, check out skategoldcoast.com and connect with the brand on Facebook, Instagram and Twitter.
About GoldCoast
GoldCoast's founders, Brock Harris, Chris Brunstetter, Dustin Ortiz and Nate Coan, describe the ethos of the brand here: "Skateboarding and design are at the core of GoldCoast. These two things touch nearly every part of our lives. Design is the language of our creativity; it is the starting point for all our products. We appreciate awareness of little details in our surroundings, our products, and our designs. Our enthusiasm cannot be contained. We want to share stories, ideas, sessions and trips with our peers, and want them to do the same with us. The end goal is to have fun. We don't do what we do for trophies, fame, or titles – we take it easy. Seriously."
For press and sample inquires, contact:
Ashton Maxfield
Master Plan Communications
949.289.6493 or [email protected]
or
Deborah Choi
Master Plan Communications
714.310.9651 or [email protected]
---