BACK TO NEWS
EVENT: OluKai 6th Annual Ho'olaule'a Celebrates Culture, Family and Competition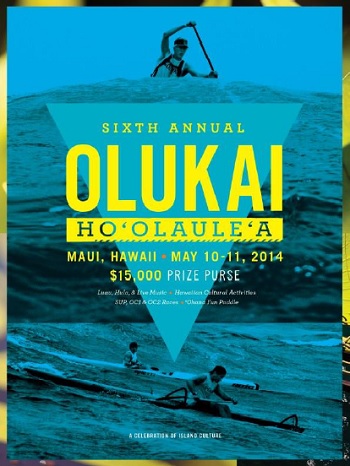 OluKai 6th Annual Ho'olaule'a Celebrates Culture, Family and Competition
Elite Stand Up Paddle and Outrigger Canoe Competition Scheduled for May 10-11, 2014
Press Release from OluKai
May 7, 2014, Orange County, CA – This weekend OluKai kicks off the brand's 6th annual Ho'olaule'a in Maui, Hawaii. This unique ocean festival brings together the world's best paddlers to race the legendary 8-mile Maliko downwind run for a chance to win the gender equal prize money of $15,000. To honor the competition and OluKai's 'Ohana Giveback partners, the Saturday night concert will include performances by Paula Fuga, Billboard's #1 Reggae artist, Mishka and Hawaii female recording artist, Anuhea, all longtime OluKai supporters.
OluKai's Ho'olaule'a (translation: celebration) honors the ocean and the cultures that surround it while perfectly blending elite competition with family-friendly and traditional cultural activities. This one-of-a-kind festival gathers communities to enjoy canoe sailing, surfing, ancient Hawaiian games, luau, hula, and live music. OluKai is thrilled to attract the biggest names in SUP (stand up paddle), OC1 and OC2 paddlers year after year. Registered 2014 athletes include names like Connor Baxter, Andrea Moller, Kody Kerbox and Lauren Spalding.
Following the SUP race on Day 1, festival goers will be invited to observe an open water rescue demonstration by Maui members of the Hawaiian Lifeguard Association (HLA). The demonstration, to be held at Kahana Beach Park, will be hosted by OluKai Konohiki (translation: caretaker) and veteran Maui Lifeguard and Waterman Hall of Famer, Archie Kalepa.
Saturday night will conclude with an award ceremony and full-band concert by Anuhea, Mishka, and solo recording artist Paula Fuga. Click here for the full weekend event schedule.
Along with thousands of event participants and festival goers, OluKai will host employees, sales reps and retailers from across the country, introducing them to Hawaiian culture through Ho'olaule'a.
"As a company, the Ho'olaule'a is time for celebration, but for us, it's also an expression of gratitude. Every year the event not only brings together friends and family from all areas of the world, but gives us the opportunity to share 'Ohana and honor our valued giveback partners," says Kerry Konrady director of marketing at OluKai. "All the organizations participating in our Giveback Program are actively involved in this annual celebration of culture and tradition."
On Monday following the weekend's events, OluKai employees and local volunteers will travel together to Kaheawa Beach, a windmill site referred to as Wao Akua (translation: realm of the gods), and spend the day learning sustainability methods utilized by the islands due to limited natural resources. Project Malama (translation: to take care of properly) Kaheawa is an ongoing mission to re-plant Ohi'a Lehua trees that were removed upon the windmill's installation, led by the Maui Cultural Lands a respected partner of OluKai's devoted Giveback Program.
The entire event will be filmed in HD and broadcast internationally courtesy of OluKai media partner, Ocean Paddler TV.
About OluKai
OluKai is an ultra-luxury lifestyle brand that believes everyone, no matter where they are, can live Aloha. OluKai is one way to unlock its spirit in all of us. It is an inspired brand that whole heartedly believes in creating an emotional connection with the consumer and communicates from an "inside-out perspective." The company is committed to building a unique and better class of products that blend ocean heritage with modern performance while leaving the smallest footprint possible on the planet. Through its Fit by Nature™, Crafted by Hand™ design principle, OluKai builds every pair of footwear with signature anatomically contoured footbeds to deliver the perfect balance of instant comfort and lasting support. Each pair features beautiful, quality materials and handcrafted details inspired by island culture. In every facet of its business, the brand is committed to respecting the people and the environments it touches. Inspired by the strong tradition of giving an offering or tribute in Polynesian culture, OluKai established the 'Ohana Giveback Program to support the efforts of those who continue to give back to preserve local cultures and traditions. For more information visit www.olukai.com.
---