Back to News
B$Z: Beach Riot Partners with PJ Salvage & Announces New President
May 6, 2014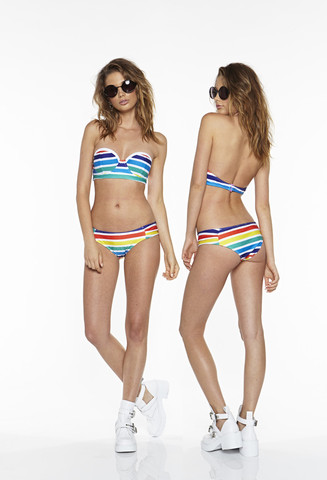 Beach Riot Partners with PJ Salvage & announces new president
Cali based swimwear/lifestyle brand Beach Riot have entered a partnership with PJ Salvage and have appointed industry vet Mark Tinkess as their new president. Tinkess previously worked for the Billabong group, and most recently served as VP of RVCA.
Press Release from Beach Riot
Today Orange County based swimwear and lifestyle brand BEACH RIOT announces a strategic partnership and the addition of new management.
Beach Riot has entered into a strategic partnership with PJ Salvage and appointed experienced industry executive Mark Tinkess as brand President.
PJ Salvage CEO Peter Burke elaborated on the new partnership:
"I have been following BEACH RIOT's progress for some time now, and when the opportunity came up to get involved with Nicole and Mark, it seemed like a perfect fit for us," Burke said.
"We like niche market brands, and will certainly look at helping grow the business through our domestic and international channels."
Recently nominated as SIMA WOMEN'S SWIM BRAND OF THE YEAR, Beach Riot is known for its unique and cutting edge swimwear and accessories. Nicole Hanriot, Beach Riot's founder and design visionary is pleased with the new partnership:
"I am beyond excited about the new partnership with Peter Burke and PJ Salvage as well as the appointment of Mark Tinkess as brand President. Combining Peter's experience and operational expertise with Mark's sales and management experience will allow me to fully complete my vision for Beach Riot," Hanriot said.
Mark Tinkess spent thirteen years with the Billabong Group, most recently as Executive Vice President of the RVCA brand, commented further:
"I've known Nicole for a number of years and have been impressed with her design talent and unique vision for Beach Riot," Mark said. "With the support of Peter from PJ Salvage I look forward to working with Nicole to complete her vision for Beach Riot by creating a design driven global swimwear and lifestyle brand."
---