BACK TO NEWS
The Sheckler Foundation Q&A with Gretchen & Ryan Sheckler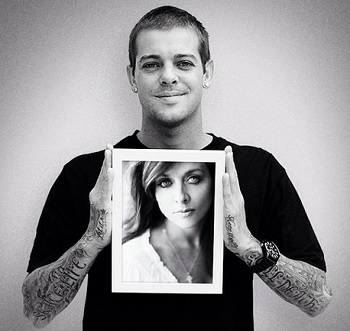 The Sheckler Foundation Q&A with Gretchen & Ryan Sheckler
Ryan Sheckler has been skateboarding professionally since he was 13 years old. While he was still a teenager, he pursued a personal interest in helping others and started The Sheckler Foundation as a way to give back to the action sports community. Ryan's mother and professional manager, Gretchen Sheckler, came on-board as CEO and Director of The Sheckler Foundation and the pair have been working hard since 2008 to inspire others to "Be The Change" by producing fundraising events, passion projects and web-based initiatives to raise capital and awareness.
"Since Ryan is a skateboarder, a lot of people think we build skateparks," said Gretchen Sheckler. "In reality we have helped build 2 skateparks only because that was in alignment with our mission to help injured action sports athletes and children."
We interviewed Ryan and Gretchen Sheckler on the back of the 5th Annual Skate For A Cause event that was held in early May, 2014 to get the scoop on what it has been like running The Sheckler Foundation for the past six years. We asked them about current plans in the works, how The Sheckler Foundation can continue to grow, and much more!
What was the initial inspiration for starting the Sheckler Foundation?
Gretchen: In 2007, Ryan offered up his Range Rover to be auctioned off and all of the proceeds were donated to CCRF. We were shocked when we raised $220,000. This opened our eyes to how powerful our network of followers was and by starting a foundation we could channel this amazing energy for an even greater impact.
Did you look at any other charitable organizations (inside or outside the industry) to serve as the model for the Sheckler Foundation?
Gretchen: For sure. I grew up volunteering for the American Cancer Society; my mother is a cancer survivor. I love the way helping others makes you feel. It's infectious and addictive. Ryan was exposed at a very young age when he would be asked to grant a wish to an ill child. We wanted to create that atmosphere with our foundation. The Sheckler Foundation is a place where benevolent souls have a platform to change their community.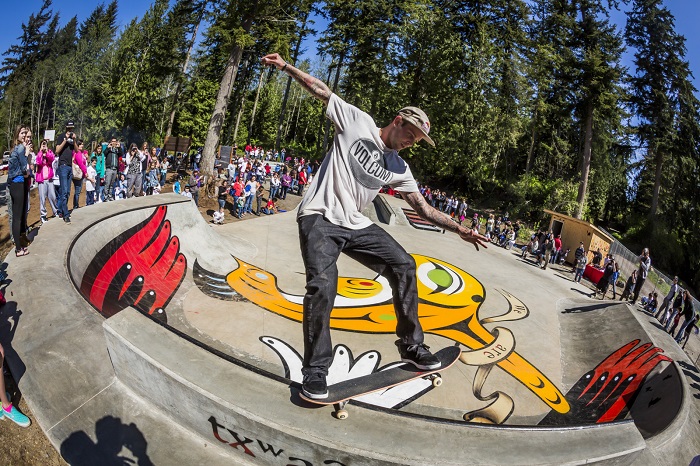 Pro Skateboarder Ryan Sheckler founded the Sheckler Foundation in 2008.
What is your favorite part of the annual Skate for a Cause event that just went down in Lake Forest, Calif.?
Ryan: It feels like a big family event. I love hanging out with my friends and being able to skate and chill with all the kids. It's an amazing feeling.
What's new with the 'Be the Change' program? Is there another project in the works?
Ryan: We just wrapped up round 2 and we will be starting our third "Be the Change" initiative online in a couple weeks.
Can you share your thoughts and/or takeaways from the recent unveiling ceremony of the 'Be the Change' skate park on the S'Klallam Tribe reservation?
Ryan: There was such a huge sense of community and I realized the positive impact that the skatepark had on everyone from tribal elders to the youngest children of the tribe. So many people came out to the dedication; I think the biggest impact was on me.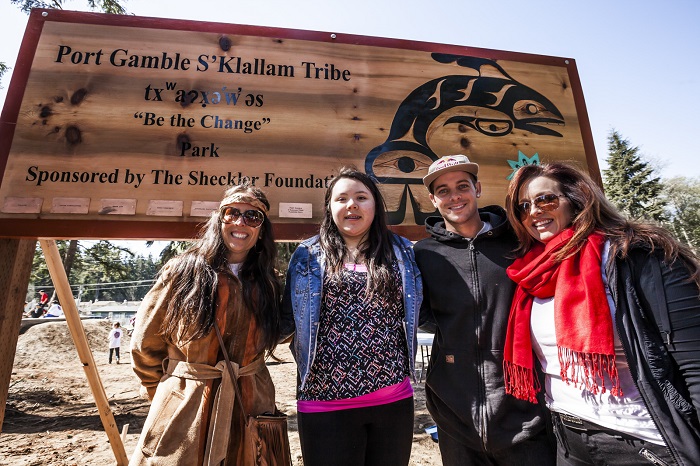 Left to right: The Sheckler Foundation's Angelique Zaki, Kaitlyn from the Port Gamble S'Klallam Tribe, Ryan Sheckler and The Sheckler Foundation's CEO, Gretchen Sheckler, at the Port Gamble S'Kallam skatepark's grand opening in April, 2014.
What's it like to work with your son? Who does what?
Gretchen: It's awesome working with Ryan. He has such a big heart. I love being able to help him make his dream of helping others into a reality. I run the day-to-day operations and events planning. Ryan helps by reaching out to his friends and sponsors and gets them involved in our projects. He also participates in all of our events.
What's it like having your mom as CEO and Director of the Sheckler Foundation?
Ryan: It's awesome, I trust her.
Do you see room for growth?
Gretchen: There is so much room for growth. I love the path that we are on. As more and more people learn of the foundation and are able to join our "Be the Change" movement, we see lives positively impacted. As our outreach grows we must evolve to meet the needs of our community.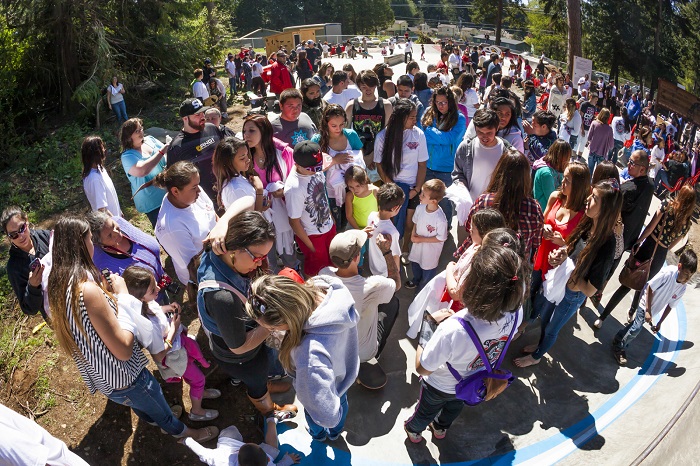 The Sheckler Foundation is known to attract quite a few kids to its events by offering fans the possibility to meet with Ryan.
What has been the most rewarding experience for you in starting the Sheckler Foundation?
Ryan: Probably exposing the positive impact skaters (and skateboarding) have on their community.
What has been the most rewarding experience for you during your time with the Sheckler Foundation?
Gretchen: There are rewarding moments, everyday. The moments I cherish are the personal ones, when I get to meet someone, face to face who has been positively impacted by what we are doing. That's when it hits me most.
Where have you received help along the way (sponsors, friends, family)?
Ryan: I couldn't do it without my sponsors, friends and family.
Any last words?
Gretchen: I just want to encourage everyone to "Be the Change" they want to see in their community. It only takes one kind act to make a huge difference in someone else's life
.
Ryan: I would really just like to thank all of the supporters of the Sheckler Foundation. It's been an amazing 6 years and we're just going to get better and stronger.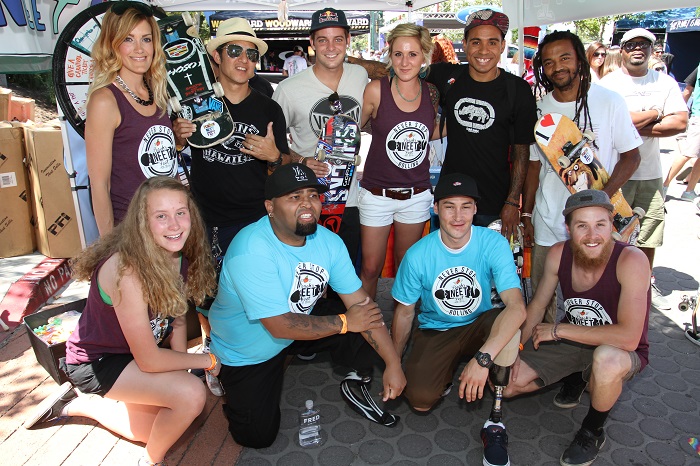 Check out The Sheckler Foundation at shecklerfoundation.org and be sure to follow them on Facebook, Twitter and Instagram! (B+W intro photo: Nixon)
---