BACK TO NEWS
EVENT: Most Epic Year for the 6th Annual OluKai Ho'olaule'a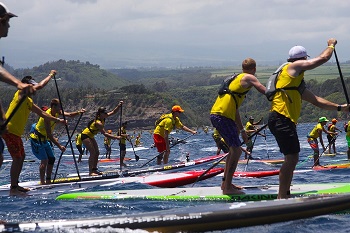 Most Epic Year for the 6th Annual OluKai Ho'olaule'a
World Class Ocean Festival Brings Elite Athletes, Community, Music and Inspirational Moments
Press Release from Olukai
Maui, HI – Celebrating its most memorable year yet, OluKai brought together world class athletes, Hawaii's top musical artists, community, key retailers and some of the most heartfelt moments, to its 6th annual Ho'olaule'a on May 11-12 in Maui, Hawaii. Event participants and festival goers gathered Saturday and Sunday for what has become one of the most celebrated festivals, elite standup paddle (SUP) and outrigger canoe 1 man/2 man (OC1 & OC2) competitions in the world. With numerous inspirational and emotional moments throughout the event, including the human spirit-defining 4+ hour SUP paddle by Navy Seal veteran Kimo Akaka, the event featured canoe sailing, ancient Hawaiian games, luau, hula dancers and a 3 mile fun paddle. OluKai's Giveback Day with Maui Cultural Lands on Monday gave OluKai a chance to give back to the community and pay homage to the land.
Competing for equal gender prize money of $15,000, SUP and OC1/OC2, 434 racers traveled from 9 countries and throughout the U.S. to compete in the Maliko Downwind run, one of the most prestigious SUP races in the world which spans 8 miles of infamous open ocean. The top 3 winners in men's SUP included Connor Baxter taking 1st place for the second year in a row and Travis Grant and Jeremy Rigs taking 2nd and 3rd respectively. "Really stoked to be here at such a big event on Maui in my backyard, I train on this run every single day which definitely helped me," stated Connor Baxter. Taking 1st place in women's SUP was Andrea Moller for her unrivaled 6 time win, followed by Sonni Honscheild in 2nd and Talia Gangini Decoite in 3rd. "Anytime that an event gives equal recognition to both men and women, it makes the sport grow bigger. What OluKai does with the Ho'olaule'a really helps the sport worldwide," said Andrea Moller. For more information and full results of the SUP race, go to http://pseresults.com/events/602/results.
In men's OC1/OC2, Keakua Kaawa Nolan finished 1st, Kaihe Chong 2nd, and Daniel Chun in 3rd. The top 3 in the women's OC1/OC2 race were Lauren Spalding in 1st for her second year in a row, Andrea Moller in 2nd and Rachel Bruntsh in 3rd. "I was thinking as I paddled that second place wasn't so bad, but I put away the sheep and brought out the tiger," said Lauren Spalding, as she clenched the title in the OC1 women's elite. For more information on the OC1/OC2 races, go to http://pseresults.com/events/603/results.
Following the luau and award ceremony, OluKai presented a concert Saturday featuring a full band performance by Anuhea, Mishka, and solo recording artist Paula Fuga, all longtime OluKai supporters.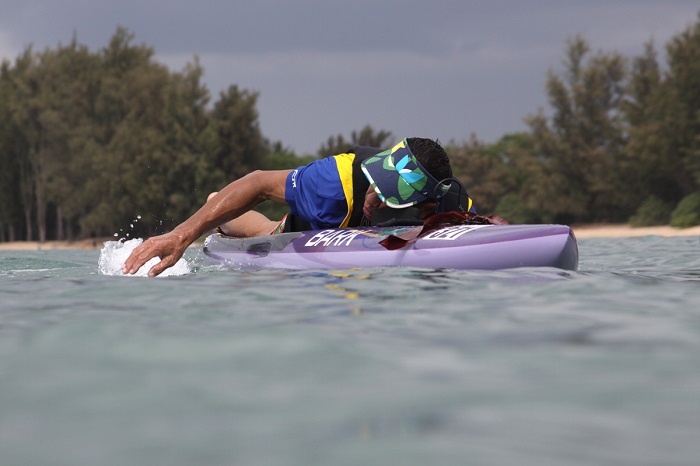 One of the most notable moments during the event took place as Navy Seal veteran and extraordinary human being, Kimo Akaka made his decision to paddle the SUP race, a race that takes most an hour and a half on average, took Kimo 4+ strenuous hours. Kimo's method of paddling is much different than others. A Navy Seal veteran for 17 years, Kimo suffered a stroke in 2011 that rendered him paraplegic, unable to feel or use any extremity other than his right arm. By strapping himself to the board and using his right arm to paddle and feet to steer, Kimo is able to navigate the water and ocean for which he loves most. When Kimo crossed the finish line, hundreds gathered in an emotional outpouring of support.
"I think I speak for everyone when I say how tremendously moving it was to be witness to Kimo's unbelievable spirit and heart at this year's Ho'olaule'a," says OluKai director of marketing, Kerry Konrady. "The Aloha that was shared during his decent to the finish line and his unsurpassed determination was something we will all have with us forever."
In a moving acknowledgement of Ralph Goto, retired Administrator of the Ocean Safety and Lifeguard Services Division, Archie Kalepa, OluKai konohiki and legendary waterman, honored Goto for his contributions to the water rescue program. Additionally a proclamation was heard by the Mayor of the County of Maui, Alan Arakawa.
Finally, as the weekend came to a close, OluKai employees, guests and local volunteers gathered Monday for OluKai's Annual Giveback Day, under the guidance of esteemed giveback partner, Maui Cultural Lands. Traveling to Kaheawa Beach, a windmill site referred to as Wao Akua (translation: realm of the gods), the team planted Koa trees, contributing efforts towards a reforestation and archeological stabilization project that will benefit generations to come.
About OluKai
OluKai is an ultra-luxury lifestyle brand that believes everyone, no matter where they are, can live Aloha. OluKai is one way to unlock its spirit in all of us. It is an inspired brand that whole heartedly believes in creating an emotional connection with the consumer and communicates from an "inside-out perspective." The company is committed to building a unique and better class of products that blend ocean heritage with modern performance while leaving the smallest footprint possible on the planet. Through its Fit by Nature™, Crafted by Hand™ design principle, OluKai builds every pair of footwear with signature anatomically contoured footbeds to deliver the perfect balance of instant comfort and lasting support. Each pair features beautiful, quality materials and handcrafted details inspired by island culture. In every facet of its business, the brand is committed to respecting the people and the environments it touches. Inspired by the strong tradition of giving an offering or tribute in Polynesian culture, OluKai established the 'Ohana Giveback Program to support the efforts of those who continue to give back to preserve local cultures and traditions. For more information visit www.olukai.com.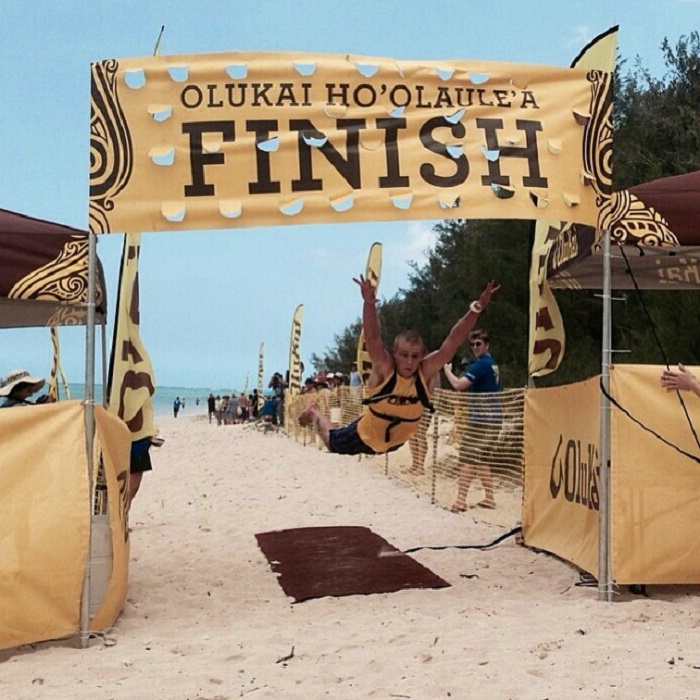 ---