Back to News
B$Z: Introducing Mocactia, A Revolution in Style
May 14, 2014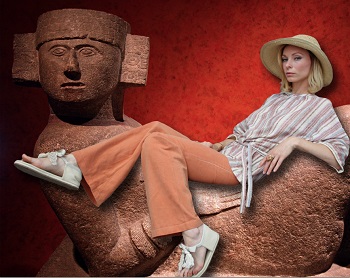 Introducing Mocactia, A Revolution in Style
The Future of Footwear Lies in the Past
Press Release from Mocactia
(San Juan Capistrano, CA) May 14th, 2014 – Introducing Mocactia, Footwear, by Franck Boistel. Inspired by, but not limited to ancient footwear, Mocactia will launches with the Aztec sandal, a style created more than six hundred years ago by the Aztec nation. With no physical trace remaining of this sandal, Boistel stumbled upon images of an Aztec sandal in manuscripts and sculptures during a trip to Mexico City. Extremely well designed, functional and efficient, Boistel found inspiration in the simplicity and functionality. Revamped and updated for a modern and sustainable solution to everyday footwear needs, the Aztec sandal has been brought back to life and is unisex and versatile. Mocactia footwear collections will be truly original, aesthetic and made to be worn by generations of Women. The Aztec sandal will lead to new exploration in footwear designed that are not targeting niche markets but rather be best sellers and iconic trend setters footwear styles across several footwear categories within fashion footwear that will lead the way for decades to come.
Franck Boistel is a footwear designer with over fifteen years experience designing some of the most recognized and best selling models within the industry. Lifestyle, fashion and action sports brands, such as Etnies, Ipath, Mukluks, Roxy, BEBE Shoes, Sanuk, O'Neill, Levis, Burton, The People's Movement, Chrome, call upon Boistel for his ability to create ground breaking footwear collection and styles as well as best sellers. Boistel has an uncanny ability to translate the athlete personality in creating pro-model footwear in the Action Sports as well, having worked with Pro skateboarders like Eric Koston, Andrew Reynolds, Ed Templeton and more, snowboarders, surfers and BMX riders to bring to market the most successful shoes, sandals, boots to retail within the past 17 years.
A deep love for history and diversified cultures makes Boistel search out inspiration where other designers may not. Boistel acquired through the years a deep knowledge and understanding for footwear across the ages and various cultures. The concept of Mocactia footwear is to go back in time, bringing to the present footwear features and styles that are relevant for today's needs and aesthetic with Franck's twist, an unbelievable sense of fashion and knowledge of markets.
Fearless, Boistel's vision for Mocactia is a global movement towards more relevant footwear in regards to fit, comfort, style, colors, materials and wow factor! Boistel is fueled by a true love for R&D, the will to bring really new ideas and irresistible footwear styles, a melting pot of trends, various cultures, and his personal history both in France and America. Boistel is a visionary, with a French twist.
For more information on Mocactia, go to: www.mocactia.com - www.facebook.com/mocactia
Mocactia footwear is looking for seed funding, Angel funding or strategic partnership for a lunch in 2015.

---