Back to News
EMP: Arnette Eyewear Appoints Eric Meyers as New Digital Marketing Specialist
May 15, 2014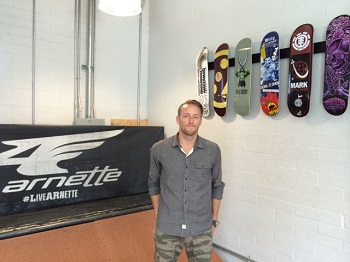 Arnette Eyewear Appoints Eric Meyers as New Digital Marketing Specialist
Meyers' spirit and knowledge will be invaluable to the company as Arnette continues to expand within the industry and eyewear space.
Press Release from Arnette
Encinitas, CA (May 14, 2014) — Arnette Eyewear, creators of stylish sunglasses and optical eyewear that fuses unconventional design with bold attitude, proudly announces Eric Meyers as Digital Marketing Specialist. As a seasoned youth culture and action sports industry leader, Meyers brings years of passion and accolades to the brand.
"We are very excited to have Eric lead the charge for Arnette's global digital marketing and social media program," says Joe Freitag, Global Brand Director of Arnette. "With his digital marketing background and brand development expertise, I know we have a great leader with the skills to continue to elevate Arnette in such a critical space."
After graduating college on the West Coast, the New York-born Meyers continued to build his marketing and project management skills on marketing teams at Mammoth Mountain and The House Boardshop. His entrepreneurial curriculum vitae boasts the development of mobile apps and the founding of two start-ups. Quality content and a passion for creativity stand at the core of all his innovations. These include creating a digital brand magazine, developing digital consumer flows and conceptualizing high-profile social media campaigns.
"I'm thrilled to be a part of such a talented team and have the opportunity to launch some creative digital initiatives in the near future," said Meyers. "Working with a storied brand that continues to create momentum is a dream come true and I'm really looking forward to helping foster the company's growth."
Meyers' spirit and knowledge will be invaluable to the company as Arnette continues to expand within the industry and eyewear space.
About Arnette
Arnette Eyewear came to life in 1992 in an Orange County garage. Guided by the principle that doing things your way, is the only right way, Arnette sunglasses quickly became the de facto badge for a new generation. Twenty years later, Arnette is found on an eclectic group of personalities from the music, skate, surf and art communities worldwide.
---