BACK TO NEWS
Industrial Profile
5/16/2014
Joe Turpel, Surf Commentator for ASP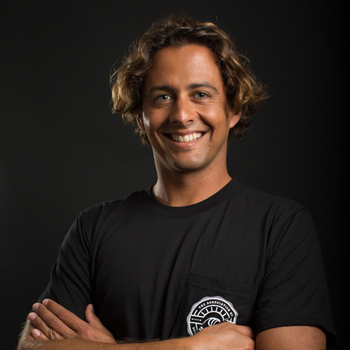 Joe Turpel, Play-By-Play Voice for the 2014 ASP World Tour Season
Joe Turpel got his start in sports broadcasting during his time as a student-athlete at the University of California, Santa Barbara. While studying Communcations and Dramatic Arts at UCSB, Joe interned in the Newsroom and Sports Department at the local ABC affiliate (when he wasn't helping the Gauchos' surf team clinch a national title), which led to his first announcing job with the NSSA in 2006. He delivered his first broadcast a year later in Brazil and then steadily honed his skills in anticipation of eventually landing a dream job as a commentator for the ASP.
"I kept my life really simple as far as expenses go and every trip to an event was fulfilling by doing what I really loved to do," says Joe Turpel, commentator for the 2014 ASP World Tour season. "Every year I noticed the events and the pay were getting better and better and I hope that never stops!"
We interviewed Joe Turpel to get the scoop on what it's like to travel the world with the best surfers alive. We asked him about starting off in broadcasting, what challenges he has faced long the way, how the ASP has evolved in the past few years and much more!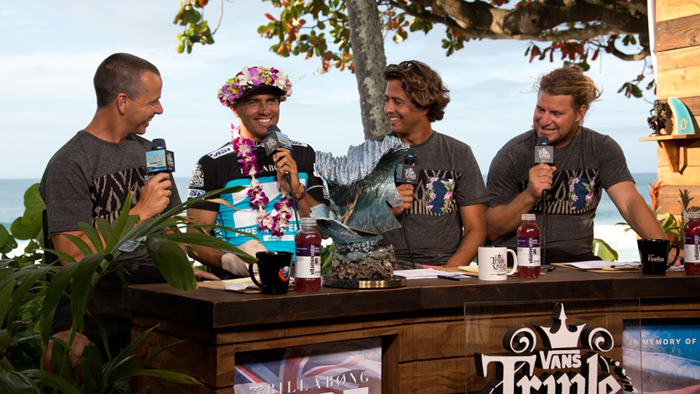 Joe with Todd Kline, Mark Occhilupo and Kelly Slater at the 2013 Vans Triple Crown of Surfing.
It is exciting to see all the changes with the new and improved ASP. What has it been like working with a cohesive team now that the 2014 World Tour season is well underway?
The team aspect has been the best part of all of the changes for me. Everyone gets along really well and you always have someone to surf with on a lay day. It feels way more family oriented now, compared to last year where you would only hang with certain people at certain sponsor specific events. We are away from home for the majority of the year so it's nice having big dinners with your tour family and having commentator heats at every venue. Work wise it's nice to have a set team of commentators who are all so unique in their own way. We all support each other to do a great job and that's a great feeling.
What impact did the ZoSea Media deal have on your role with the ASP?
My role is the same as it has been since I started commentating full time in 2010. I am the play by play voice for the tour, so I am always with a color commentator. This year I am paired with Martin Potter. So that's a change. Whereas before you rotate who you work with event to event, or even day by day, Pottz and I will now be calling heats together all year. The ASP is focused on consistency this year and they want to keep that consistent feeling in the booth. Also the schedule is a change. I used to juggle about 6 or 7 WCT events a year with about 5 or 6 Prime and 6 stars contests. Now my focus is every WCT event. I still will fit in a Prime event here and there like the Vans US Open, Mr. Price Pro and the events of the Triple Crown.
What initially inspired you to pursue a career in commentating?
When I was in 5th grade my teacher Pal Eldridge at Punahou School in Hawaii had me do a pretend Sportscenter report on video. He was stoked on the whole thing and he let me take the tape home to show my parents. Once surfing took over my life I actively watched all of the early webcasts and I had an idea of how I would call a heat. Can't believe I actually got to do it.
How did you get started?
I went to UCSB and competed on the surf team. While I was there I interned at the ABC affiliate, KEYT Channel 3 in the newsroom and sports departments. After I graduated I was watching our team compete at Salt Creek and I asked Janice and Gayline at the NSSA if they needed some help with the beach announcing. The next year they gave me a shot and I ended up going to Brazil for my first webcast the following summer.
Do you have any fond memories you can share from the early days?
I'll never forget all of the amazing messages I got from my friends, family and all the NSSA parents and groms that wrote to me when I did my first big event. That kind of support flooding in felt surreal. I hope everyone gets a feeling like that doing whatever it is that they love to do.
At what point did you feel that being a surf commentator was a viable career path?
I always did even when it wasn't! Haha. I just decided that I wasn't going to take on an office job for a brand or a magazine that would conflict with the job I was really passionate about.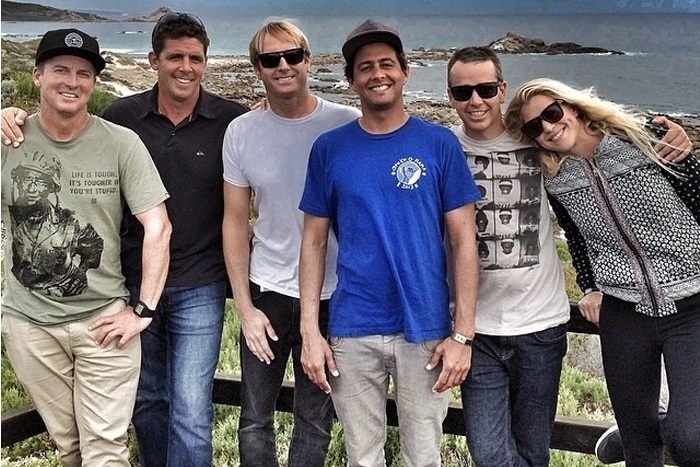 Six of nine announcers that make up the new team of commentators for the 2014 ASP World Tour season, from left to right: Pat Parnell, Peter Mel, Ross Williams, Joe Turpel, Todd Kline and Rosy Hodge (not pictured: Martin Potter, Strider Wasilewski and Ronnie Blakey).
Have you gotten used to all the traveling?
I finally got used to it a few months ago when I went to Hawaii for the Triple Crown. It was a breakthrough for me. Enjoying my life from where I was and learning how to create that "home" feeling on the road. I was getting pulled by something before that would get me excited to retreat and find comfort in having a home base. Now I like the feeling of keeping things in the present and what's around me. I end up enjoying every destination on tour that much more.
Do you model your commentating style on anyone? Where do you draw inspiration while you are on the air?
I don't model my style after anyone else. I grew up as a Laker and Dodger fan. So I was inspired by performances by Chick Hearn and Vin Scully. But if I tried to do a Vin Scully call at a surf contest I'd fail at it. Only Vin can be Vin.
Where do you see yourself in another five years?
In 5 years I'd love to still be doing what I am doing now. Maybe taking a family with me on the road at that point.
What's the best part of your job?
I've been having these moments lately, where I paddle out to surf a new wave or a place I've read about for years and I can't stop smiling. One of these moments came where the whole crew surfed this uncrowded beach break in West Oz. After the surf we walked to the end of the lookout spot and the sky ignited with the raddest colors. It blew my mind and I said "this is our life" Everyone from Ross Williams to Rosy to Pat to Peter were in hysterics laughing and I still get made fun of for saying that. But everyone on the team was feeling it for sure! We're all so lucky to do this whole thing.
Can you share any advice for someone looking to break into the surf industry?
I think every job I've had has made an impact on me. I remember one day unloading a truck of sandals at Ocean Minded and then heading to Blackline Mfg to put leashes together and then heading to a NSSA contest on the weekend to announce scores. You start realizing how small this industry is. Most of the people you know and meet will be around you for your whole career. It's amazing how connected this whole industry is. So no matter how small or entry level your first few jobs may feel, those humble beginnings may have a greater impact on your whole career than you realize.
What has been the biggest challenge for you throughout your career?
I used to put a lot of pressure on myself. I gave myself a migraine before calling the Pipe Masters for the first time. I've never been a guy to stress out, ever. And I just wanted to go a good job and I learned how to breathe and let go of the pressure and really enjoy the days leading up to a big event.
Care to add any last words?
Be careful with the advice you get! It's an interesting job where you put yourself out there a lot and everyone wants to give you their take on what you should do. Friends, family, random surfers, girlfriends and even producers will give you advice on how you should do your job, or offer you criticism on what they think is the best. Just be careful on what you take on as true. If it feels good to you, go for it. I'd rather fail on my own terms then do a job the way somebody else wants me to and fail on their terms. Stick to your guns and if advice resonates with you as good then take it and make it your own.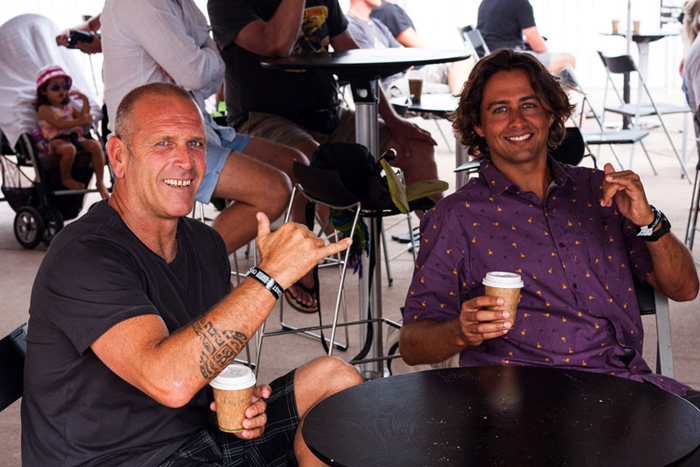 Joe will calling heats for the ASP paired with color commentatory Martin Potter all year long. The next stop on tour is the Fiji Pro starting on June 1, 2014.
---