Back to News
GEAR: Dope Teams Up with Liquipel and Starter to Launch New Snapback
May 16, 2014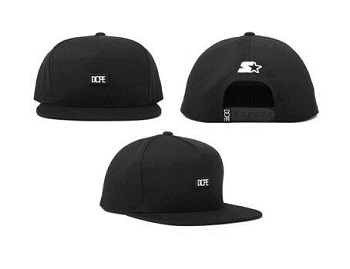 Dope Teams Up with Liquipel and Starter to Launch New Snapback Merging Design with Revolutionary Technology
Leading street wear brand DOPE is proud to announce the launch of the DOPE x Liquipel x Starter snapback, a collaboration that blends a timeless design with revolutionary technology.
Press Release from Azione PR
Los Angeles, CA – The Starter snapback has remained relatively unchanged since its initial rise to popularity in the 1990's. For their first Starter snapback design, DOPE worked alongside an unlikely pioneer to innovate an icon, while keeping the heritage of the Starter snapback intact.
Leading street wear brand DOPE is proud to announce the launch of the DOPE x Liquipel x Starter snapback, a collaboration that blends a timeless design with revolutionary technology.
Liquipel's Watersafe™ Technology is a specialized process that applies a liquid repellent substance to objects on a molecular level. Normally used for electronics, Liquipel's Watersafe™ Technology was applied to the DOPE x Liquipel x Starter snapback using an experimental method intended for fabric. The end result was the most significant progression to the Starter snapback in its over 20-year history.
DOPE x Liquipel x Starter Snapback from DOPE on Vimeo.
"We wanted to do something special on our first Starter snapback design," says Matte Fields, Founder of DOPE. "Liquipel's groundbreaking technology is the perfect counterpart to the classic silhouette."
The DOPE x Liquipel x Starter snapback is available today exclusively at the DOPE Los Angeles Flagship store on Fairfax and online at www.dope.com.
About DOPE
DOPE is an upscale street wear brand based in Los Angeles, California, USA. Dope has quickly become a dominant player in the industry since establishing in 2007. The clothing line is available in boutiques worldwide. In September 2011, Dope opened their flagship store at 454 N. Fairfax Avenue, Los Angeles, California.
About Liquipel
Liquipel LLC is the sole owner and licensor of Liquipel, an award-winning process that uses an intelligent molecular coating to make smartphones and other devices Watersafe™ from accidental exposure to water and other liquids. By merging the latest in technology and consumer products, Liquipel creates a no-limits lifestyle. For more information and videos, please visit Liquipel's website www.Liquipel.com
About Starter
A premium athletic brand established in 1971, Starter pioneered the fusion of sports clothing with popular culture by forging partnerships with the major pro basketball, football, baseball, hockey and college leagues. A trusted athletic brand with over 35 years of heritage, Starter's brand equity has been built over the past three decades through its association with professional, collegiate and Olympic sports as well as athlete endorsers. For further information on Starter, please visit www.Starter.com.
---