BACK TO NEWS
Exposure: 5th Annual Skateboarding Hall of Fame Celebration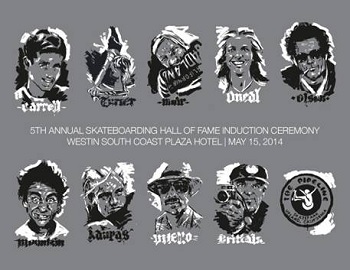 Exposure: Seven Influential Skateboarders are Recognized at the 5th Annual Skateboarding Hall of Fame Celebration

RANCHO SANTA MARGARITA, Calif. – On May 15, 2014, the International Association of Skateboard Companies (IASC) and the International Skateboarding Hall of Fame (ISHOF) joined over 400 guests from the skateboard community to honor and induct; Gregg Carroll (1960s), Jim Muir (1970s, Era One), Steve Olson (1970s, Era Two), Lance Mountain (1980s, Era One), Natas Kaupas (1980s, Era Two), and two women – Laurie Turner DeMott (1960s) and Ellen Oneal Deason (1970s).
In addition, three Icon Awards were presented to Fausto Vitello, J.Grant Brittain and Pipeline Skatepark / The Hoffman Family.
"As a kid from Kansas who started skateboarding in 1985, watching skaters like Lance and Natas, get inducted to the Skateboarding Hall of Fame is an amazingly surreal event," said Josh Friedberg, Executive Director of IASC. "Hearing the stories and seeing firsthand the connections between all of the skaters is incredibly exciting and surprisingly emotional. I'm honored to be a part of producing such a fun event that is rapidly turning into skateboarding's family reunion. See you next year!"
The sold-out event was packed with VIPs from every era of action sports, including: honorees, Jim "Red Dog" Muir, Lance Mountain, Natas Kaupas, Steve Olson and the two women honorees, Laurie Turner Demott and Ellen Oneal Deason; surf and skate legends, Jeff Ho and Skip Engblom; pros and legends, Dave Duncan, Neil Blender, Bryan Ridgeway, Freddie Desota, Mike Smith, Jim Grey, Howard Hood, Darren Navarette, Jeff Grosso, John Lucero and Geoff Rowley, skateboarding pioneers, George Powell and "Professor" Paul Schmitt; past inductees, Christian Hosoi, "Woody" Woodward, Steve Caballero, Bruce Logan, Peggy Oki, Laura Thornhill Caswell and Patti McGee; past icon recipients, Glen E. Friedman and CR Stecyk; and owner of Skatelab, Todd Huber (Skatelab, located in Simi Valley, is home of the Skateboarding Hall of Fame and Museum); amongst others.
This year's event, held at The Westin South Coast Plaza in Costa Mesa, included a happy hour, VIP meet-and-greet cocktail party, followed by the highlight of the evening, the official induction ceremony with the infamous, Dave Hackett as the Master of Ceremonies. Each skateboarder and Icon recipient was recognized individually and then took the stage to speak about their passion for the sport and give thanks to significant individuals in their own lives. All proceeds benefit the not-for-profit efforts of the Skateboarding Hall of Fame and the Go Skateboarding Foundation's Just One Board initiative.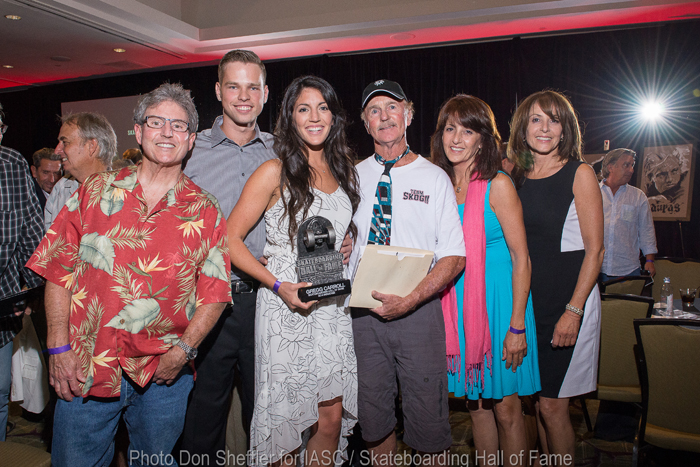 Brian Logan and the Gregg Family.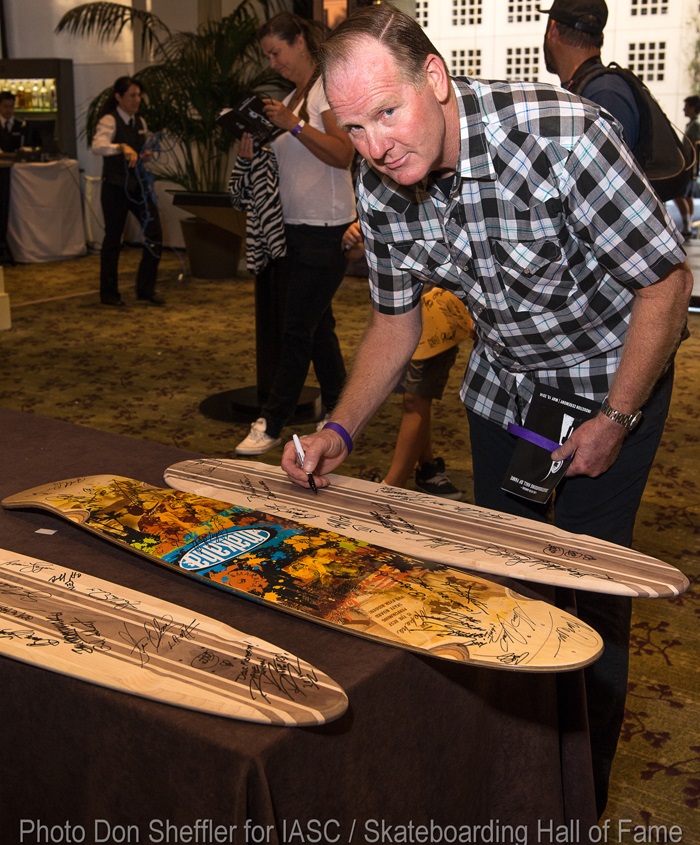 1970s Era One honoree, Jim Muir.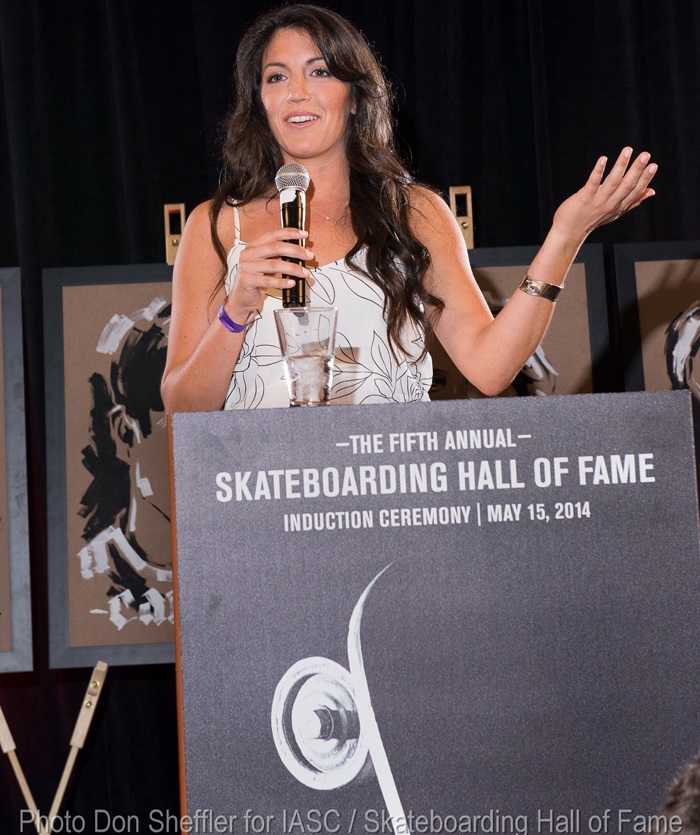 Natalie Carroll accepting the award for Greg Carroll.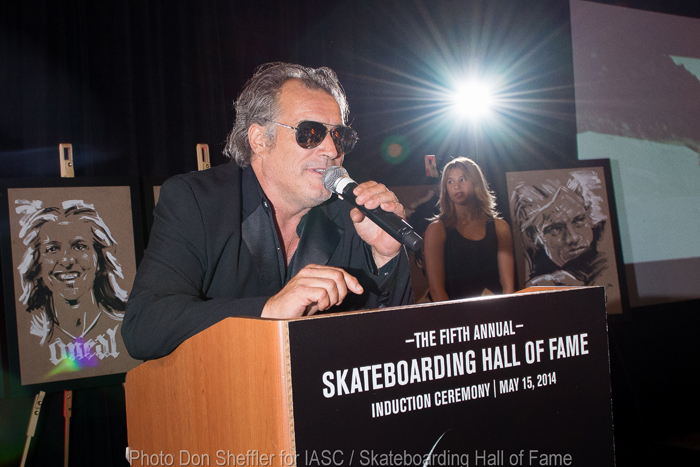 1970s Era Two honoree, Steve Olson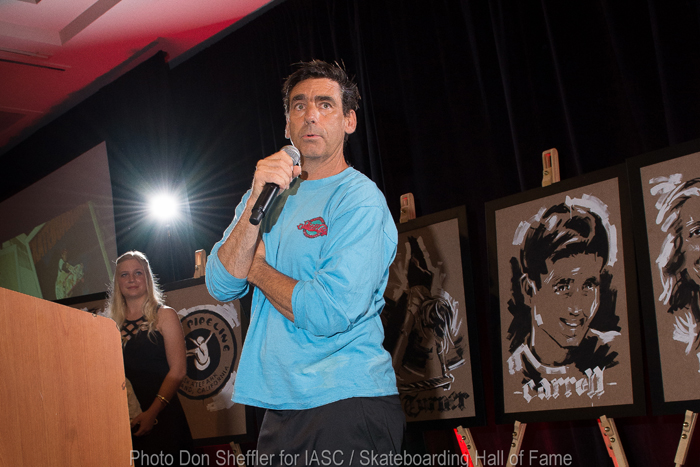 1980s Era One honoree, Lance Mountain.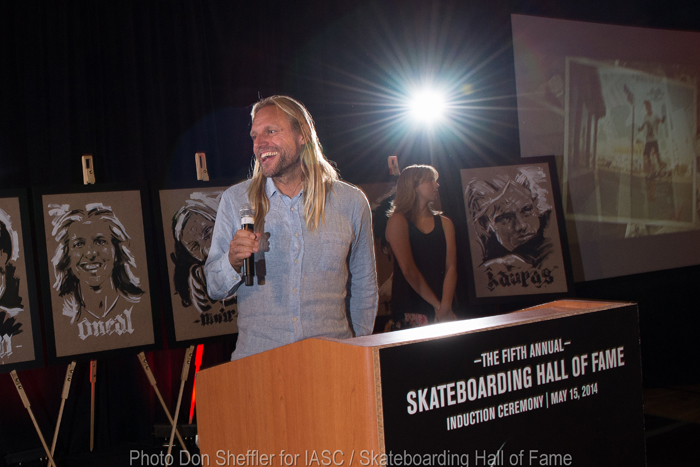 1980s Era Two honoree, Natas Kaupas.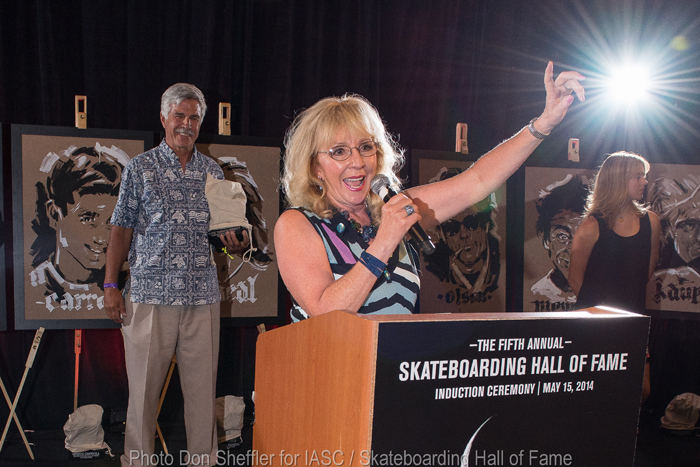 LaurieTurner DeMott was one of two women honored at this years ISHoF Awards Ceremony.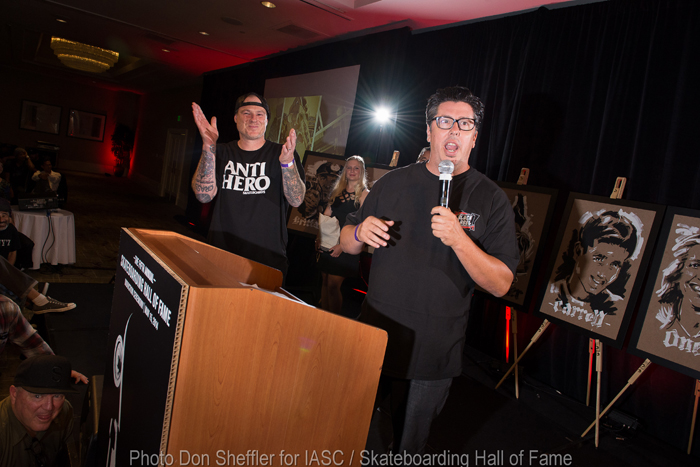 Jeff Grosso and John Lucero.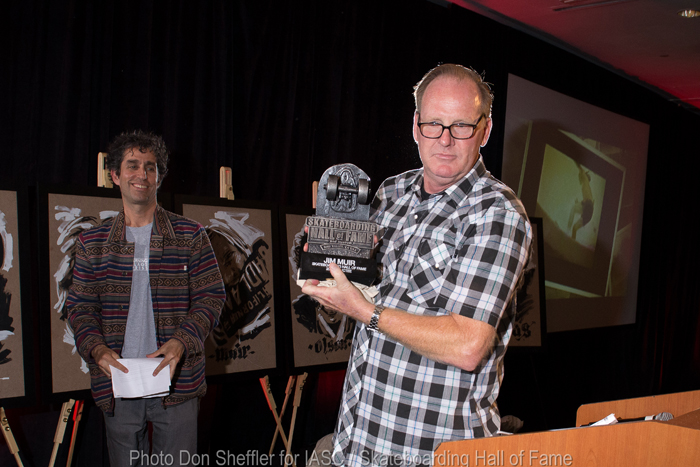 Jim Muir accepting his award.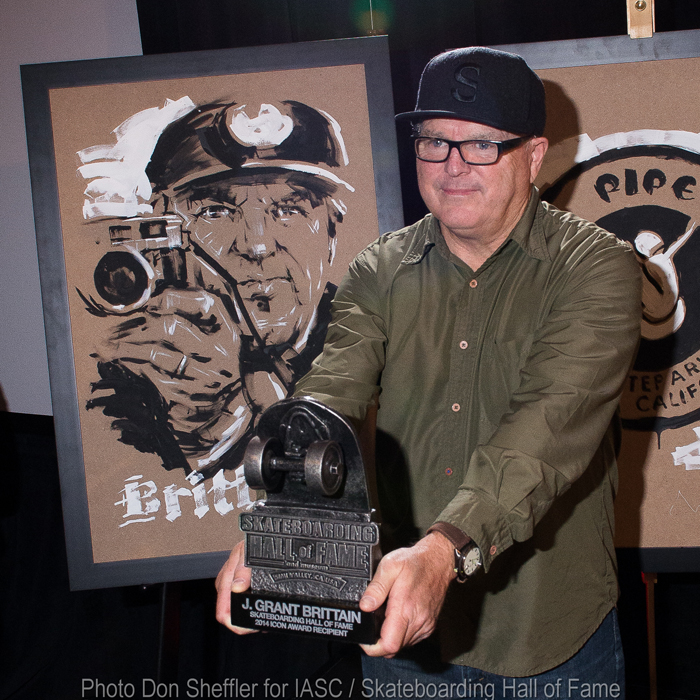 The iconic J. Grant Brittain.

Steve Olson, Patti McGee and Dave Duncan.


Congrats to all the winners at the 2014 Skateboarding Hall of Fame celebration!
Created in 2009, The Skateboarding Hall of Fame recognizes and honors the history of skateboarding and those influential figures who have significantly shaped skateboarding and our culture throughout the years.
About IASC
The International Association of Skateboard Companies is the member-owned not-for-profit trade association of skateboarding. The mission of the IASC is to represent the global skateboarding community with a united voice by listening, understanding and acting on the needs of skateboarders and the skateboard industry. IASC's goals are to promote skateboarding, increase participation, educate and save our members money. IASC serves its members and the skateboarding community by focusing on areas that affect not only the business but the overall sustainability and health of skateboarding as a whole. For more information please visit: http://theiasc.org/
About ISHOF
The International Skateboarding Hall of Fame was created to honor the passion, dedication and contributions to skateboarding history and culture by skateboarders and cultural icons throughout the decades. The Skateboarding Hall of Fame is located in Simi Valley, Calif.
About Just One Board
Just One Board is a skateboard-recycling program created by the International Association of Skateboard Companies charitable arm, the Go Skateboarding Foundation, to benefit underprivileged youth, engage skateboarders with their local community, support skateboard retailers and serve as the base of a campaign promoting the positive power of skateboarding. For more information please visit: http://justoneboard.org/
---