BACK TO NEWS
GEAR: Spy's Revolutionary Happy Lens Technology Meets the Omen MX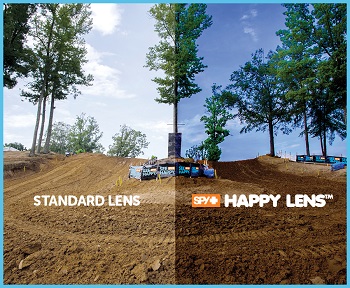 Spy's Revolutionary Happy Lens Technology Meets the Omen MX
First Moto Goggle to Feature a Lens with Benefits
Press Release from Spy Optic
CARLSBAD, Calif.—SPY® is HAPPY to introduce the innovative, patent-pending Happy Lens™ technology into its most popular MX goggle, the Omen.
Hailed for its superior color and contrast enhancing properties, the Happy Lens provides a tack sharp visual experience and relaxes eyes to reduce fatigue, helping riders to Perform Better in varying track conditions. Additionally, the Happy Lens makes it easier for riders to quickly distinguish between wet and dry dirt, ruts, bumps and other unexpected changes in terrain, increasing reaction time and confidence on the bike.
"Happy Lens is the biggest lens innovation since polarization, and we're Happy to introduce this technology into our MX line," says Travis Tomczak, SPY goggle line manager. "Motocross is our heritage, and it's important for SPY to continue designing products aimed at improving rider performance for not only our pro team, but for the everyday rider."
The first ever MX Lens with Benefits, SPY's Happy Lens also helps riders Feel Better by letting in the sun's "good" rays that studies suggest create an uplift in mood and alertness, while still blocking all of the sun's "bad" rays. Having made its debut on the smiling face of Justin Barcia during the final Supercross race of the season, the Omen with Happy Lens has been tested and approved by SPY's elite riders, including Jeremy McGrath and Kevin Windham.
"The Happy Lens makes everything on the track jump out, making it easier to tell if I should gun it through a section or hold off," says Justin Barcia. "I've ridden this goggle indoors and outdoors and it never lets me down. It's easy to ride happy when you're seeing happy."
Dropping this week at a retailer near you, MSRP for the Omen MX with Happy Lens is $95 and is available with a Happy Bronze w/ Silver Mirror lens.
For more information about SPY's Omen MX with Happy Lens, go to www.spyoptic.com/store/omen.html?color=402271. To see the Happy Omen MX in action, go to http://youtu.be/oDDawkto4bI. To learn more about SPY's Happy Lens technology, go to www.spyoptic.com/happy/. To view the complete line of SPY Moto goggles, head to www.spyoptic.com/store/goggles/moto.html. For more information about SPY, log-on at www.spyoptic.com.www.facebook.com/spyoptic, Twitter @spyoptic and @spyoptic on Instagram.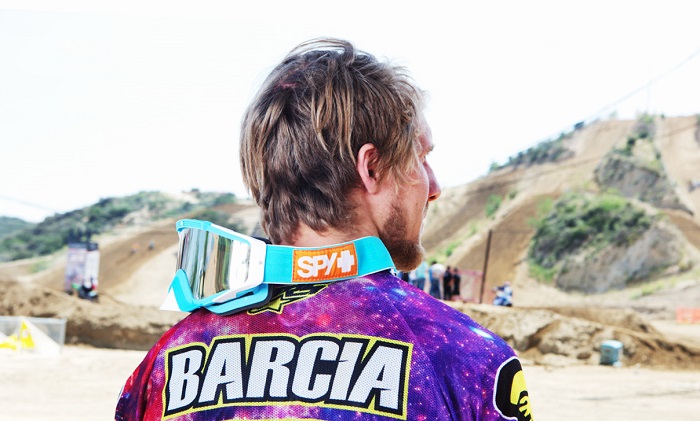 ---