BACK TO NEWS
WEB: On June 15th, Swap and Surf will Launch a Crowd Funding Campaign to Go Further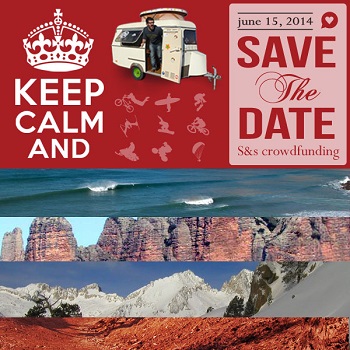 Save the Date: Swap and Surf is Launching a Crowd Funding Campaign on June 15th to Widen its Variety of Activities
S&S founders are surfers, skiers, mountaineers, and travel to quench a thirst to thrive in their passions.
Press Release from Swap and Surf
After having sacrificed more than 4 years of sessions (more than 400 whether it is surf, ski or just being outdoors) the founders of Swap N' Surf have been able to make S&S a recognized community and are now asking for help in order to keep it going.
On June 15th,2014, S&S is launching a crowdfunding campaign, and your help will be crucial in the process by participating, spreading the word, and by encouraging the idea.
S&s founders are surfers but also skiers, mountaineers, and we travel to quench our thirst to thrive in our passions. Whenever we can, we ride our mountain bikes, a skateboard and hit the slopes with our telemarks, descend a canyon or ascend a mountain. We thrive to share with other communities what we have brought up with S&s and create bridges between them. With this idea, a passionate of sailing will be able to connect with other navigators, but with mountaineers as well.
Living in the southwest of France, the founders of S&S have always criss-crossed through these different communities, and they aspire to bring the same possibilities to you with a project that will, thanks to your help, reach a different dimension.
---