BACK TO NEWS
EVENT: Kona Brewing Hosts Kona Party Place at 2014 Doheny Surf Fest, with Headliners Common Sense
Kona Brewing Hosts Kona Party Place at 2014 Doheny Surf Fest, with Headliners Common Sense
Hawaiian brewer is key sponsor of surf festival as it launches new island style Castaway IPA to the mainland
Press Release from Kona Brewing Co.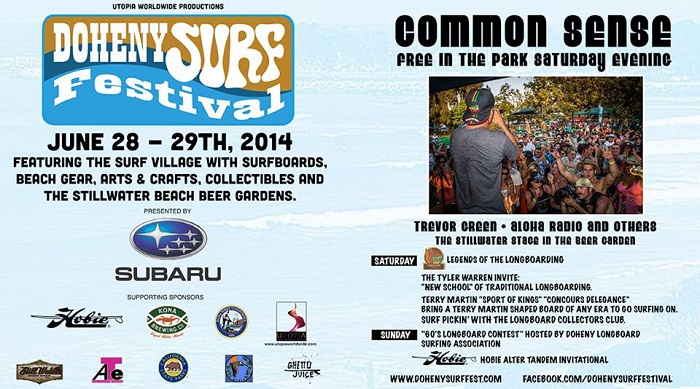 Kailua-Kona, Hawaii, May 22, 2014 (NASDAQ: BREW)…For the third year running, Kona Brewing Company will sponsor the 2014 Doheny Surf Festival, to be held June 28 and 29 from 9:00am to 8:00pm at Doheny State Beach in Dana Point, CA. The Hawaiian brewer, best known for flagship Longboard Island Lager and Big Wave Golden Ale, proudly supports a number of nonprofit beach and water events across the US, including World Oceans Day on Oahu, Battle for the Paddle in Salt Creek Beach and Kona Pro Jax in Florida.
Kona Brewing has sponsored the Doheny Surf Festival since the charity event began three years ago, where in 2012 the brewer unveiled and sampled Big Wave Golden Ale, which had previously only been available in Hawaii. Similarly, this year Kona will be sampling Castaway IPA at the Doheny Surf event. Castaway IPA has been a favorite on the islands for 14 years and in April 2014 made its way to 40 states on the mainland in 12oz bottles and on draught in major Kona markets across the US. (Visit www.konabrewingco.com/find-beer to locate Castaway IPA nearest you). In a sea of new IPA offerings, Castaway IPA stands out as the only island-style IPA brewed with a special blend of citrusy hops that provide mango and passion fruit notes, and a clean refreshing finish. As in Hawaii where Castaway IPA was born, the new IPA is being hailed as a truly a drinkable IPA that goes well under the sun and in and around water.
Doheny Surf Festival is a nonprofit organization whose mission is to protect, support and enhance the California State Parks & Beaches. True to Kona's sustainability values, the brewer supports the annual festival because it's a "green" event and raises funds for legendary surf spots at Doheny State Beach, San Onofre, Trestles and San Clemente State Beach. Thousands of visitors are expected this year to watch live surfing exhibits, and experience live music, local vendors, and a surf art competition. Surfing presentations include tandem demonstrations, nose riding exhibits, and a "60's Longboard Contest" hosted by the Doheny Longboard Association. The Kona Beer Garden will stay open until sundown, and there will be performances by Common Sense, Trevor Green, and Aloha Radio at the Kona Brewing Party Place Stage.
"In Hawaii, beaches are a way of life, and so when we heard about park closures in Southern California, we knew we wanted to help any way we could," said Kona Brewing brand manager Aaron Marion. "Kona is all about enjoying friends and family in an environmentally conscious way, and we couldn't have picked a better partner to uphold our values than Doheny Surf Fest."
About Kona Brewing
Kona Brewing Company was started in the spring of 1994 by father and son team Cameron Healy and Spoon Khalsa, who had a dream to create fresh, local island brews made with spirit, passion and quality. It is Hawaii's first and largest craft brewery and is best known for flagship beers Longboard Island Lager and Big Wave Golden Ale. The Hawaii-born and Hawaii-based craft brewery prides itself on brewing the freshest beer of exceptional quality, closest to market. This helps to minimize its carbon footprint by reducing shipping of raw materials, finished beer and wasteful packaging materials. The brewery is headquartered where it began, in Kailua-Kona on Hawaii's Big Island. For more information call 808-334-BREW or www.KonaBrewingCo.com.
---