Back to News
B$Z: Arnette Eyewear Unveils the 'Block Party Ambassador' Program
May 28, 2014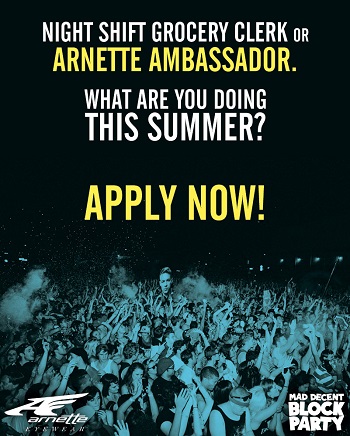 Two Chosen Brand Ambassadors Will Join Arnette on the Mad Decent Block Party 2014 Tour
To Apply to be an Ambassador, head to Live.Arnette.com
Press Release from Arnetter Eyewear
Los Angeles, CA - Arnette Eyewear has joined forces with Mad Decent (the record label founded by the acclaimed producer & DJ, Diplo) to host the opportunity of a lifetime. As part of the "Block Party Ambassador" Program, two candidates will be selected to represent the Arnette team on the road as part of this summer's Mad Decent Block Party tour. The selected Ambassadors will work on-site with Arnette at 19 tour stops, spearheading on-site interactive activations, coordinating interviews with key artists, and more.
"We are excited to give our fans a once-in-a-lifetime opportunity to join Arnette on such a massive scale as the Mad Decent Block Parties," says Joe Freitag, Global Brand Director of Arnette. "We have a lot of great things lined up for our soon-to-be Ambassadors. We look forward to all of the submissions rolling in."
This program, created alongside one of the world's leading eyewear brands and one of the most progressive international music labels, is the coolest way to spend the summer. Arnette is asking potential candidates to submit their application through an entry form. Once chosen, they'll spend two weeks with the Arnette team in their offices in Southern California before kicking off the tour. Ambassadors will then spend almost two months on the road with Arnette and Mad Decent. Full details on the application process can be found at www.live.arnette.com.
On the road, "Block Party Ambassadors" are responsible for building creative content for Arnette, as well as helping to ensure that fans at the day-long events have the best experience possible. They will interview artists, capture concertgoers rocking Arnette shades and post the best content to Arnette.com and Arnette's official social media profiles, using the hashtag #ArnetteMDBP. In addition, they will help promote Arnette's latest products from the A.C.E.S. Collection. Arnette Creative Exchange System sunglasses are provided with a second set of interchangeable arms for personal customization. A highly exclusive third set with "Mad Decent Block Party" branded arms will be available for purchase throughout the tour.
While the tour is underway, Arnette and Mad Decent are set to release a special mini-mixtape online featuring a soon-to-be announced artist.
The tour will feature the likes of Diplo, Outkast, Dillon Francis, Fatboy Slim, Riff Raff, Sleigh Bells, Action Bronson, Wolfgang Gartner, Zeds Dead, and many more. The full lineups, tour information and tickets can be found at www.maddecentblockparty.com
About Arnette
Arnette Eyewear came to life in 1992 in an Orange County garage. Guided by the principle that doing things your way, is the only right way, Arnette sunglasses quickly became the de facto badge for a new generation. Twenty years later, Arnette is found on an eclectic group of personalities from the music, skate, surf and art communities worldwide.
Arnette.com
Facebook.com/arnette
Instagram.com/arnette
Twitter.com/arnette
About Mad Decent
With six years of wildly successful Block Parties under their belt and a 2013 tour that saw an expansion to 13 cities from eight the previous year, the incredibly popular expedition that is the Mad Decent Block Party has now grown to 22 cites for the 2014 tour. Kicking off July 26th in Ft. Lauderdale and wrapping up September 21st in Vancouver with stops in DC, Las Vegas, Los Angeles, Brooklyn and many more in between (full cities and dates below), the 2014 Mad Decent Block Party tour is setting off on its largest festival undertaking yet. The festivals will bring a full day of musical performances, food, drinks and tons of fun onsite activities for attendees. $25 early bird tickets go on sale today at maddecentblockparty.com and are limited to 250 per city. With a year that already saw the block parties expand internationally - where Major Lazer, Dillon Francis and Flosstradamus performed with local artists at The Mad Decent Block Party Cape Town and The Mad Decent Block Party Johannesburg in South Africa last February - it's going to be another monumental year for Diplo's Mad Decent label.
Tour Dates:
7/26 – Fort Lauderdale, FL
7/27 – Atlanta, GA
8/1 – Washington, DC
8/2 – Norfolk, VA
8/8 – Philadelphia, PA
8/9 – Brooklyn, NY
8/10 – Boston, MA
8/15 – Toronto, CA
8/16 – Detroit, MI
8/17 – Las Vegas, NV
8/22 – Denver, CO
8/23 – Nashville, TN
8/29 – New Orleans, LA
8/30 – New Braunfels, TX
8/31 – Dallas, TX
9/12 – Phoenix, AZ
9/13 – Los Angeles, CA
9/14 – San Diego, CA
9/19 – Berkeley, CA
Media Contact: Michele Angeloni / Azione / 323-462-6600 / [email protected]
---