BACK TO NEWS
B$Z: OIWC Award Nominations for Interbike 2014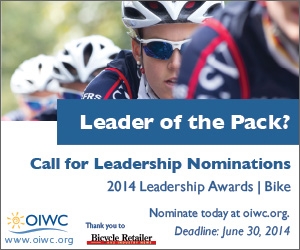 Call for Leadership Award Nominations Outdoor Industries Women's Coalition to Honor Outstanding Women in Bike Industry
Deadline for Submissions is June 30, 2014
Press Release from OIWC
BOULDER, COLO – The Outdoor Industries Women's Coalition (OIWC) is pleased to announce the annual call for nominations for its Pioneering Women Award and First Ascent Award in the bike industry. These prestigious awards were established by OIWC in 2006 to recognize the remarkable impact women have had in the bike industry, their local communities and on their colleagues.
The Pioneering Woman Award honors an industry leader who has proven leadership skills and has paved the way for other women and the First Ascent Award honors an up-and-coming leader who shows strong potential for being an industry influencer. Past winners include Jenn Dice, People for Bikes; Georgena Terry, Terry Precision Cycling, Penia Bush, Shimano American Corporation; and Ellen Johnson, Advanced Sports International.
OIWC recognizes that women leaders and a diversified workforce are good for business. OIWC's Pioneering Women and First Ascent Awards celebrate the visible impact of the advancement of women both inside and outside the companies where they work. "There are many amazing women blazing new trails in the bike industry and the OIWC Leadership Awards are an excellent opportunity to highlight their efforts," says Amy Luther, OIWC Program Director. "I encourage all in the industry to take a moment to honor a woman who has contributed to the growth and expansion of a cycling company, as well as had a positive impact on the lives of those around them."
Criteria for nominations include:
•The Pioneering Woman Award honors women in the bike industry who has been influential in paving the way for other women. The recipient serves as an example of mentoring and is a recognized leader. She helps others be successful through role modeling, encouragement and inclusivity. This individual has been able to positively impact, engage and support the industry in which they are employed.
•The First Ascent Award recognizes a woman in the industry who demonstrates strong potential for leadership and career advancement. This individual has a desire to lead and a proven track record for success in her current role.
Nominations must be completed and submitted on our website, oiwc.org, by June 30, 2014.
---