BACK TO NEWS
EVENT: WE LOVE BOOBIES - Calavera Swim X Keep A Breast X Kim Saigh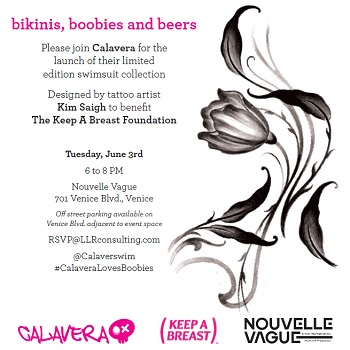 Calavera x Kim Saigh x Keep A Breast
Tattoo Print Swimwear Collection for Breast Cancer Awareness Launches June 3rd
Press Release from Left Left Right
Venice, California, Tuesday June 3, 2014 -- Surf-inspired women's active swimwear brand Calavera is set to launch a collection of limited edition tattoo print suits, designed by renowned artist Kim Saigh of television series LA Ink. For each suit sold, 50% of profits will directly benefit the Keep A Breast Foundation, supporting their mission of breast cancer eradication by educating young people about prevention, early detection, and cancer-causing toxins.
In order to support Keep A Breast, Calavera Founder Anna Jerstrom recruited the talents of renowned tattoo artist Kim Saigh; the result is a feminine and iconic floral print, inspired by the significance of this charitable partnership. In the lead up to the launch, Anna showed her commitment and passion for the program, by having Kim Saigh tattoo the signature print on her torso.
The pink, black and grey tulip motif will be available in two styles; Calavera's best selling "Siren" bikini top (USD $65) and the one-piece "Leotard" suit (USD $126). From June 3rd, both styles will be available for sale online via the Urban Outfitter's fitness and outdoor apparel division, Without Walls (withoutwalls.com) and the Calavera website (calaveraswimwear.com).
"Regardless of size, shape or scars, every woman's body is a work of art. My hope is that women will wear these swimsuits with a sense of empowerment, beauty and strength," says Calavera Founder Anna Jerstrom.
Calavera also joined forces with renowned photographer Alberto Guglielmi, to produce a short film that visually portrays the story behind the limited edition print; from being tattooed on Calavera's founder, being body painted on to the chest cast of a breast cancer survivor, and finally being created into a one-piece swimsuit, worn by actress and avid surfer Tanna Frederick. Professional longboarder and esteemed photographer, Kassia Meador concludes the video with an important message reading, "every woman's body is a work of art."
About the launch event: To launch the collection, Calavera will host a cocktail event and film screening at creative design agency space, Nouvelle Vague (701 Venice Boulevard, Venice, CA) onTuesday, June 3rd, from 6pm to 8pm. Limited edition temporary tattoos of the Kim Saigh print will be applied to guests and the short video produced by Alberto Guglielmi screened for the first time. A customized piece of breast cast art, molded from the survivor featured in the video (casted by Shaney Jo Darden and painted by Kim Saigh) will be available via silent auction. Breast cast art is an ongoing initiative developed by Keep A Breast; taking formation plaster casts of women's chests, and developing them into customized works of art. DJ MisterG will be playing the night's tunes, while refreshments will be supplied by Vita Coco and Bon Affair spritzers. A "Cirque Du Soleil" aerial performer Sarah Moser will welcome guests, performing tricks in the Calavera leotard suit.
This is the latest in an ongoing collaboration between Calavera and Keep A Breast. In September 2013, Calavera hosted a "Surfing for Survivors" event at Santa Monica beach, throughout which Keep A Breast cancer survivors took to the waves, with the same vigour and bravery they used to manage their illness.
Shaney Jo Darden, KAB Founder says of the partnership, "Calavera and The Keep A Breast Foundation are two innately aligned brands, brought together by their similar missions to inspire and support young women. I hope this tattoo print suit will be worn as a reminder for women to stay active, get educated, and be empowered."
About Calavera:
Started by Swedish investment banker-turned-surf obsessed swimwear designer Anna Jerstrom, Calavera is a technically driven, stylish triumph. Built for riding Kauai's curls, beachside yoga in Bali, sunning in Santorini and everything in between, these bathing suits don't budge. In creating Calavera, Jerstrom has applied design innovations to fill a large gap in the marketplace: performance swimwear for women that can handle the most rigorous environments yet is feminine and flattering enough for the most relaxed. For more information please visit the Calavera website, Facebook and Pinterest.
About Keep A Breast:
The Keep A Breast Foundation™ is the leading youth-focused, global, nonprofit breast cancer organization, with mission is to eradicate breast cancer for future generations. Keep A Breast provide support programs for young people impacted by cancer and educate people about prevention, early detection, and cancer-causing toxins in our everyday environment. For more information about Keep A Breast please visit the website, Facebook, and Twitter.
About Kim Saigh:
Kim Saigh is an American tattoo artist and TV personality. She has been tattooing professionally for over 16 years and is best known for her work as a featured tattoo artist on the TLC reality show,LA Ink. Kim previously owned tattoo shop Cherry Bomb Tattoo Studio in Chicago before appearing on the show and now currently works at Memoir Tattoo in Los Angeles.
About Nouvelle Vague:
The launch event will be held at Nouvelle Vague, a unique creative talent agency with 25 years of experience in photography, motion and illustration. Recognized by the Sony World Awards and the International Photography Awards, the agency remains at the top of its league. For more information about Nouvelle Vague please visit the website and Instagram.
---