BACK TO NEWS
TEAM: SoBe® Returns to Its Roots with New "Go Flavorfully" Campaign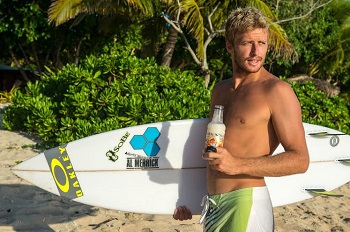 SoBe® Returns to Its Roots with New "Go Flavorfully" Campaign
Welcomes Pro Surfer Sebastian 'Seabass' Zietz to Promote Campaign and Bring Brand Back to its Surf Culture Roots
Press Release from Fuse Marketing
PURCHASE, N.Y., June 5, 2014– SoBe® is reigniting its bold lifestyle spirit through a new Go Flavorfully marketing campaign. As part of this campaign, SoBe will hearken back to its surfing roots by welcoming professional surfer Sebastian 'Seabass' Zietz as its new brand ambassador. The new campaign and partnership with Seabass, widely regarded as one of the most talented and charismatic surfers on tour, will enhance the brand's existing mission to turn every single day into the ultimate moment of play.
"We are very excited to launch Go Flavorfully and to re-establish the open-minded and bold SoBe roots in surfing by partnering with Seabass," said Linda Lagos, Director of Marketing, SoBe. "Seabass possesses a unique combination of talent and charisma that is not only a natural extension of this campaign, but also reflective of the brand's proud heritage in surfing."
SoBe is no stranger to the surfing community, having previously supported amateur surfers through its sponsorship of the Eastern Surfing Association and later expanding into pro surf tours including the Bank of the West U.S. Open of Surfing in Huntington Beach, Cali. The partnership with Seabass brings a new dimension to the SoBe brand as he continues his rise on the ASP World Tour. Armed with a vibrant personality, the popular surfer from Hawaii has successfully captured both a Vans Triple Crown and Reef Hawaiian Pro title.
"My life revolves around surfing, having fun and doing what I love," says Seabass. "I am honored to be able to share that lifestyle through SoBe and the Go Flavorfully campaign."
This summer, to help promote the Go Flavorfully campaign, SoBe is bringing back its iconic fleet of customized 1960s SoBe Love Buses, which will hit the streets in Denver, Phoenix and Southern California giving consumers the opportunity to sample SoBe products and playfully taste summer the SoBe way.
Join the conversation @SoBe #GoFlavorfully and check out the Facebook page as more details on the SoBe Love Bus tour are revealed: https://www.facebook.com/sobe.
About PepsiCo
PepsiCo products are enjoyed by consumers one billion times a day in more than 200 countries and territories around the world. PepsiCo generated more than $66 billion in net revenue in 2013, driven by a complementary food and beverage portfolio that includes Frito-Lay, Gatorade, Pepsi-Cola, Quaker and Tropicana. PepsiCo's product portfolio includes a wide range of enjoyable foods and beverages, including 22 brands that generate more than $1 billion each in estimated annual retail sales.
At the heart of PepsiCo is Performance with Purpose – our goal to deliver top-tier financial performance while creating sustainable growth in shareholder value. In practice, Performance with Purpose means providing a wide range of foods and beverages from treats to healthy eats; finding innovative ways to minimize our impact on the environment and reduce our operating costs; providing a safe and inclusive workplace for our employees globally; and respecting, supporting and investing in the local communities where we operate. For more information, visit www.pepsico.com.
About Sebastian "Seabass" Zietz
"Seabass" is a powerful yet stylish surfer who possesses a youthful energy in and out of the water. Widely regarded as one of the most exciting young surfers on the ASP World Tour, Seabass captured the 2012 Triple Crown of Surfing championship, 2012 Qualifying Tour championship and was a semifinalist in the 2012 Pipeline Masters. He began surfing at the age of six, turned professional at 16, signaled his arrival when he won the 2007 Goofy vs. Regular event, the surfing world officially took notice when he won the Oakley Pro Junior Trifecta, Macy's Trifecta Pro Junior, and the Oakley Pro Junior Trestles in 2008. Represented by Octagon, Seabass is sponsored by Oakley, SoBe, Future Fins, and Dakine. For more information, follow his career career on Facebook: http://www.facebook.com/cbasszietz; Twitter: @cbasszietz; and Instagram: @seabassz.
---