BACK TO NEWS
MOTO: Cycle Ranch Brings Major New Sponsor Into Motocross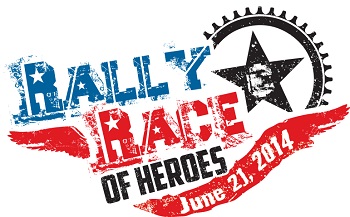 Red McCombs Toyota Partners with Cycle Ranch
Cycle Ranch Brings Major New Sponsor Into Motocross
Press Release from Cycle Ranch
Red McCombs Toyota & Cycle Ranch are excited to announce a new partnership dedicated to serve and support our Military Veteran community. Red McCombs Toyota is committed to partner with Cycle Ranch Motocross & Events Center during several upcoming events in 2014. The partnership will kick off with The Rally & Race of Heroes on June 21st - a one day 5k Mud Run, Street Bike Rally, Motocross Race & Music Festival.
The festival is being held to benefit The Center for Intrepid (CFI), an advanced amputee rehabilitation facility for wounded warriors at San Antonio Military Medical Center(SAMMC). The tremendous impact the CFI has made in many wounded warrior lives through technological innovations, has motivated Cycle Ranch & Red McCombs Toyota to collaborate and give back to this remarkable rehabilitation facility. The Rally & Race of Heroes will donate 100% of proceeds back to the CFI, and allow the CFI to expand their impact and continue the race to make a difference in the lives of our wounded warriors and their families.
Red McCombs Toyota has pledged to support all events at Cycle Ranch that benefit the CFI. This loyal support helps elevate awareness and community involvement, ultimately increasing monetary contributions for the CFI. "After taking a tour of the CFI and seeing the positive impact it makes on the lives of those who came back from defending our freedoms with major injuries, I knew we had to get involved. As an owner of such a perfect venue to raise money and awareness, the wheels immediately started turning and with the help of one of their extremely successful patients, Spencer McGinnis, the Rally & Race of Heroes was born." passionately explained Cycle Ranch Founder, Iain Grae when asked how the event came to be.
The goal is simple - raise money and create awareness for the CFI by uniting with our community in a fun filled and family friendly environment. "When we reviewed the event program, we immediately knew it was going to be an amazing event. Seeing that 100% of proceeds went to the CFI , definitely compelled us to get on board immediately and be part of this noble cause. Helping generate proceeds for an honorable rehabilitation facility that has enriched and rejuvenated so many lives, gives our organization a phenomenal sense of fulfillment. We are honored to team up with Cycle Ranch, an organization that aligns with our values and certainly echoes our Veterans serving Veterans initiative" remarked Chuck Bunch, Director of Military Relations at Red McCombs Toyota. The Rally & Race of Heroes is just the beginning of a long partnership between the two organizations. This is one event you will not want to miss.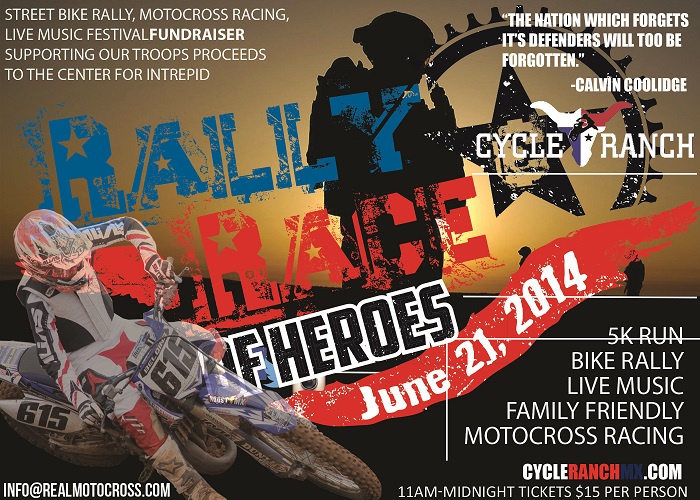 About Cycle Ranch:
Cycle Ranch Motocross Park & Events Center is a 200 acre facility which hosts several motocross races, mud runs, benefits, music festivals, weddings, birthday parties and street rallies each year. At Cycle Ranch there is a 1.6+ mile, 30 foot wide national caliber track, a replica of the 2014 Dallas SX, Jr. Track, Grand Prix Track for Vets, Atv's and Utvs, Night Racing MX Track and several turn tracks. Motolicious Cafe serves everything from Organic Vegan & Gluten free options to your favorite beers. The park has 2 Cabins, 30 RV hook-ups and plenty of dry camping available.
Our 7200 square foot pavilion, cafe with organic options, bleachers, hot showers, bathrooms and proshop welcome guests year round. The cafe has a catwalk which offers panoramic views of the main track's starting area. Covered bleachers offer escape from the Texas sun and allow spectators to see the majority of the racing action.
With pristine oak trees, manicured lawns, a playground, trampoline, BBQ & fire pits and hammocks around the property,the grounds feel more like a sanctuary. Cycle Ranch isn't just a motocross track- it's a different world..

---