BACK TO NEWS
True Honor Q&A with Founder/Director Bardia Rahim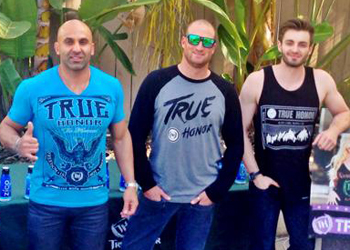 True Honor Q&A with Founder/Director Bardia Rahim
Bardia Rahim (far left) launched True Honor in 2008 as a premium lifestyle company targeting the action sports industry and similar passion-driven markets, most notably mixed martial arts (MMA). Now, six years after the company was started, Bardia has truly found a niche in the competitive world where sports, fashion and lifestyle merge.
"We are committed to providing you with the highest quality fashionable clothing that suits your personal and unique lifestyle," states True Honor founder, Bardia Rahim. "Our designers and artists show their dedication to style and take our premium clothing to the next level with intricate artwork, and elegant printing techniques. True Honor only uses the finest fabrics and superior washes."
We interviewed Bardia to get the scoop on True Honor and asked him about challenges and rewards he has faced along the way, how he has grown the company through the years, and much more - check it out!
True Honor | "Official Video" from Killer Fox Media on Vimeo.
The True Honor team is preparing to settle into a new office building...where will you be located and can you describe the new space?
True Honor will be based in Carlsbad, California just a few miles away from San Diego's North County beaches. The new True Honor facility will be developed to house the brand's design, development, finance, warehousing, fulfillment and operations all under one roof. The interior design will be crafted by some of Southern California's best interior designers and myself.
Will opening doors to a new office space affect business how?
Opening new doors will create a strong connection with previous clients and will broaden horizons for new buyers. Our office will be flashy and comfortable, showcasing the edgy lifestyle True Honor portrays. It will attract more media outlets, athletes, models, designers, stylist, and entertainers alike. All of this will publicize True Honor, gaining more traction with online and wholesale purchases.
How has True Honor grown since launching in 2008?
I initially started True Honor from scratch by selling a line out of my car before slowly moving into consignment shops as word of mouth progressed. As time went on True Honor was propelled by more than just a creative name, and I hired the right individuals to design the clothing. From there I was able to place the apparel on key individuals that showcased the meaning of the brand properly.
What challenges have you faced in the past six years with growing the brand and business?
Challenges True Honor has faced in the past years of growth have been in creating brand awareness and gaining financial stability.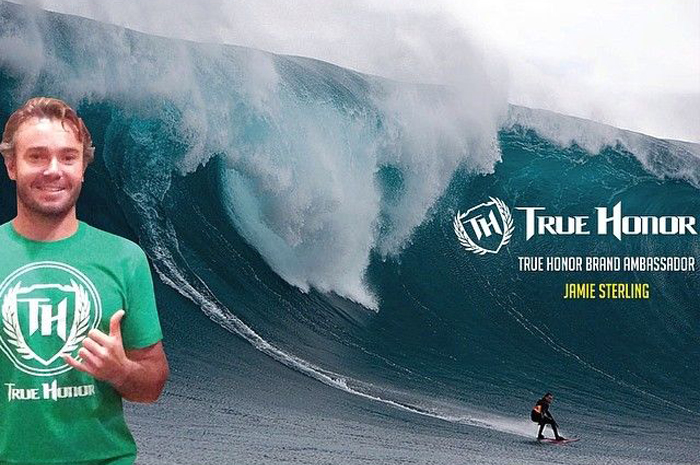 Is True Honor a growing team? What positions are you looking to fill?
True Honor is a growing company, the team is always looking for fresh and creative minds that can help develop sales. As of right now our team is filled with design specialist that have years of experience in action sports. The team needs people that can go out there and "sell". True Honor's national sales manager, Loren Laguens is a season vet in the action sports industry. Loren has helped grow brands such as Big Black, Dragon, Hart & Huntington, and Calis Finest. Now he is helping True Honor grow, and he needs a committed team of sales reps with experience in sales and a background in action sports with an account list of potential buyers.
Have there been any tipping points or significant milestones that made helped you get over any initial roadblocks?
True Honor recently acquired an investment from NFL superstar Jason Babin of the Jacksonville Jaguars. Babin's investment is going to help True Honor skyrocket into the action sports apparel industry. Up until that investment, True Honor has been mostly a grassroots movement funded by the clothing sold online and wholesale.
What was the initial inspiration for starting True Honor?
The initial inspiration was to create a clothing brand that helps inspire people to live a positive lifestyle.
What makes your brand unique? What makes your product unique?
The True Honor brand is unique because it's the first apparel company to personify integrity. Anyone who wears the brand isn't represented as a walking advertisement they are living the brand. Helping their communities, showing discipline and dedication to accomplishing new heights, they choose to "live with honor".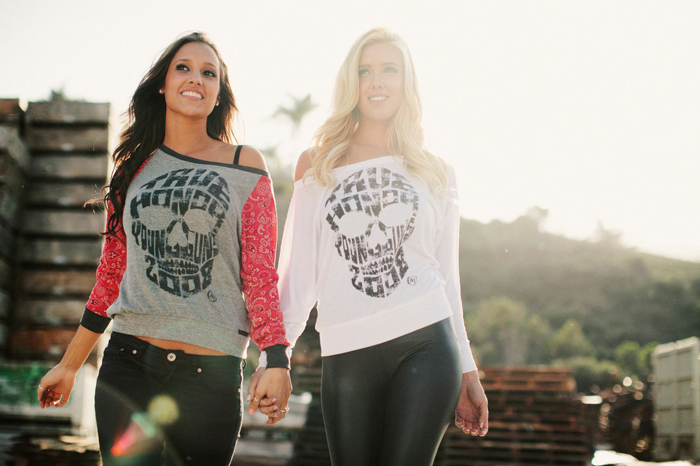 What makes True Honor a great company to work for?

The work atmosphere is vibrant and fun, house music is always bumping and there is a lot of creativity flowing through the halls. The team is always having fun and is always developing new ideas to help True Honor flourish. People want to be here, no one is forced to do anything they don't want too. Affiliate sponsors (such as: Zico, GoPro, Pop Chips, Bam Energy Shots, Dragon, SWAE, and Jamboo headphones) all love to stop by and give free product to the team and all our athletes. No matter who stops by the office, they are always showing support!
What excites you the most looking forward in regards to growing and evolving True Honor?
Sponsoring any athlete that is willing to push the limits. Showing support to our military and the freedom they offer us to prosper. Hiring designers and artists, who portray integrity into their work. True Honor is going to be the next big brand in the action sports industry. The team will not stop until True Honor is a household name.
What has been the most rewarding aspect for you in launching True Honor Clothing?
I've proven that True Honor can resonate with everyone in different ways. It can mean serving your Country or taking care of loved ones. It means doing the right thing when no one is looking and as a result I am now literally living True Honor.
Any last words?
True Honor is committed to providing the highest quality lifestyle clothing that suits your artistic, creative, and personal fashion needs. True Honor supports America. Our clothing is designed, manufactured, and produced in the U.S.A.
True Honor only uses the finest fabrics and superior washes. Our designers and artists show their dedication to style and take our premium clothing to the next level with intricate artwork, and elegant printing techniques.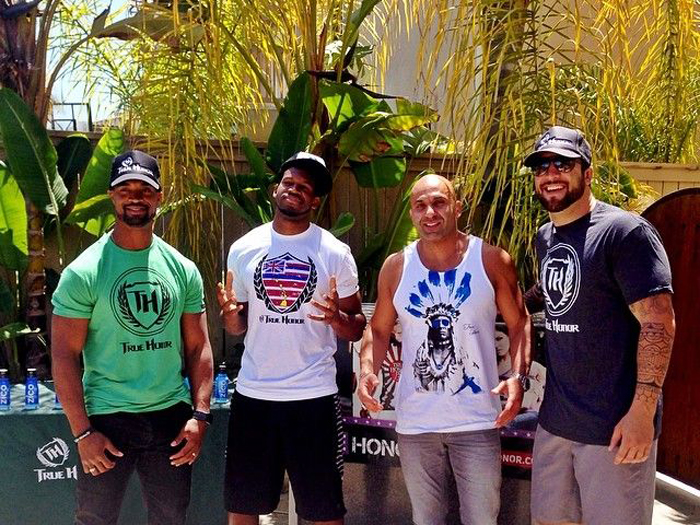 Be on the lookout for what's to come from True Honor and be sure to follow them on Facebook, Twitter and Instagram!
---