Back to News
B$Z: ExOfficio Announces New Partnership Store with American Terrain
June 13, 2014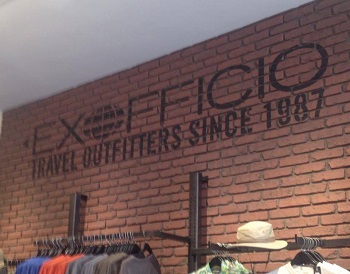 ExOfficio Announces New Partnership Store with American Terrain
The ExOfficio store at American Terrain will offer technical apparel designed for travel, trekking and fishing, with benefits like sun protection, bug protection, ventilation, and lightweight packability.
Press Release from ExOfficio
Seattle, WA (June 9, 2013) - ExOfficio, a leading manufacturer of adventure travel apparel, opened their first partnership store on June 6th, 2014 at American Terrain in White Plains, NY. The ExOfficio store at American Terrain will join ExOfficio's five other store locations in Seattle, WA, Denver, CO, and JFK Airport.
"We are excited and honored to collaborate with ExOfficio on their first partnership store," said Manny Polloni, owner of American Terrain. "American Terrain Outdoors has been an Exofficio retailer for twenty years. As our adventure travel business has grown and with Exofficio always being a part of that growth it became a logical choice to partner with them and present a larger brand and product presence to our customers."
The new ExOfficio White Plains location will sit next to American Terrain, with an opening between stores allowing customers to shop in each space. The store will blend the look and feel of ExOfficio with the personal service and knowledge of the staff at American Terrain.
"We are excited to build on our long-standing relationship with American Terrain, and set up our first partnership store alongside their successful outdoor store." said Kris Nelson, Director of Retail. "Partnership stores are an important part of our retail store growth strategy. They allow us to clarify our brand message, expand our product assortment, and ultimately be more accessible in markets where demand for our product is proven in specialty stores and concept shops."
The ExOfficio store at American Terrain will offer technical apparel designed for travel, trekking and fishing, with benefits like sun protection, bug protection, ventilation, and lightweight packability.
About ExOfficio
ExOfficio celebrates the traveler by crafting garments that allow them to experience the world unhindered. ExOfficio was born in 1987 when our founders discovered the need for technical apparel that performs as gear. They engineered a shirt with the functions of a fly-fishing vest, the ventilation of a cool breeze and the construction of a men's dress shirt. We put the same thought into every detail for garments that will enhance any adventure. ExOfficio is devoted to enhancing worldly exploration through clothing that packs well, performs and is durable enough for a lifetime. ExOfficio is sold internationally in specialty outdoor, fly-fishing, travel and luggage stores. Products are available in ExOfficio retail stores and online. For more information visit www.exofficio.com.
About Jarden Corporation
Jarden Corporation is a leading provider of a diverse range of consumer products with a portfolio of over 100 trusted, quality brands sold globally. Jarden operates in three primary business segments through a number of well recognized brands, including: Outdoor Solutions: Abu Garcia®, Aero®, Berkley®, Campingaz® and Coleman®, ExOfficio®, Fenwick®, Gulp!®, Invicta®, K2®, Marker®, Marmot®, Mitchell®, Penn®, Rawlings®, Shakespeare®, Stearns®, Stren®, Trilene®, Völkl® and Zoot®; Consumer Solutions: Bionaire®, Breville®, Crock-Pot®, FoodSaver®, Health o meter®, Holmes®, Mr. Coffee®, Oster®, Patton®, Rival®, Seal-a-Meal®, Sunbeam®, VillaWare® and White Mountain®; and Branded Consumables: Ball®, Bee®, Bernardin®, Bicycle®, Billy Boy®, Crawford®, Diamond®, Dicon®, Fiona®, First Alert®, First Essentials®, Hoyle®, Kerr®, Lehigh®, Lifoam®, Lillo®, Loew Cornell®, Mapa®, NUK®, Pine Mountain®, Quickie®, Spontex® and Tigex®. Headquartered in Rye, N.Y., Jarden ranks #371 on the Fortune 500 and has over 25,000 employees worldwide. For in-depth information about Jarden, please visit www.jarden.com.

---