Back to News
GEAR: WINS Releases Look Away: The Art of Todd Francis
June 16, 2014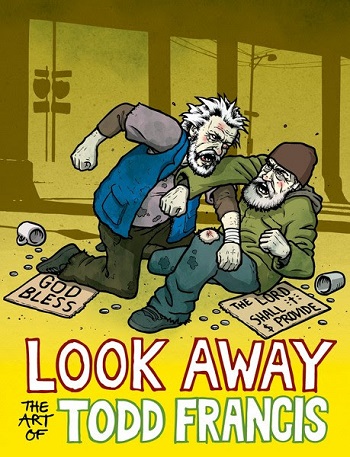 WINS Releases Look Away: The Art of Todd Francis
This book is available at skate shops worldwide, select specialty retailers and directly on the WINS site for $19.95.
Press Release from Master Plan Communications
June 16, 2014 (New York, NY) – WINS is proud to announce the global release of LOOK AWAY: THE ART OF TODD FRANCIS, by Seb Carayol and Todd Francis, on June 26 at the Hennessey + Ingalls in Los Angeles. For the past 20 years, Todd Francis has been creating iconic skateboard graphics for Antihero, Element, Real and Stereo among others.
While most people are familiar with Todd's new and classic board graphics, this book reveals a wider palette of Todd's techniques and styles. With more than 200 reproductions of classic and never-before-seen decks, illustrations, paintings, sketches and even suicide-themed Christmas decorations, LOOK AWAY, examines Todd Francis' impactful career.
"Seeing my work collected into book form is a huge honor for me. Look Away is sure to brighten many people's days, and ruin more than a few as well."
- Todd Francis
"I swear there were times we got so carried away with ourselves that we really thought we could bring down skateboarding with one terrible idea."
- Julien Stranger on Todd Francis.
RELEASE PARTY AND GLOBAL TOUR:
The official release event and signing for LOOK AWAY: THE ART OF TODD FRANCIS will be at Hennessey + Ingalls in Los Angeles on Thursday, June 26 from 6 p.m. – 9 p.m.
This event will kick off the international LOOK AWAY: THE ART OF TODD FRANCIS book tour. Below is a list of event dates and locations:
• LOS ANGELES – Thursday, June 26 at Hennessey + Ingalls bookstore, 6pm
(1520 N Cahuenga Blvd #8, Los Angeles, CA 90028)
• MILAN – Wednesday, July 2 at Bastard store, 6pm
(Via Scipio Slataper, 19, 20125 Milano, Italy)
• BERLIN – Tuesday, July 8 at Bright Tradeshow booth 117/118, 4pm
(Brunnenstrasse 19-21, 10119 Berlin, Germany)
• SAN FRANCISCO – Thursday, July 17 at DLXSF store, 6pm
(1831 Market St, San Francisco, CA 94103)
This book is available at skate shops worldwide, select specialty retailers and directly on the WINS site for $19.95 here: www.winsthings.com.
Connect with WINS on:
Facebook: Facebook.com/WinsThings
Instagram and Twitter: @WinstonTseng
About WINS:
Established in 2011, WINS is a project-based creative outlet for Winston Tseng and selected artists, with a simple goal: to create original, quality things. Previous titles by WINS include WARNING: The Art of Marc McKee (2011) and
I HATE: The Art of Todd Bratrud (2012).
For more information, visit www.winsthings.com.
---