BACK TO NEWS
EVENT: MAHFIA And Group Y To Host 2nd Women's Action Sports Industry Event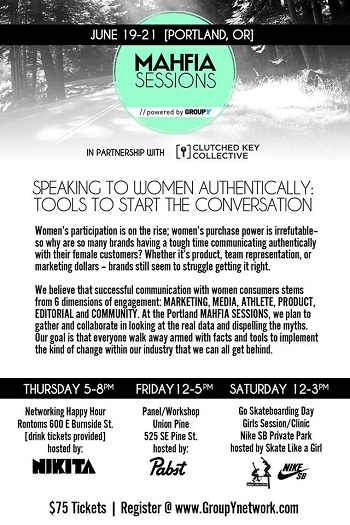 MAHFIA And Group Y To Host 2nd Women's Action Sports Industry Event
MAHFIA Sessions – June 19-21, Portland, Oregon
Press Release from Group Y
June 16, 2014 (Portland, OR) – MAHFIA Sessions will be launching their second women's action sports industry event this weekend (June 19-21) in Portland, Oregon. The event is being hosted in partnership with Group Y, Portland-based design firm Clutched Key Collective, Skate Like A Girl and XS Helmets, and will feature a girls skate day—timed perfectly on Go Skateboarding Day—at Nike SB's private skate park.
Women's participation in action sports is on the rise and their purchase power is even stronger. With so many action sports brands still seeming to struggle to deliver the right messages to women, the MAHFIA Sessions hopes to not only unite women, but help deliver information to encourage brands reach these target customers more authentically.
"We believe that successful communication with women consumers stems from six dimensions of engagement," says MAHFIA Founder Kim Woozy. "At the Portland MAHFIA Sessions, we plan to gather and collaborate in looking at the real data and dispelling the myths. Our goal is that everyone walk away armed with facts and tools to implement the kind of change within our industry that we can all get behind."
The MAHFIA Sessions workshop will be set up in of a roundtable format, giving attendees a more inclusive vibe. Industry influencers including Jen Lorentzen (Founder, Clutched Key Collective), Jessie Federico (K2, Global Creative Manager Snow), Brooke Geery (Founder, Yobeat.com), Nancy Chang (Co-Founder, Skate Like a Girl) and Woozy will help lead the break out sessions, identifying issues and addressing solutions to successfully capture a female audience.
The event falls on Go Skateboarding Day, offering the perfect opportunity to get women of all ability levels out in a safe no-pressure environment. XS Helmets will be demoing their new women's specific helmets while Skate Like a Girl hosts a clinic to help people excel to the next level. NikeSB has also graciously opened their doors for the MAHFIA Sessions to utilize their private park.
For more information and a look at the schedule of the exciting three-day event, please visit Group Y at http://groupynetwork.com/mahfia-sessions-portland/.
SCHEDULE:
THURSDAY 6/19: NETWORKING HAPPY HOUR
Rontoms 5-8pm | 600 E Burnside St, Portland, OR
Drink tickets provided
FRIDAY 6/20 : PANEL & WORKSHOP
Union Pine 12-5pm | 525 SE Pine St Portland, OR
Workshop based on 6 dimensions of female customer engagement:
MARKETING / MEDIA / ATHLETES / DATA / EDITORIAL / COMMUNITY
SATURDAY 6/21: GO SKATEBOARDING DAY
Girls Session/Clinic hosted by XS Helmets & Skate Like a Girl
Nike SB private park 12-3pm
ABOUT MAHFIA SESSIONS
MAHFIA SESSIONS was created to highlight, encourage, educate, influence and entertain the unique network of females whose passions live amongst the active lifestyles of snow, skate, surf, wake, moto, bmx, music and more. The series is designed for females working in or interested in the action sports industry. Join us for an exclusive weekend to network with like-minded people, learn from industry veterans and ride with friends and make some new ones too.
ABOUT GROUP Y
GROUP Y is the original and leading collective of professionals focused on youth marketing, action sports, entertainment and other progressive and expressive cultures. Our mission is to share insights across industries and ignite ideas that inspire the current and next generation leaders and decision makers.

---