Back to News
B$Z: Surfing Filmmaker Launches Extreme Sports Movie Subscription Service
June 19, 2014
Surfing Filmmaker Launches Extreme Sports Movie Subscription Service
Surfing filmmaker Ira Opper will launch an extreme sports Online Video Platform subscription service called Vaporvue on June 21, 2014
Press RElease from Opper Sports Productions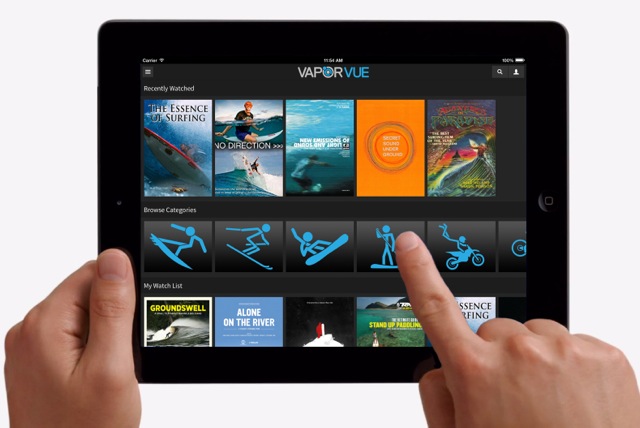 SOLANA BEACH, Calif., June 19, 2014 - Surfing filmmaker Ira Opper will launch an extreme sports Online Video Platform subscription service called Vaporvue on June 21, 2014. Like Netflix, Vaporvue will be a monthly, subscriber-based video streaming service available on Internet connected devices. "Subscribers will be able to access Vaporvue on their computer, smart phone, tablet and TV," said Opper, CEO of Opper Sports Productions. "You can watch what you want, when you want."
Featured content will include movies, documentaries and TV series on surfing, skiing, snowboarding, mountain biking, outdoor, moto and other extreme sports. Vaporvue will also include a wide spectrum of related adventure, travel, fitness, yoga and the how-tos of extreme sports. "We're going to provide the most comprehensive, diverse library of professionally produced extreme sports content on the web," said Ira Opper. "That's our goal."
Opper is one of the pioneering filmmakers credited with documenting "extreme sports" on cable TV. He will again test the cutting edge of sports filmography when he launches this innovative website catering to the extreme sports enthusiast.
Currently, there is very limited access to extreme sports movies on cable TV. Vaporvue will provide on-demand, HD, internet streaming media designed to give subscribers unlimited access to the world's most exciting sports movies whenever and wherever they are.
"Vaporvue offers a massive selection of content," said Matt Warshaw, author of the Encyclopedia of Surfing. "It's lightning-fast, and 500 times easier to use than my toaster."
One of Vaporvue's advantages is that it offers the largest collection of professionally crafted surf content available for subscription, including exclusive documentaries such as: "The Surfers Journal Series," including "50 Years of Surfing On Film," "Great Waves" and "The Biography" series. Also, the 1980s EmmyR award-winning series "Surfer Magazine TV," the two-time EmmyR award-winning 2000s series "FiNS," as well as classic 70s movies like "Cosmic Children," "Sea For Yourself" and "Super Sessions."
Vaporvue will also launch with a Roku TV channel. "The Roku media player is the market leader in streaming entertainment devices for television," said Opper. "Roku players are renowned for their picture quality, simplicity, and fast speed." According to a recent Leichtman Research Group study, 49 percent of US households now have at least one TV set connected to the Web.
Ira Opper began producing extreme sports for ESPN in 1982 and had his own prime time ESPN series by 1985. He has traveled the globe in his quest to capture the extreme sports lifestyle. He has produced more than 200 extreme sports television shows, documentaries and movies. Today Opper Sports Productions is a recognized brand name in the industry, and will contribute vastly to the library of content at Vaporvue.com.
Vaporvue is located at www.vaporvue.com. The movie service has a free, 7-day trial, and is available for $9.99 a month.
ABOUT OPPER SPORTS PRODUCTIONS
Opper Sports Productions is an Emmy(R) award-winning digital media company specializing in Ultra High Definition production. The company is currently developing proprietary online video platforms (OVP), over-the-top television services (OTT), and remote display networks.
www.oppersports.com
---