BACK TO NEWS
TEAM: Sony Announces Expansion of "Team Action Cam"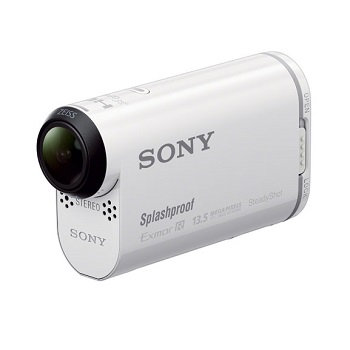 Sony Announces Expansion of "Team Action Cam"
Sony's Team Action Cam Grows with Sebastian "Seabass" Zietz, Danny Davis and Nigel Sylvester
Press Release from Sony
SAN DIEGO, CA (June 18, 2014) – Sony, a worldwide leader in digital cameras, has announced further expansion of "Team Action Cam", proudly welcoming surfer Sebastian "Seabass" Zietz, snowboarder Danny Davis and BMX rider Nigel Sylvester to the elite group of action sports athletes.
The rapidly growing "Team Action Cam" now features a total of 25 athletes spanning snow, ski, mountain bike, motocross, rallycross, BMX and surf that represent Sony's versatile Action Cam product line.
"It's thrilling to see Team Action Cam expanding to include these leading athletes and content creators. Every athlete in the group brings a unique point of view and their own special style to our family," said Patrick Huang, director of the camcorder business at Sony Electronics. "Our innovative POV camera lineup, led by the flagship AS100V, gives them the creative freedom to share their stories with a level of video quality that is simply unmatched in the market today."
Seabass
"As the ASP World Tour continues this year I'll have more and more opportunities to produce some truly unique content with legendary Sony quality. Action Cam allows me to show the world what my life and my surfing are really about," said Seabass.
"Seabass" is a powerful yet stylish surfer who possesses a youthful energy in and out of the water. Widely regarded as one of the most exciting young surfers on the ASP World Tour, Seabass captured the 2012 Triple Crown of Surfing championship, 2012 Qualifying Tour championship and was a semifinalist in the 2012 Pipeline Masters. He began surfing at the age of six, turned professional at 16, and signaled his arrival when he won the 2007 Goofy vs. Regular event, the surfing world officially took notice when he won the Oakley Pro Junior Trifecta, Macy's Trifecta Pro Junior, and the Oakley Pro Junior Trestles in 2008. Follow his career on Facebook: http://www.facebook.com/cbasszietz; Twitter: @cbasszietz; and Instagram: @seabassz.
Danny Davis
"I'm really excited about the opportunity to partner with Sony Action Cam," said Danny Davis. "Now I can capture all of the snowboard events and travel adventures throughout my season and create cool content."
Nigel Sylvester
"Being a part of Team Action Cam means that my creativity won't be limited by a camera, and that I can continue to innovate alongside Sony," said Nigel Sylvester. "The image stabilization and low-light capabilities of their cameras gives me the opportunity to create and share pro-quality video that I know my fans will love."
The growth of Team Action Cam aligns with the company's aggressive marketing plans for 2014-2015 in the action sports industry, including resort partnerships, special event sponsorships and the launch of the interactive microsite www.actioncambysony.com.
The full Team Action Cam roster is below:
SNOWBOARD
· Danny Davis
· Terje Haakonsen
· Jeremy Jones
· Hans Mindnich
· Nils Mindnich
· Keegan Valaika
· Forest Bailey
BMX
· Nigel Sylvester
SURF
· Sebastian "Seabass" Zietz
MX/SX
·Ricky Carmichael
·Ryan Dungey
SKI
· Gus Kenworthy
· Sage Cattabriga-Alosa
· Ian McIntosh
· Dash Longe
· Angel Collinson
· Tim Durtschi
RALLYCROSS
· Geoff Sykes
· Nick Roberts
MOUNTAIN BIKE
· Brett Rheeder
· Matt Hunter
· Cam McCaul
· Stevie Smith
· Casey Brown
· Thomas Vanderham
Sony's flagship Action Cam, the newly released AS100V model, includes the following key features:
· Best in class image stabilization and low-light shooting capabilities for smooth HD video output on the trail or the slopes, at all times of day
o Automatically adjusts image stabilization and exposure based on shooting environment, ensuring high quality video output in all types of conditions
· Unique Live View Remote accessory that utilizes Wi-Fi to provide live image preview on LCD, improving overall framing and recording experience
o One remote can control up to 5 cameras simultaneously, making it easy to coordinate and execute multi-camera shoots
· Water-resistant camera body – survives water, mud and dirt without special housing
· Pro-quality HD video capture utilizing XAVC-S codec (50mbps)
o Higher data stream means more finely detailed video that captures all the action in a higher quality than ever before
o Workflow-friendly for pro videographers
· GPS on camera and GPS overlay in post shooting – tracks speed, distance traveled and more
· Camera is available now for $300, also offered in kit with Live View Remote for $400
Action Cam stories, content and more is available at www.actioncambysony.com with regular updates and posts on Twitter and Instagram at @ActionCam and #ActionCam.
About Sony:
Headquartered in San Diego, Sony Electronics is a leading provider of electronic products for both the consumer and professional markets. Within Digital Imaging, their lineup includes a variety of award-winning cameras from the Alpha Interchangeable Lens Camera line, the Cyber-shot® compact camera line and the Handycam® video camera line, as well as premium lens offerings from partners ZEISS® and G-series Lenses.
---