Back to News
GEAR: Filtrate Eyewear Launches the Hippy Killer Model
June 23, 2014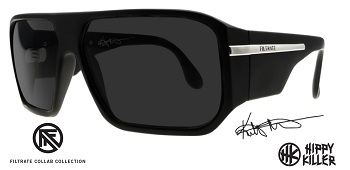 Filtrate Eyewear Launches the Hippy Killer Model
A functional "Working Class" collab with famous Bike/Hot Rod builder Kutty Noteboom.
Press Release from Filtrate Eyewear
SAN CLEMENTE, Calif., (June 23, 2014) – Filtrate Eyewear is proud to announce the launch of a new and innovative functional riding sunglass called the "Hippy Killer". This style complements Filtrate's "Working Class" collection that celebrates artists and craftsman of the everyday working individual.
The Hippy Killer model is a collaboration with Kutty Noteboom, world famous Bike and Hot Rod builder. This innovative new range of eyewear is both a functional and stylish riding sunglass. Over the past two years, Filtrate has been developing a sunglass design that would offer the rider an alternative to wearing uncomfortable goggles. During the design process, Kutty spent a countless number hours with the Filtrate team designing and testing the Hippy Killer. "Out of anything I have ever worn, I'll stand behind them…" states Kutty.
"With a streamlined design, our Hippy Killer collaboration sunglass directs wind away from the eyes while letting enough air to prevent the lens from fogging up while riding." states Filtrate co-founder Wade Sutton.
Filtrate's current "Working Class" collaborations include: The Proper, designed by Vinnie Morey, The Mayhem, designed by Matt Biolos and now The Hippy killer, designed by Kutty Noteboom.
The Hippy Killer is available in black matte/grey lens, black matte/clear lens and chocolate matte/bronze lens with a suggested retail price is $74.99. The Hippy Killer will be sold at all Filtrate retailers across the country and available July 5th.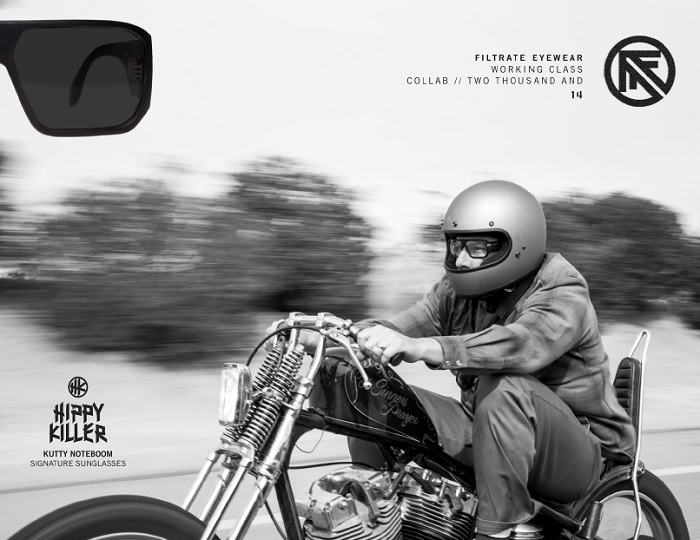 Click on the link below to see how the collaboration came to life.
About Kutty Noteboom
Kutty Noteboom was born in Northern California but grew up and has lived most of his life in Southern California, where he currently resides. Some people might say he was born into Hotrod royalty, being the son of a famous car builder Jim "Bones" Noteboom. Bones has been building cars since the 50's. Not only has his face been all over magazines for his cars and motorcycles but he was also inducted into the Hot Rod Hall of Fame. He also was a part of the drag boat racing in the 60's & 70's. Yet in the end, Bones' specialty all along was building bad-ass Hot Rods and tricked out choppers. So with that in mind let's just say Kutty had gotten a head start in the chopper world. When Kutty was a young teenager he began to take notice of the artistry, creativity and thought that goes into a custom car or motorcycle. Before he became serious about building custom bikes he was busy listening to punk rock music and trying to get sponsored in skateboarding.
Over the year's Kutty's cars and motorcycles have been featured in many magazines as well as a documentary with his fellow Sinners called Choppertown. Today you can find Kutty sitting next to his collection of early 60's and 70's magazines and still rocking out to Punk Rock music for inspiration into the view of his next timeless design.
About Filtrate Eyewear
Filtrate is committed to the pursuit of individual artistic style. Our inspiration is the creative noise that surrounds and drives us to provide a valued alternative to the established order. We make premium quality accessible so you have more change left over for the important things in life. CHANGE YOUR PERCEPTION.
Products are available at a retailer near you or at: www.FiltrateEyewear.com
---