BACK TO NEWS
EVENT: Summer Surf Rodeo in Ventura on July 12th + 13th!
Iconic "Surf Rodeo" Returns to Pierpont Beach in Ventura on Saturday & Sunday, July 12th and 13th
One-of-a-kind surf competition and music festival brings creative camaraderie to the Ventura County community with bands, beer gardens, bikini cowgirls, a bucking bull and much more
Press Release from Ann Flower Communications
(Ventura, CA) – The waves along the California coast are filled with surfers year-round but Surf Rodeo wrangles up an unusual, quirky crowd of beach combers each summer – surf cowboys! Surf Rodeo is the brainchild of JD Drury, a skilled professional in the surf, skate and music industries. Drury's mission for Surf Rodeo was to bring the highly competitive, cut-throat, serious atmosphere of today's surf competitions back to its relaxed roots, where fun always comes first.
This year's 7th Annual Surf Rodeo will feature eccentric surf contests, street fair with 70+ vendors (offering food and craft goods), beach bucking bull rides, a kid's corral, a bikini cowgirl roundup, two beer gardens and two music stages showcasing a nationally recognized musical lineup. Exciting, must-see musicians include, Pato Banton; Cisco Adler; and Australia-based Lime Cordiale. Surf Rodeo will also incorporate live auctions and raffles with proceeds donated to the Boys & Girls Clubs of Greater Ventura; The Girls Empowerment Workshop; and A Walk on Water. This year's prizes include a fully restored 1977, two-toned white and yellow Volkswagen Van, brought back to life by the helping hands of local community businesses (LPC Automotive Group, Noble Fabrication and others), and two surfboards made by pro surfer, Dane Reynolds, which will be used in the Surf Rodeo then auctioned off with proceeds going to A Walk on Water and The Girls Empowerment Workshop.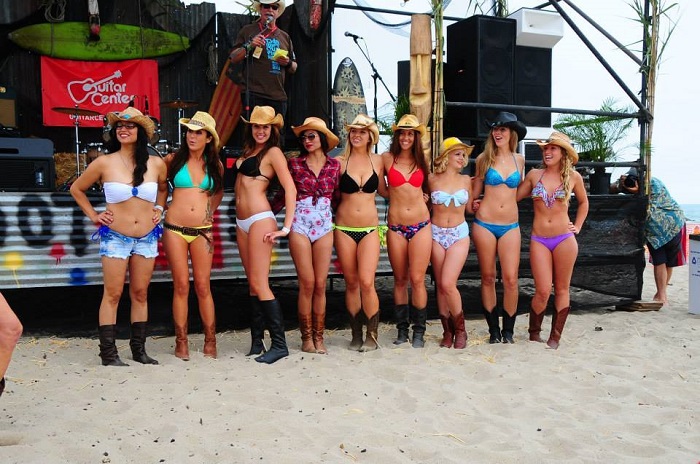 About surf rodeo
The Surf Rodeo competition begins at 7:00a.m. on Saturday and Sunday, July 12th and 13th at the Ventura Pierpont Beach, located along Seaward Avenue. Music festival and beer gardens open at 11:00a.m., located on the beach, and street festival hours are Sunday 10:00a.m.-8:00p.m. and Sunday 10:00a.m.-8:00p.m.
For more information, including tickets, band lineup and more, please visit www.surfrodeo.org or call (805) 628-9083. Follow Surf Rodeo on Facebook at www.facebook.com/SurfRodeo for up-to-date event information and specials.
---