BACK TO NEWS
B$Z: Levi's Stadium Announces Venue Partnership with Feld Motor Sports
Levi's® Stadium Announces Venue Partnership with Feld Motor Sports
Popular Motor Sports Events Monster Jam® and Monster Energy Supercross To Launch at Levi's® Stadium in 2015
Press Release from Feld Motor Sports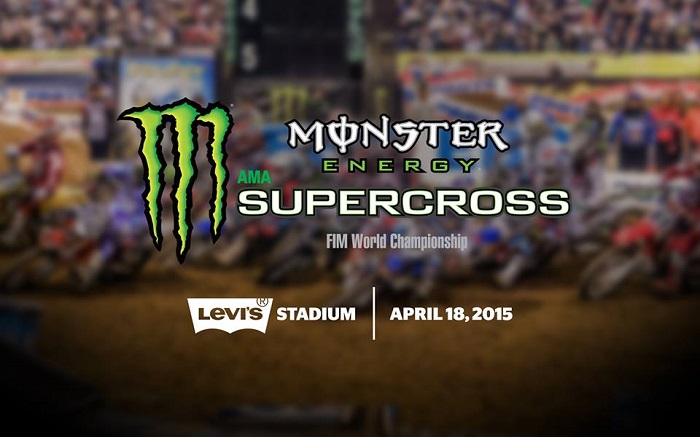 **Tickets On Sale Today for Both Events Scheduled For April 2015**
Santa Clara, CA (Wednesday, June 25, 2014) – The Santa Clara Stadium Authority announced today a multi-year venue partnership for Levi's® Stadium with Feld Motor Sports®, a division of Feld Entertainment, the world leader in specialized arena and stadium-based motor sports entertainment. In 2015, the new home of the San Francisco 49ers will become the newest Bay Area venue to host Monster Jam® and Monster Energy AMA Supercross, an FIM World Championship. The Bay Area will now be home to four action-packed motor sports events per year.
The event schedule for the inaugural season at Levi's® Stadium will include:
•Monster Jam – Saturday, April 11, 2015
•Monster Energy Supercross – Saturday, April 18, 2015
Tickets for both Levi's® Stadium events go on sale to the public today. Ticket prices for Monster Jam start at $20 (with limited VIP packages including "Total Access Pass" and "Lunch with Champions"). Tickets for Monster Energy Supercross will also start at $20. Tickets will be available to purchase online at Ticketmaster.com or LevisStadium.com, through all Ticketmaster outlets, charge by phone at 800-745-3000 or in-person at the Levi's® Stadium Box Office. For other group ticket information and hospitality opportunities including suite rentals, please call 415-Go49ers & press option #3.
"We are thrilled to launch two additional Feld Motor Sports events in the Bay Area with our newest venue partner, the brand new state-of-the-art Levi's® Stadium in Santa Clara," said Ken Hudgens, Chief Operating Officer, Feld Motor Sports. "Bay Area motor sports fan reaction has only continued to grow year after year, and we are eager to give the fans what they want by offering more options to see our action-packed events in the Bay Area. Working with the Santa Clara Stadium Authority, we are eager to develop strong South Bay community relationships highlighted by the opportunity to partner with the San Francisco 49ers to help strengthen both of our brands."
"Levi's® Stadium was conceived as a multi-purpose venue that would bring a variety of fun and entertaining events to the South Bay. Monster Jam and Monster Energy Supercross provide our customers with a unique and exciting viewing experience," said Julio Fuentes, Executive Director of the Santa Clara Stadium Authority. "We are happy to be working with Feld Motor Sports to bring this high-octane, two-weekend event to Santa Clara and introduce a whole new audience of passionate fans to our venue."
To transform this remarkable new stadium into a specialized motor sports venue, Feld Motor Sports' track construction crew will bring more than 16 million pounds of locally sourced dirt (over 500 truck loads) into the stadium.
About Feld Entertainment
Feld Entertainment is the worldwide leader in producing and presenting live touring family entertainment experiences that lift the human spirit and create indelible memories, with 30 million people in attendance at its shows each year. Feld Entertainment's productions have appeared in more than 70 countries on six continents and include Ringling Bros. and Barnum & Bailey®, Monster Jam®, Monster Energy Supercross, Nuclear Cowboyz®, AMSOIL Arenacross, Marvel Universe LIVE!, Disney On Ice and Disney Live! More information about Feld Entertainment is available online at www.feldentertainment.com.
About Levi's® Stadium
Levi's® Stadium will be the new home to the San Francisco 49ers, and will also serve as one of the world's best outdoor sports and entertainment venues. It was designed by HNTB and is being built by Turner/Devcon for the Santa Clara Stadium Authority. The $1.2 billion venue will have 1.85 million square feet, seat approximately 68,500 and feature 170 luxury suites and 9,000 club seats. It was designed to be a multi-purpose facility with the flexibility to host a wide range of events, including domestic and international soccer, college football, motocross, concerts and various civic events, and will be expandable for major events such as the Super Bowl. Levi's® Stadium is owned by the Santa Clara Stadium Authority, a public joint powers authority that was established to provide for development and operation of Levi's® Stadium to ensure that the stadium serves the goals of the City of Santa Clara. For more information, go to www.LevisStadium.com.
---